FACEBOOK IS SOCIAL DICTATORSHIP & SOCIAL MEDIA SPAM, but that is not all. GET THE INSIGHTS ON HOAS ABOUT FACEBOOK., AS ONE OF HOA'S DYNAMICS AND SEE THE OTHER DYNAMICS IN MORE THAN 90 BILINGUAL PAGES.

Danske Dynamiske Perspektiver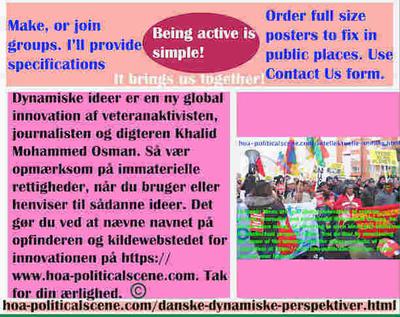 hoa-politicalscene.com/danske-dynamiske-perspektiver.html - Danske Dynamiske Perspektiver: Dynamiske ideer er en ny global innovation af veteranaktivisten, journalisten og digteren Khalid Mohammed Osman.
Danske Dynamiske Perspektiver er del 2 af Danske Dynamiske Ideer der starter som del 1 og fortsætter her og derefter med del 3 Danske Dynamiske Meninger, del 4 Danske Dynamiske Tanker, del 5 Danske Dynamiske Indsigter, del 6 Danske Dynamiske Punkter, del 7 Danske Dynamiske Synspunkter og del 8 Danske Dynamiske Planer. Du skal læse alle dele for at forstå og tage handlinger for at beskytte naturen og verden. Hvis du har fundet sprogfejl, skal du rette dem ved at skrive de komplette afsnit på linket Kommentarer nederst på siden. Mange tak.


Dynamiske ideer findes i tre sektioner. Et af sektionerne er introduktion til udtrykket, og det andet afsnit handler om "KLASSISKE POLITISKE PARTIERs ÆRA" og "MASSERNES ÆRA", og det tredje afsnit er en fortsættelse af introduktionen, der forbinder den med ideen om martyrens træ "Martyr's Tree". Du vil læse om denne baggrund på de medfølgende sider. Se også 30 aar siden var der ikke noget web og ingen martyrstrae paa.

Hvad mener jeg med massernes æra? Og hvorfor er det massenes æra?

Masserne har altid været den dynamiske magt i valg af regeringer gennem den parlamentariske afstemningsproces i forskellige dele af verden, med undtagelse af nogle lande, der har autoritære regimer.

På trods af denne reelle og indflydelsesrige magt fra masserne blev det klart, at de valgte regeringer altid arbejder for de herskende elitegrupper, der leder regeringerne. Dette betyder, at disse herskende eliter har ignoreret massernes krav.

Hvad disse herskende eliter gør, viser faktisk, at de ikke opfylder massernes krav og ikke tjener de masser, der har valgt kandidaterne til fordel for masserne, men tjener deres egne interesser.

Hvad der altid har sket, er, at masserne vælger regeringer til at handle til fordel for masserne og ender i regeringer, der kun fungerer som regerende elite for deres egne interesser. De herskende elites interesser er blevet fokus for de fleste regeringer.

Fortsætte med 🇩🇰 Danske Dynamiske Udtalelser.


* Read "Dynamic Ideas" in your native language below:

🇦🇱 Read it in Albanian Idetë dinamike.

🇪🇹 Read it in Amharic Invitation to Comment 158: ተለዋዋጭ ሀሳቦች and Invitation to Comment 159: ተለዋዋጭ የፖለቲካ አመለካከቶች.

🇱🇧 Read it in Arabic Afkar Dynamicyah, and Invitation to Comment 154: أفكار ديناميكية، أو أفكار دينامية.

🇧🇬 Read it in Bulgarian Invitation to Comment 155: Динамични идеи and Invitation to Comment 156: Динамични политически мнения.

🇨🇳 Read it in Chinese Invitation to Comment 157: 动态想法.

🇨🇿 Read it in Czech Dynamické nápady and České dynamické perspektivě.

🇬🇧 Read it in English Dynamic Ideas and Dynamic Political Opinions.

🇵🇭 Read it in Filipino Dinamikong Ideya, Dinamikong Perspektibo and Dinamikong Pag-iisip.

🇫🇷 Read it in French Idées Dynamiques and Perspectives Dynamiques Françaises.

🇬🇷 Read it in Greek Invitation to Comment 160: Δυναμικές ιδέες and Invitation to Comments 163: Ελληνικές δυναμικές προοπτικές

* Read it in Hawaiian

🇮🇱 Read it in Hebrew Invitation to Comments 164: רעיונות דינמיים.

🇮🇩 Read it in Indonesian Ide Dinamis and Pandangan Dinamis Indonesia.

🇮🇪 Read it in Irish Smaointe Dinimiciúla and Léargais Dhinimiciúla na hÉireann.

🇮🇹 Read it in Italian Idee Dinamiche and Prospettive Dinamiche Italiane.

🇯🇵 Read it in Japanese Invitation to Comments 165: ダイナミックなアイデア.

🇰🇵 Read it in Korean Invitation to Comments 166: 역동적 인 아이디어.

🇱🇻 Read it in Latvian Dinamiskās Idejas, Latvijas Dinamiskās Perspektīvas, Latvijas Dinamiskie Atzinumi and Latvijas Dinamiskā Domāšana.

🇲🇾 Read it in Malay Idea Dinamik, Perspektif Dinamik Melayu and Pendapat Dinamik Melayu.

🇳🇴 Read it in Norwegian Dynamiske ideer and Norske Dynamiske Tanker.

🇮🇷 Read it in Persian Invitation to Comments 167: ایده های پویا.

🇵🇱 Read it in Polish Dynamiczne Pomysły and Polskie Dynamiczne Perspektywy.

🇵🇹 Read it in Portuguese Ideias dinâmicas, Perspectivas Dinâmicas Portuguesas and Pensamento Dinâmico Português.

🇷🇴 Read it in Romanian Ideile dinamice and perspective dinamice românești.

🇷🇺 Read it in Russian Invitation to Comments 168: Динамические идеи and Invitation to Comments 169: российских динамических мнениях.

🇸🇰 Read it in Slovak Dynamické myslenie and Slovenské dynamické perspektívy.

🇪🇸 Read it in Spanish Ideas dinámicas and Perspectivas dinámicas españolas.

🇸🇪 Read it in Swedish Dynamiska idéer and Svenska Dynamiska Tes / Avhandling.

🇹🇭 Read it in Thai Invitation to Comments 170: ไอเดียแบบไดนามิก.

🇻🇳 Read it in Vietnamese Ý tưởng năng động and Quan điểm năng động của người Việt.