FACEBOOK IS SOCIAL DICTATORSHIP & SOCIAL MEDIA SPAM, but that is not all. GET THE INSIGHTS ON HOAS ABOUT FACEBOOK., AS ONE OF HOA'S DYNAMICS AND SEE THE OTHER DYNAMICS IN MORE THAN 90 BILINGUAL PAGES.

Dynamiczne Pomysly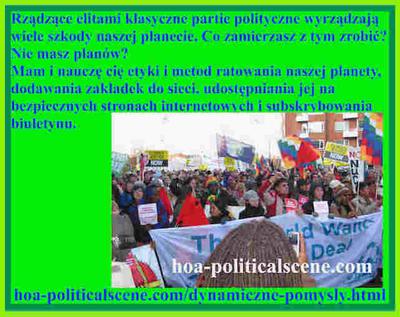 hoa-politicalscene.com/dynamiczne-pomysly.html - Dynamiczne Pomysły: Rządzące elitami klasyczne partie polityczne wyrządzają wiele szkody naszej planecie. Co zamierzasz z tym zrobić?
Dynamiczne Pomysły / Dynamiczne Idee to moc umysłu w krótkim zdaniu. W szczegółach ... zaczynamy:

Celem dynamicznych pomysłów jest zachowanie pozytywnego punktu widzenia, kiedy patrzymy na wszystkie problemy, które obecnie widzimy w naszym świecie i śledzimy ich historię (np. Kiedy się pojawiły? Jakie są podstawowe przyczyny? W jaki sposób wpływają one na nasze codzienne życie wszędzie?)

Każdy dynamiczny pomysł przynosi inne projekty. Nie wynika to z teorii, ale z praktyki i mamy tutaj wiele praktyk, które pokazują, jak działają dynamiczne pomysły przy tworzeniu wielu projektów. Dlatego każda dynamiczna idea jest siłą umysłu.

Pierwszą rzeczą, na którą należy zwrócić uwagę, jest to, że idee dynamiczne nie ograniczają się do tworzenia i kierowania epoką mas, ale raczej zapewniają dostęp do tworzenia, przywództwa i działań masowego ruchu, aby doprowadzić go do zwycięstwa na całym świecie.

Te dynamiczne idee, które odczytujesz na sloganach, są dobrze poszukiwane i badane w celu zwiększenia regionalnego i globalnego zrozumienia oraz uwzględnienia bardzo zaawansowanego politycznego zrozumienia globalnych problemów w działaniach mas w celu rozwiązania wszystkich problemów, które zostały stworzone przez rządzące elity klasycznej partie polityczne.

Dynamiczne pomysły dzielą się na trzy części. Jedna z części stanowi wprowadzenie do tego terminu, a druga sekcja dotyczy "ERA KLASYCZNYCH PARTII POLITYCZNYCH" i "ERA MASY", a trzecia część stanowi kontynuację wstępu łączącego ją z ideą "Drzewa męczennika". O tym tle przeczytasz na drugiej stronie. Spójrz więc na to zawarte w języku polskim w jednym z linków komentarzy.

Uwaga, zanim przejdziesz dalej: w tej polskiej wersji możesz napotkać błędy językowe. Biorąc pod uwagę ten problem językowy, jeśli przeczytasz tutaj jakiekolwiek błędy językowe, użyj linku do komentarzy, aby poprawić akapity zawierające błędy. Błędy można zobaczyć, czytając wersję angielską i porównując ją z wersją polską. Dziękuję Ci bardzo.

Co mam na myśli przez erę mas? I dlaczego jest to era mas?

Masy zawsze były dynamiczną siłą w wyborze rządów w drodze głosowania parlamentarnego w różnych częściach świata, z wyjątkiem niektórych krajów, które mają reżimy autorytarne.

Pomimo tej realnej i wpływowej władzy mas stało się jasne, że wybrane rządy zawsze pracują dla rządzących grup elitarnych, które kierują rządami. Oznacza to, że te elity rządzące zignorowały żądania mas.

W rzeczywistości to, co robią te elity rządzące, pokazuje, że nie spełniają wymagań mas i nie służą masom, które wybrały kandydatów na korzyść mas, ale służą własnym interesom.

Zawsze działo się tak, że masy wybierają rządy, aby działać na ich korzyść i kończą w rządach, które działają tylko jako elity rządzące dla własnych interesów. Interesy rządzących elit stały się przedmiotem zainteresowania większości rządów.

Prowadzi to do zaniedbania zrównoważonego rozwoju w różnych obszarach, w tym klimatu, środowiska, zdrowia, a nawet dobrobytu mas.

Ale to zmiany klimatu były problemem ujawnienia korupcji międzynarodowych rządów!

W rzeczywistości zmiany klimatu ujawniły rządy bardziej niż inne katastrofy, takie jak kryzysy gospodarcze, konflikty, które zachęcają ich na całym świecie, oraz korupcja krajów, w których odgrywają rolę, i które uległy korupcji.

Wskazuje to zatem na potrzebę zakończenia ery klasycznych partii politycznych. Pokazuje to także potrzebę rozpoczęcia "wieku mas" przy użyciu metod edukacji politycznej dynamicznych pomysłów na tej pionierskiej i rewolucyjnej stronie internetowej. Aby to zrobić, zapisz się do Biuletynu Sceny Politycznej HOA "HOA Political Scene Newsletter" na Sieć Rogu Afryki "Horn Africas Network".

Będziesz we właściwej drodze do odkrycia, aby podjąć działania w celu rozwiązania problemów twojego świata. Tak, to twój świat. Kontynuuj w Polskie Dynamiczne Perspektywy.


* Read "Dynamic Ideas" in your native language below:

🇦🇱 Read it in Albanian Idetë dinamike.

🇪🇹 Read it in Amharic Invitation to Comment 158: ተለዋዋጭ ሀሳቦች and Invitation to Comment 159: ተለዋዋጭ የፖለቲካ አመለካከቶች.

🇱🇧 Read it in Arabic Afkar Dynamicyah, and Invitation to Comment 154: أفكار ديناميكية، أو أفكار دينامية.

🇧🇬 Read it in Bulgarian Invitation to Comment 155: Динамични идеи and Invitation to Comment 156: Динамични политически мнения.

🇨🇳 Read it in Chinese Invitation to Comment 157: 动态想法.

🇨🇿 Read it in Czech Dynamické nápady and České dynamické perspektivě.

🇩🇰 Read it in Danish

🇬🇧 Read it in English Dynamic Ideas and Dynamic Political Opinions.

🇵🇭 Read it in Filipino

🇫🇷 Read it in French

🇩🇪 Read it in German

🇬🇷 Read it in Greek Invitation to Comment 160: Δυναμικές ιδέες, Invitation to Comment 161: Ελληνικές Δυναμικές Ιδέες, Invitation to Comment 162: Δυναμικές πολιτικές απόψεις and Invitation to Comments 163: Ελληνικές δυναμικές προοπτικές

* Read it in Hawaiian

🇮🇱 Read it in Hebrew Invitation to Comments 164: רעיונות דינמיים.

🇮🇩 Read it in Indonesian

🇮🇪 Read it in Irish

🇮🇹 Read it in Italian

🇯🇵 Read it in Japanese Invitation to Comments 165: ダイナミックなアイデア.

🇰🇵 Read it in Korean Invitation to Comments 166: 역동적 인 아이디어.

🇱🇻 Read it in Latvian

🇲🇾 Read it in Malay

🇳🇴 Read it in Norwegian

🇮🇷 Read it in Persian Invitation to Comments 167: ایده های پویا.

🇵🇱 Read it in Polish

🇵🇹 Read it in Portuguese Ideias dinâmicas, Perspectivas Dinâmicas Portuguesas and Pensamento Dinâmico Português.

🇷🇴 Read it in Romanian Ideile dinamice and perspective dinamice românești.

🇷🇺 Read it in Russian Invitation to Comments 168: Динамические идеи and Invitation to Comments 169: российских динамических мнениях.

🇸🇰 Read it in Slovak Dynamické myslenie and Slovenské dynamické perspektívy.

🇪🇸 Read it in Spanish Ideas dinámicas and Perspectivas dinámicas españolas.

🇸🇪 Read it in Swedish

🇹🇭 Read it in Thai Invitation to Comments 170: ไอเดียแบบไดนามิก.

🇻🇳 Read it in Vietnamese Ý tưởng năng động and Quan điểm năng động của người Việt.

* You are at Dynamiczne Pomysły.