FACEBOOK IS SOCIAL DICTATORSHIP & SOCIAL MEDIA SPAM, but that is not all. GET THE INSIGHTS ON HOAS ABOUT FACEBOOK., AS ONE OF HOA'S DYNAMICS AND SEE THE OTHER DYNAMICS IN MORE THAN 90 BILINGUAL PAGES.

Perspectivas Dinamicas Portuguesas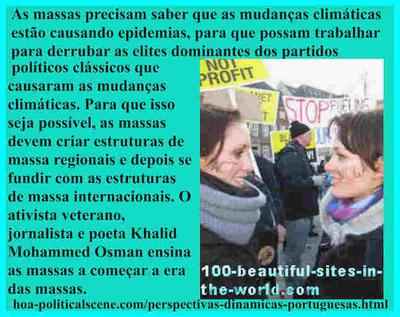 hoa-politicalscene.com/perspectivas-dinamicas-portuguesas.html - Perspectivas dinâmicas portuguesas: As massas precisam saber que as mudanças climáticas causam epidemias.
As perspectivas dinâmicas portuguesas começaram com Ideias dinâmicas. Então, você precisa ler a primeira parte e continuar aqui.

Assim, a partir dessas situações incrivelmente ruins que investiguei no mundo através do meu trabalho de jornalismo, voltei à ideia que tive durante muito tempo sobre as massas. Antes de abordar esta questão, usei esse termo repetidamente durante a Revolução Sudanesa "Sudanese Revolution" contra o regime ditatorial de Jafar al-Numeri nas décadas de 1970 e 1980, até a queda do ditador.

Antes da queda do ditador, o chefe da Irmandade Muçulmana no Sudão "Muslim Brothers of Sudan" fez dele um (Imam) com grandes habilidades para cortar as pessoas, amputá-las e matá-las, pelas leis da Sharia, embora o líder da "NIF" sabia que o ditador era herético e punk.

Naquela época, fugi de seu regime totalitário, muitos anos antes da implementação das leis da Sharia, a Frente Popular de Libertação da Eritreia (EPLF) entrou em contato comigo durante a década de 1970, enquanto a frente estava lançando as operações para libertar a Eritreia da colonização da Etiópia "Ethiopia". Eles entraram em contato comigo e discutimos muitas questões políticas, relativas às situações no Chifre da África "Horn of Africa.".

Tornei-me fã da frente por causa de sua linha política. Eles me pediram para ajudá-los no trabalho da mídia e eu o fiz em benefício da Revolução Eritreia. O (EPLF) usou o termo "massas" em sua literatura para libertar a Eritreia e, na época, percebi que era a "era das massas", então eu vim com esse termo e o usei, e me tornei um crente que apoiava a Eritreia revolução até a vitória e além.

Após a libertação da Eritreia, trabalhei em Asmara nos anos 90, usei o mesmo termo "era das massas" para elaborar um projeto público para as massas. O nome desse projeto era Árvore dos Mártires "Martyr's Tree". Iluminando as massas, usei o método de iluminar as massas para plantar a árvore do mártir.

Como parte deste projeto, eu estava ocupado liderando as massas da Eritreia a plantar mais de cinco milhões de árvores chamadas Árvores dos Mártires "Martyr's Tree". Aparentemente, eu também estava muito ocupado trabalhando no projeto deste projeto para manter o ambiente da Eritreia e, pessoalmente, esperava que ele apoiasse um ambiente regional e global.

Enquanto eu estava ocupado implementando esse projeto, também planejei criar o Ambiente Nacional da Eritreia, principalmente por meio de reuniões que organizei pessoalmente na Confederação Trabalhista da Eritreia, onde trabalhei duro para reunir 2 membros de outros sindicatos que seriam coordenadores na organização do meio ambiente. Leia "Ambiente" e "Proteção ambiental" para saber mais sobre este projeto.

Tudo isso ao recordar o conceito de "Era das Massas", quando cheguei à conclusão de que esse conceito tem estabilidade histórica e filosófica para mim, e é por isso que estou usando agora neste período. Portanto, o termo "era das massas" tem um fundo filosófico histórico em minha mente.

Continuar Perspectivas Dinâmicas Portuguesas em Pensamento Dinâmico Português. Você deveria ter lido Ideias dinâmicas para passar por essas seções do artigo político.


* Read "Dynamic Ideas" in your native language below:

🇦🇱 Read it in Albanian Idetë dinamike.

🇪🇹 Read it in Amharic Invitation to Comment 158: ተለዋዋጭ ሀሳቦች.

🇱🇧 Read it in Arabic Afkar Dynamicyah, and Invitation to Comment 154: أفكار ديناميكية، أو أفكار دينامية.

🇧🇬 Read it in Bulgarian Invitation to Comment 155: Динамични идеи.

🇨🇳 Read it in Chinese Invitation to Comment 157: 动态想法.

🇨🇿 Read it in Czech Dynamické Nápady and České Dynamické Perspektivě.

🇩🇰 Read it in Danish Danske Dynamiske Ideer.

🇬🇧 Read it in English Dynamic Ideas, Dynamic Political Opinions, Global Dynamics, Green Peace, HOA's about FaceBook and HOA's Climate Change.

🇵🇭 Read it in Filipino Dinamikong Ideya.

🇫🇷 Read it in French Idées Dynamiques, Perspectives Dynamiques Françaises, Opinions Dynamiques Françaises, Théorie Dynamique Française and Plans dynamiques français.

🇩🇪 Read it in German Dynamischen Ideen.

🇬🇷 Read it in Greek Invitation to Comment 160: Δυναμικές ιδέες.

🇮🇱 Read it in Hebrew Invitation to Comments 164: רעיונות דינמיים.

🇮🇩 Read it in Indonesian Ide Dinamis.

🇮🇪 Read it in Irish Smaointe Dinimiciúla.

🇮🇹 Read it in Italian Idee Dinamiche.

🇯🇵 Read it in Japanese Invitation to Comments 165: ダイナミックなアイデア.

🇰🇵 Read it in Korean Invitation to Comments 166: 역동적 인 아이디어.

🇱🇻 Read it in Latvian Dinamiskās Idejas.

🇲🇾 Read it in Malay Idea Dinamik.

🇳🇴 Read it in Norwegian Dynamiske ideer.

🇮🇷 Read it in Persian Invitation to Comments 167: ایده های پویا.

🇵🇱 Read it in Polish Dynamiczne Pomysły and Polskie Dynamiczne Perspektywy.

🇷🇴 Read it in Romanian Ideile dinamice and perspective dinamice românești.

🇷🇺 Read it in Russian Invitation to Comments 168: Динамические идеи and Invitation to Comments 169: российских динамических мнениях.

🇸🇰 Read it in Slovak Dynamické myslenie and Slovenské dynamické perspektívy.

🇪🇸 Read it in Spanish Ideas dinámicas and Perspectivas dinámicas españolas.

🇸🇪 Read it in Swedish Dynamiska idéer.

🇹🇭 Read it in Thai Invitation to Comments 170: ไอเดียแบบไดนามิก.

🇻🇳 Read it in Vietnamese Ý tưởng năng động and Quan điểm năng động của người Việt.

🇵🇹 You are at Perspectivas Dinâmicas Portuguesas.