FACEBOOK IS SOCIAL DICTATORSHIP & SOCIAL MEDIA SPAM, but that is not all. GET THE INSIGHTS ON HOAS ABOUT FACEBOOK., AS ONE OF HOA'S DYNAMICS AND SEE THE OTHER DYNAMICS IN MORE THAN 90 BILINGUAL PAGES.

Ideile dinamice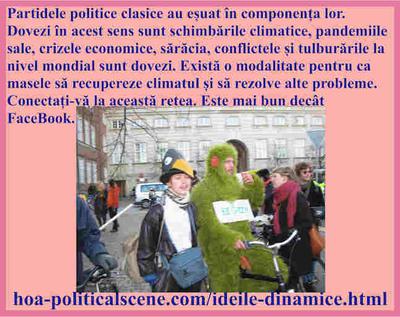 hoa-politicalscene.com/ideile-dinamice.html - Ideile dinamice: Partidele politice clasice au eșuat în componența lor, iar schimbările climatice și pandemiile sale sunt teste.
Ideile dinamice sunt puterea minții, într-o propoziție scurtă. În detalii ... aici mergem:

Ideile dinamice sunt căutate să păstreze un punct de vedere pozitiv, atunci când analizăm toate problemele pe care le vedem în lumea noastră, în zilele noastre și urmărim istoria lor (de exemplu, când s-au întâmplat? Care sunt cauzele esențiale? Cum afectează viața noastră de zi cu zi pretutindeni?)

Fiecare idee dinamică aduce proiecte diferite. Aceasta nu este dintr-o teorie, ci din practică și avem multe practici aici pentru a dezvălui cum funcționează ideile dinamice pentru a produce multe proiecte. Prin urmare, fiecare idee dinamică este o putere a minții.

Primul lucru de remarcat este că ideile dinamice nu se limitează la crearea și conducerea erei maselor, ci mai degrabă stabilesc accesul la creația, conducerea și activitățile mișcării de masă pentru a o conduce la victoria în toată lumea.

Aceste idei dinamice PE CARE CITEȘTI PE SLOGANE sunt bine căutate și cercetate pentru a spori înțelegerea regională și globală și să adopte o înțelegere politică foarte avansată a problemelor globale, astfel încât să promoveze acțiunile maselor pentru rezolvarea tuturor problemelor care au fost create de elitele conducătoare ale partidelor politice clasice.

Ideile dinamice vin în trei secțiuni. Una dintre secțiuni este introducerea în termen, iar cea de-a doua secțiune este despre "ERA PARTIȚI POLITICE CLASICE" și "ERA MASELOR", iar a treia secțiune este o continuare a introducerii care o conectează la ideea "Arborelui Martirului". Veți citi despre acest fundal într-o a doua pagină. Așadar, uitați-vă la inclus în limba română într-unul dintre linkurile de comentarii.

O notificare înainte de a continua: S-ar putea să întâlniți unele greșeli de limbă în această versiune românească. Având în vedere această problemă lingvistică, dacă citiți greșeli de limbă aici, utilizați linkul de comentarii pentru a corecta alineatele care conțin greșelile. Puteți vedea greșelile când citiți versiunea în limba engleză și o comparați cu versiunea română. Mulțumesc foarte mult.

Ce vreau să spun prin era de maselor? Și de ce este epoca maselor?

Masele au fost întotdeauna puterea dinamică în alegerea guvernelor prin procesul de vot parlamentar în diferite părți ale lumii, cu excepția unor țări care au regimuri autoritare.

În ciuda acestei puteri reale și influente a maselor, a devenit clar că guvernele alese lucrează întotdeauna pentru grupurile de elită conducătoare care conduc guvernele. Aceasta înseamnă că aceste elite conducătoare au ignorat cererile maselor.

De fapt, ceea ce fac aceste elite conducătoare arată că nu îndeplinesc cerințele maselor și nu servesc masele care au ales candidații în beneficiul maselor, ci își servesc propriile interese.

Ceea ce s-a întâmplat întotdeauna este faptul că masele aleg guvernele să acționeze în favoarea maselor, dar ajung să aibă guverne care funcționează doar ca elite conducătoare pentru propriile lor interese. Interesele elitelor conducătoare au devenit punctul central al majorității guvernelor.

Acest lucru duce la neglijarea durabilității în diferite domenii, inclusiv climă, mediu, sănătate și chiar bunăstarea maselor.

Dar schimbările climatice sunt cele care au expus corupția guvernelor internaționale!

De fapt, schimbările climatice au expus aceste guverne, mai mult decât crizele economice, conflictele care îi încurajează în întreaga lume și corupția țărilor în care joacă un rol au devenit corupte.

Vei fi pe calea corectă către descoperire pentru a lua măsuri pentru a rezolva problemele lumii tale. Da, este lumea ta. Așadar, continuați în perspective dinamice românești.



* Read "Dynamic Ideas" in your native language below:

🇦🇱 Read it in Albanian Idetë dinamike.

🇪🇹 Read it in Amharic Invitation to Comment 158: ተለዋዋጭ ሀሳቦች and Invitation to Comment 159: ተለዋዋጭ የፖለቲካ አመለካከቶች.

🇱🇧 Read it in Arabic Afkar Dynamicyah, and Invitation to Comment 154: أفكار ديناميكية، أو أفكار دينامية.

🇧🇬 Read it in Bulgarian Invitation to Comment 155: Динамични идеи and Invitation to Comment 156: Динамични политически мнения.

🇨🇳 Read it in Chinese Invitation to Comment 157: 动态想法.

🇨🇿 Read it in Czech Dynamické nápady and České dynamické perspektivě.

🇩🇰 Read it in Danish

🇬🇧 Read it in English Dynamic Ideas and Dynamic Political Opinions.

🇵🇭 Read it in Filipino

🇫🇷 Read it in French

🇩🇪 Read it in German

🇬🇷 Read it in Greek Invitation to Comment 160: Δυναμικές ιδέες, Invitation to Comment 161: Ελληνικές Δυναμικές Ιδέες, Invitation to Comment 162: Δυναμικές πολιτικές απόψεις and Invitation to Comments 163: Ελληνικές δυναμικές προοπτικές

* Read it in Hawaiian

🇮🇱 Read it in Hebrew Invitation to Comments 164: רעיונות דינמיים.

🇮🇩 Read it in Indonesian

🇮🇪 Read it in Irish

🇮🇹 Read it in Italian

🇯🇵 Read it in Japanese Invitation to Comments 165: ダイナミックなアイデア.

🇰🇵 Read it in Korean Invitation to Comments 166: 역동적 인 아이디어.

🇱🇻 Read it in Latvian

🇲🇾 Read it in Malay

🇳🇴 Read it in Norwegian

🇮🇷 Read it in Persian Invitation to Comments 167: ایده های پویا.

🇵🇱 Read it in Polish

🇵🇹 Read it in Portuguese

🇷🇴 Read it in Romanian

🇷🇺 Read it in Russian Invitation to Comments 168: Динамические идеи and Invitation to Comments 169: российских динамических мнениях.

🇸🇰 Read it in Slovak Dynamické myslenie and Slovenské dynamické perspektívy.

🇪🇸 Read it in Spanish Ideas dinámicas and Perspectivas dinámicas españolas.

🇸🇪 Read it in Swedish

🇹🇭 Read it in Thai Invitation to Comments 170: ไอเดียแบบไดนามิก.

🇻🇳 Read it in Vietnamese Ý tưởng năng động and Quan điểm năng động của người Việt.

* You are at Ideile dinamice.