HOW MUCH does Facebook pay you when you spend a lot of time to make it a billionaire while you're poor? Do you want to conquer FaceBook, Google, or any social you are using and make them pay you hard currencies for using them? That has a DYNAMIC SYSTEM. Contact Me! GET INSIGHTS ON HOAS ABOUT FACEBOOK.
Danske Dynamiske Planer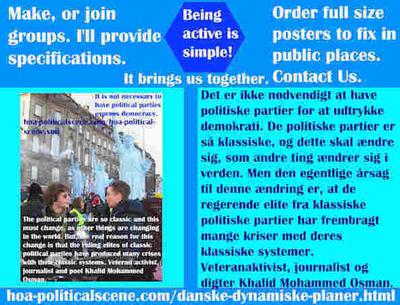 hoa-politicalscene.com/danske-dynamiske-planer.html - Danske Dynamiske Planer: Klimaet får skade, og det bringer epidemier med forsvinden af sneen. Dette er resultatet af de klassiske politiske...
Danske Dynamiske Planer er del 8 af Danske Dynamiske Ideer, som er del 1. Del 2 handler om Danske Dynamiske Perspektiver. Del 3 er om Danske Dynamiske Meninger. De 4 handler om Danske Dynamiske Tanker. Del 5 om Danske Dynamiske Indsigter. Del 6 er om Danske Dynamiske Punkter og del 7 handler om Danske Dynamiske Synspunkter. Venligst korriger sprogfejl ved at skrive de rigtige ord i komplette afsnit. Brug kommentarerne. Tak.


LPE of the Masses Era er rygraden i massernes æra. Metoden, der er konsistent af 3 segmenter, indeholder nogle enheder, der vedrører alle aspekter af livet. Det giver kortet for veje for intellektuelle til at gøre alle intellektuelle og forbedre alt i livet.

Strategierne og taktikkerne involverer to funktionelle områder, hvor masserne skal gennemgå. Den første er det organisatoriske område, og det andet er den udøvende. Både organisationsområdet og de eksekutive områder har programmer, der fokuserer på at opbygge massesystemet for at erstatte de klassiske systemer for de regerende elite fra klassiske politiske partier. Så tag farvel med disse parter og tak for det, du har gjort.

For at forloves med de første trin i lanceringen af de vigtigste enheder, tag slagordene i den politiske kampagne og start dine egne kampagner ved hjælp af sloganerne. For at følge trinnene perfekt skal du abonnere på nyhedsbrevet og derefter bruge Kontakt os til at fortælle mig, at du har læst Dynamic Ideas, og at du er klar til at arbejde med projektet, når du har bekræftet dit abonnement.

Lad os bevæge os i den globale bevægelse af masserne, som jeg planlægger sammen, for at være ... for alle en god verdensborgere.

Sejr for masserne overalt. VELKOMMEN den nye masser ERA!

De globale masser er mine mennesker, og jeg er deres loyale tjener. Veteranaktivist, journalist og digter Khalid Mohammed Osman.


* Read "Dynamic Ideas" in your native language below:

🇦🇱 Read it in Albanian Idetë dinamike.

🇪🇹 Read it in Amharic Invitation to Comment 158: ተለዋዋጭ ሀሳቦች and Invitation to Comment 159: ተለዋዋጭ የፖለቲካ አመለካከቶች.

🇱🇧 Read it in Arabic Afkar Dynamicyah, and Invitation to Comment 154: أفكار ديناميكية، أو أفكار دينامية.

🇧🇬 Read it in Bulgarian Invitation to Comment 155: Динамични идеи and Invitation to Comment 156: Динамични политически мнения.

🇨🇳 Read it in Chinese Invitation to Comment 157: 动态想法.

🇨🇿 Read it in Czech Dynamické nápady and České dynamické perspektivě.

🇬🇧 Read it in English Dynamic Ideas and Dynamic Political Opinions.

🇵🇭 Read it in Filipino Dinamikong Ideya, Dinamikong Perspektibo and Dinamikong Pag-iisip.

🇫🇷 Read it in French Idées Dynamiques and Perspectives Dynamiques Françaises.

🇬🇷 Read it in Greek Invitation to Comment 160: Δυναμικές ιδέες and Invitation to Comments 163: Ελληνικές δυναμικές προοπτικές

* Read it in Hawaiian

🇮🇱 Read it in Hebrew Invitation to Comments 164: רעיונות דינמיים.

🇮🇩 Read it in Indonesian Ide Dinamis and Pandangan Dinamis Indonesia.

🇮🇪 Read it in Irish Smaointe Dinimiciúla and Léargais Dhinimiciúla na hÉireann.

🇮🇹 Read it in Italian Idee Dinamiche and Prospettive Dinamiche Italiane.

🇯🇵 Read it in Japanese Invitation to Comments 165: ダイナミックなアイデア.

🇰🇵 Read it in Korean Invitation to Comments 166: 역동적 인 아이디어.

🇱🇻 Read it in Latvian Dinamiskās Idejas and Latvijas Dinamiskā Domāšana.

🇲🇾 Read it in Malay Idea Dinamik, Perspektif Dinamik Melayu and Pendapat Dinamik Melayu.

🇳🇴 Read it in Norwegian Dynamiske ideer and Norske Dynamiske Tanker.

🇮🇷 Read it in Persian Invitation to Comments 167: ایده های پویا.

🇵🇱 Read it in Polish Dynamiczne Pomysły and Polskie Dynamiczne Perspektywy.

🇵🇹 Read it in Portuguese Ideias dinâmicas, Perspectivas Dinâmicas Portuguesas and Pensamento Dinâmico Português.

🇷🇴 Read it in Romanian Ideile dinamice and perspective dinamice românești.

🇷🇺 Read it in Russian Invitation to Comments 168: Динамические идеи and Invitation to Comments 169: российских динамических мнениях.

🇸🇰 Read it in Slovak Dynamické myslenie and Slovenské dynamické perspektívy.

🇪🇸 Read it in Spanish Ideas dinámicas and Perspectivas dinámicas españolas.

🇸🇪 Read it in Swedish Dynamiska idéer and Svenska Dynamiska Tes / Avhandling.

🇹🇭 Read it in Thai Invitation to Comments 170: ไอเดียแบบไดนามิก.

🇻🇳 Read it in Vietnamese Ý tưởng năng động and Quan điểm năng động của người Việt.
Join in and write your own page! It's easy to do. How? Simply click here to return to Invitation to Comment.