HOW MUCH does Facebook pay you when you spend a lot of time to make it a billionaire while you're poor? Do you want to conquer FaceBook, Google, or any social you are using and make them pay you hard currencies for using them? That has a DYNAMIC SYSTEM. Contact Me! GET INSIGHTS ON HOAS ABOUT FACEBOOK.
HOA's About FaceBook!
HOA's about FaceBook is an opinion that says: FACEBOOK IS SOCIAL DICTATORSHIP & SOCIAL MEDIA SPAM, but that is not all. When speaking about FaceBook, HOA explains why it is so said.
Any mentality that seeks to dominate others is a FACE of dictatorship. Unfortunately, it IS obligatory dictatorship, in the case of FaceBook, people are forced in by their desires of getting attention, or by intentions to promote other businesses. Get the lights.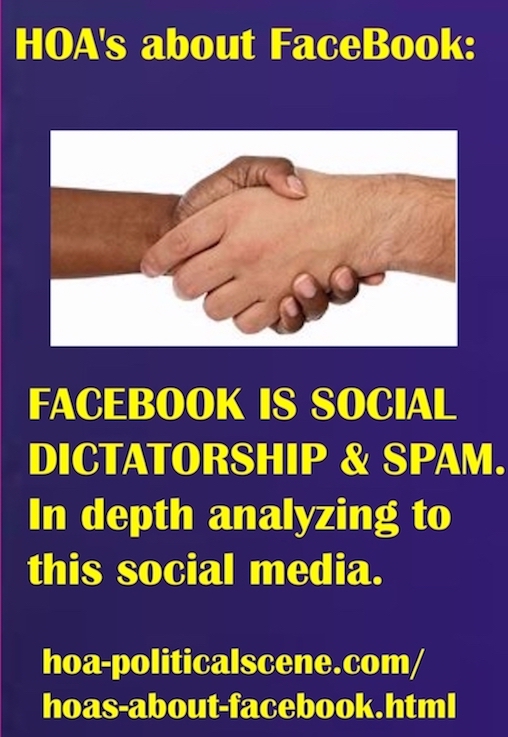 hoa-politicalscene.com/hoas-about-facebook.html - HOA's about FaceBook: FACEBOOK IS SOCIAL DICTATORSHIP & SOCIAL MEDIA SPAM. In depth analyzing to this social media.
Any dominant mentality is a FACE of dictatorship, wether being that in public services, the state levels, the working places, the educational places, or the social atmosphere.
Publishing other intellectuals' work is spam and violation of intellectual property rights. Get the lights.
Domination is a severe personal intent that expresses a mental intention to exploit people to build personal power, or wealth for someone, no matter how the use fo others is being justifiable, or objective. This is where objectives become abusive.
I wonder why many people are blind!
Why they prove that they are superficial even when many of them are well academically educated and some of them are PhDs holders?
This will bring us to realize the fact that it is not necessary that all academically educated people and even PhDs holders are well cultured and sophisticated. This is another topic, I will cover elsewhere.
The fact at the tip of the iceberg of FaceBook users is that many of them want to get attention. That is their rights to do so, indeed. The fact is also that many of them want to promote something, wether personal or any kind of businesses. That include personal intent, art, business, cultural and literary works, human issues, political goals and social issues. All of that is also their business rights to do so.
So, here is the contrast. FaceBook might not know about it and the users from the other hand might not.
By exploiting the needs (demands) of the users, FaceBook use the marketing demands to supply its service. That is also its business rights. The contrast to this is that Face Book uses the business rights and marketing principals to build a billion-dollar empire for its owner.
That means the use of users to build him this billion-dollar empire is a kind of business, personal and social exploitation, especially when we notice that so many of the users are broke and even not well educated. This is one item in capitalism building methods and that's another different issue, I will cover later.
Business owners who get some benefits from it and especially those who offer website building services, don't consider the fact that Face Book has emptied the demands of their businesses. Who will ever seek to use these website services, when s/he can find a social platform offering free pages?
The answer is, only those who don't know a bit of the contrast.
That seems like that the other business owners are satisfied by the food crumbs, which is left from FaceBook table. Even FaceBook users' dogs know this conclusion.
The normal users... and those are the ones who want attention are simple people. They don't care of anything rather than having attention and many of them absolutely don't know about the contrast. Even those who knew and they are few, don't care, as long as they are content by what they get to build their images.
But, what about a category of people many folk consider as well politically educated as communists?
Do they know about this contrast?
The simple answer is that they even didn't think at all about it. They do not know that they are working against the economic and political principles on which communism was based. This is an intellectual superficiality. So, how someone asks about the superficiality of "normal people"?
The matter seems like sarcasm of a tragicomedy in this new century.
That is not all about this specific matter, as there are some other facts about FaceBook along with a massive production of apps for engaging people wasting valuable and precious times playing games and massive apps and movies of violence and wars and also massive production of dating and filtering apps, in what they call the New World Order.
What is going on in the international scope?
Has the world lost its mind?
THIS SECTION WILL BE COMPLETE SOON...
HOAs About FaceBook on Movies!
HOA's About FaceBook is not all. You can watch movies about FaceBook and its beginning story in Harvard Uni, when it was first called the Face, when I joined that time it opened to the public.
See HOA's About FaceBook on TVCinemaApp.com.
Like HOA's About FaceBook?
Your opinion is important, as valued HOA's reader. So, tell me about it, through the Comment C2 Entries form below and rest be assured the form is quite protected to protect your contact info.

Have A Great Story About This Topic?
Do you have a great story about this? Share it!