30 aar siden var der ikke noget web og ingen martyrstrae paa
by miljø, humanitær, politisk aktivist og journalist Khalid Mohammed Osman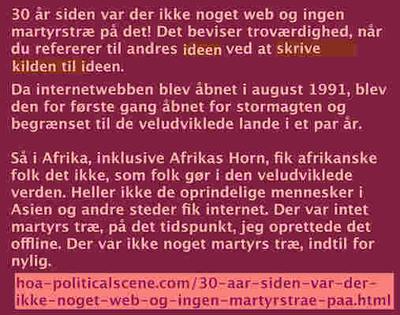 30 år siden var der ikke noget web og ingen martyrstræ på det! Det beviser troværdighed, når du refererer til andres ideer ved at skrive kilden til ideer.
Introduktion:

Nogle ord på dansk har tegn over bogstaver, eller bogstaverne er skrevet på en anden måde sammenlignet med det samme bogstav på engelsk. Så spring browseren over disse ord eller ændre dem. Dette er grunden til, at titlen vises anderledes på denne sides webadresse.

Den danske version af "30 Years Ago There was No Web and No Martyr's Tree on It" er oversat fra den engelske version, du finder på 30 Years Ago There was No Web, or Martyr's Tree on It.

Jeg ved, hvordan man taler, lytter og skriver dansk meget godt, men nogle gange er der fejl sker, ja, selv professorer begår fejl. Læs de to versioner, og hvis du har fundet nogen fejl, bedes du skrive den korrekte fortolkning gennem kommentarlinket, som du finder nederst på siden. Du får nogle nyttige gaver, når du gør dette og skriver de rigtige tekster. Hvis du kan lide at skrive om enhver "intellektuel antændelse", skal du bruge formularen på indgangssiden på Martyr's Tree.



30 år siden var der ikke noget web og ingen martyrstræ på
Da internetwebben blev åbnet i august 1991, blev den for første gang åbnet for stormagten og begrænset til de veludviklede lande i et par år.
Så i Afrika, inklusive Afrikas Horn, fik afrikanske folk det ikke, som folk gør i den veludviklede verden. Heller ikke de oprindelige mennesker i Asien og andre steder fik internet. Der var intet martyrs træ, på det tidspunkt, jeg oprettede det offline. Der var ikke noget martyrs træ, indtil for nylig.
Da jeg kom med ideen om Martyrens træ lige efter Eritrea's uafhængighed i 1991, og det var det tidspunkt, internettet begyndte at lancere, var ideen frisk, og ingen er kommet med det i lyset af fakta, der findes i Eritreisk jord, hvilket tydede på, at der er mere end 500.000 eritreiske martyrer med deres knogler spredt forskellige steder i den nye befriede stat. Dette martyrspørgsmål er aldrig sket før i verden undtagen i Algeriet.
For at tilbyde hæderlige begravelser, eritreiske martyrer fortjener, og at blive overværet af alle patriotiske eritreere, foretog vi en omfattende søgning og bad mange vidner om forbrydelserne begået af den etiopiske besættelsesmagt,
Vi søgte efter disse knogler og hentede dem fra så mange forskellige steder for at ære de eritreiske martyrer og skabte Martyr's Day med fejring i alle de eritreiske regioner. Byen Kern var hovedkvarteret for de første aktiviteter, og fra den stolte brud fra alle eritreiske byer vandrede martyrernes ånder, smilede i fred og forekom de lykkeligste ved deres præstation for deres brødre at leve i en fri stat gennem deres træer.
Det var et af målene for den idé, jeg har oprettet, fordi jeg elsker de eritreiske mennesker og betragter dem som mine mennesker også, og fordi jeg delte deres uafhængighedskamp. Ingen vil alle slette denne historiske kendsgerning sammen med mine resultater. Og hvis nogen, der ikke har tro på, hvad jeg gjorde, på grund af misundelige følelser, eller fordi han ikke kan lide mig på grund af mine principper, skal han bare holde kæft.
Oksen til ofre for nationen var og er stadig en visdom, gennem hvilken jeg skabte ideen om martyrtræet for at opnå udplantning af 5.000.000 martyrtræer, som jeg har nævnt. Det var dog ikke bare at plante martyrstræer, da enhver eritreer har fået betydningen af at være eritreisk og betydningen af ofre for andre.
Jeg ved, at folk elsker ideer som sådan. Men når folk bruger ideerne, er det velkendt, at de skal give en henvisning.
Fra det eritreiske martyrs træ er det sudanesiske martyrs træ født, og med så mange hårde anstrengelser og tidskrævende kom slagordene ud på hundreder af billeder med opfordringer til at plante martyrtræet.
Jeg var meget optaget af at skabe (det sudanesiske folks martyrs træ) fra (eritreiske martyrs træ). Jeg designede tusinder af plakater med (martyrtræet) og skrev forskellige opfordringer for at opmuntre folket til at plante (martyrtræet) til hver martyr. Mange grupper, vi arbejder i, promoverede plakater på det sociale netværk. Ethvert andet navn på en person vises med ideen om (martyrtræet) som skaberen af ideen vil være svig, fordi dette er min idé, og jeg har oprettet den tidligere på halvfemserne.
Det eritreiske folk er åbent for ideer og er aktive, da de plantede mere end 5.000.000 martyrtræ. Men det sudanesiske folk er måske ikke forpligtet til en sådan idé, fordi de ikke kender de store resultater af den. De ved ikke, hvordan denne idé er nyttig, eller hvor dynamisk den er.
Nu kan du se det samme projekt i FaceBook, og jeg ved virkelig ikke, om de har erklæret nogen henvisning der eller ej.
Ideen er også på Pinterest, og jeg ved heller ikke, om de blev opdraget til min idé eller ej.
Det, der fremgår af dette, er, at der skal være troværdighed og gennemsigtighed, i hvad vi gør, når vi udgiver sådanne ideer. Dette er grunden til, at der også er copyrights på ideer.
Efter mere end tredive år efter den dato skabte jeg ideen om martyrtræet, læste jeg på nettet om et martyrtræ, der siges at have beskyttet Tolpuddle-martyrerne på det tidspunkt, de mødtes for at danne en af verdens første fagforeninger. Det siges, at Sycamore Tree stadig lever og er under pleje af National Trust i landsbyen Tolpuddle, Dorset, Storbritannien.
Dette træ er imidlertid så forskelligt fra det eritreiske martyrstræ, dets fundament og dets mål. Så det eritreiske martyrstræ er stadig det første træ i sin art i verden og i menneskets historie.
Men spørgsmålet er, hvorfor pludselig bliver martyrtræet en feber for nogle virksomheder efter den indsats, jeg har gjort online gennem mange grupper og sociale bestyrelser for at danne sig rundt? Og hvorfor undgå at nævne kilden, og undgå ressourceudnyttelse, når de bruger sådanne ideer
Der er ingen måde at tjekke i FaceBook for eksempel, hvis du ikke er en bruger, og jeg vil aldrig være en bruger i en så overfladisk platform som den, der åbner porte til så mange mennesker, der ikke ved, hvad der er forskellen mellem A og Z i politik og endda i sociale værdier. Du læser der lidt, men du kan ikke få de fulde oplysninger for at se, om de giver ressourcer eller ej. FaceBook er også åben for mange jægere af ideer, og det bryder alle ophavsretlige love, glem alt om at være en agent for mange politiske kræfter. Jeg vil aldrig stole på sådan svindel.
* Læs "30 år siden, der er ikke web og der er ikke noget martyrtræ på det" på dit sprog nedenfor:
🇦🇱 Læs det på albansk
Invitation to Comment: 30 vjet më parë Nuk kishte asnjë Ueb & Asnjë Pemë e Dëshmorit mbi të
.
🇪🇹 Læs det på amharisk
Invitation to Comment 146: ከ 30 ዓመታት በፊት ድር የለም እና በላዩ ላይ የሰማዕት ዛፍ የለም
.
🇱🇧 Læs det på arabisk
Ftesën për të komentuar 145: 30 عاما لم تكن هناك شبكة انترنت ولا شجرة شهيد عليها
.
🇨🇳 Læs det på kinesisk
Invitation to Comment 147: 三十年前,没有互联网或烈士树
.
🇵🇭 Læs det på filippinsk
Invitation to Comment: 30 Taon na Magkaroon Walang Internet at walang Tree ng Martyr
.
🇫🇷 Læs det på fransk
🇩🇪 Læs det på tysk
Vor 30 Jahren gibt es kein Web und keinen Märtyrerbaum darauf
.
🇬🇷 Læs det på græsk
٣٠ χρόνια πριν δεν υπάρχει κανένας ιστός και κανένα δέντρο μαρτύρων
.
* Læs det på hawaiisk
🇮🇱 Læs det på hebraisk
🇮🇹 Læs det på italiensk
🇯🇵 Læs det på japansk
🇰🇵 Læs det på koreansk
🇳🇴 Læs det på norsk
🇵🇹 Læs det på portugisisk
🇷🇺 Læs det på russisk
🇪🇸 Læs det på spansk
🇸🇪 Læs det på svensk
🇻🇳 Læs det på vietnamesisk