FACEBOOK IS SOCIAL DICTATORSHIP & SOCIAL MEDIA SPAM, but that is not all. GET THE INSIGHTS ON HOAS ABOUT FACEBOOK., AS ONE OF HOA'S DYNAMICS AND SEE THE OTHER DYNAMICS IN MORE THAN 90 BILINGUAL PAGES.

Danske Dynamiske Meninger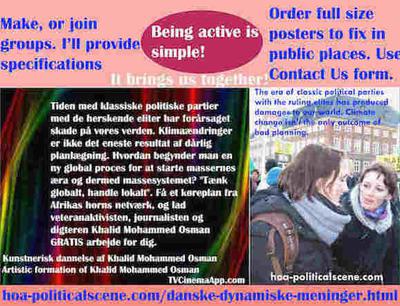 hoa-politicalscene.com/danske-dynamiske-meninger.html - Danske Dynamiske Meninger: Tiden med klassiske politiske partier med de herskende eliter har forårsaget skade på vores verden. Klimaændringer...
Danske Dynamiske Meninger er del 3 af Danske Dynamiske Ideer, som er del 1. Del 2 handler om Danske Dynamiske Perspektiver. Del 4 handler om Danske Dynamiske Tanker. Del 5 handler om Danske Dynamiske Indsigter. Del 6 er på Danske Dynamiske Punkter. Del 7 handler om Danske Dynamiske Synspunkter, og del 8 handler om Danske Dynamiske Planer.

Læs alle dele for at forstå og tage handlinger for at beskytte jorden mod dårlig politisk planning. Hvis du fandt sprogfejl, selvom jeg er god til at tale dansk, vær venlig at bruge kommentarer i bunden af siden til at skrive korrigerende afsnit og få nogle nyttige bøger til at gøre det. Tak. fejl kan ske af mange grunde, bortset fra at nogen can ikke tale dansk.


Dette fører til forsømmelse af bæredygtighed på forskellige områder, herunder klima, miljø, sundhed og endda massernes velvære.

Men det er klimaændringer, der har udsat de internationale regerings korruption!

Klimaændringerne har faktisk udsat disse regeringer mere end andre katastrofer, såsom økonomiske kriser, konflikterne, der opmuntrer dem rundt omkring i verden, og korruptionen i de lande, hvor de spiller en rolle, som er blevet korrupte.

Dette indikerer således behovet for at afslutte den klassiske politiske partiers æra. Det viser også behovet for at lancere "massenes æra" ved hjælp af metoderne til politisk uddannelse af dynamiske ideer på dette revolutionerende banebrydende websted. For at gøre dette kan du abonnere på "HOA Political Scene Newsletter", som er stemmen til "Horn Africa's Network".

Du vil være på den rigtige måde at opdage for at gribe ind for at løse dine verdens problemer. Ja, det er din verden.

Så fra disse utroligt dårlige situationer, som jeg undersøgte i verden gennem mit journalistikarbejde, kom jeg tilbage til den idé, jeg havde længe om masserne. Før jeg behandlede dette spørgsmål, brugte jeg dette udtryk gentagne gange under den sudanesiske revolution "Sudanese Revolution" mod diktatorregimet (Jafar al-Numeri) i 1970'erne og 1980'erne indtil diktatorens fald.


Fortsæt med 🇩🇰 Danske Dynamiske Tanker.


* Read "Dynamic Ideas" in your native language below:

🇦🇱 Read it in Albanian Idetë dinamike.

🇪🇹 Read it in Amharic Invitation to Comment 158: ተለዋዋጭ ሀሳቦች and Invitation to Comment 159: ተለዋዋጭ የፖለቲካ አመለካከቶች.

🇱🇧 Read it in Arabic Afkar Dynamicyah, and Invitation to Comment 154: أفكار ديناميكية، أو أفكار دينامية.

🇧🇬 Read it in Bulgarian Invitation to Comment 155: Динамични идеи and Invitation to Comment 156: Динамични политически мнения.

🇨🇳 Read it in Chinese Invitation to Comment 157: 动态想法.

🇨🇿 Read it in Czech Dynamické nápady and České dynamické perspektivě.

🇬🇧 Read it in English Dynamic Ideas and Dynamic Political Opinions.

🇵🇭 Read it in Filipino Dinamikong Ideya, Dinamikong Perspektibo and Dinamikong Pag-iisip.

🇫🇷 Read it in French Idées Dynamiques and Perspectives Dynamiques Françaises.

🇬🇷 Read it in Greek Invitation to Comment 160: Δυναμικές ιδέες and Invitation to Comments 163: Ελληνικές δυναμικές προοπτικές

* Read it in Hawaiian

🇮🇱 Read it in Hebrew Invitation to Comments 164: רעיונות דינמיים.

🇮🇩 Read it in Indonesian Ide Dinamis and Pandangan Dinamis Indonesia.

🇮🇪 Read it in Irish Smaointe Dinimiciúla and Léargais Dhinimiciúla na hÉireann.

🇮🇹 Read it in Italian Idee Dinamiche and Prospettive Dinamiche Italiane.

🇯🇵 Read it in Japanese Invitation to Comments 165: ダイナミックなアイデア.

🇰🇵 Read it in Korean Invitation to Comments 166: 역동적 인 아이디어.

🇱🇻 Read it in Latvian Dinamiskās Idejas and Latvijas Dinamiskā Domāšana.

🇲🇾 Read it in Malay Idea Dinamik, Perspektif Dinamik Melayu and Pendapat Dinamik Melayu.

🇳🇴 Read it in Norwegian Dynamiske ideer and Norske Dynamiske Tanker.

🇮🇷 Read it in Persian Invitation to Comments 167: ایده های پویا.

🇵🇱 Read it in Polish Dynamiczne Pomysły and Polskie Dynamiczne Perspektywy.

🇵🇹 Read it in Portuguese Ideias dinâmicas, Perspectivas Dinâmicas Portuguesas and Pensamento Dinâmico Português.

🇷🇴 Read it in Romanian Ideile dinamice and perspective dinamice românești.

🇷🇺 Read it in Russian Invitation to Comments 168: Динамические идеи and Invitation to Comments 169: российских динамических мнениях.

🇸🇰 Read it in Slovak Dynamické myslenie and Slovenské dynamické perspektívy.

🇪🇸 Read it in Spanish Ideas dinámicas and Perspectivas dinámicas españolas.

🇸🇪 Read it in Swedish Dynamiska idéer and Svenska Dynamiska Tes / Avhandling.

🇹🇭 Read it in Thai Invitation to Comments 170: ไอเดียแบบไดนามิก.

🇻🇳 Read it in Vietnamese Ý tưởng năng động and Quan điểm năng động của người Việt.