FACEBOOK IS SOCIAL DICTATORSHIP & SOCIAL MEDIA SPAM, but that is not all. GET THE INSIGHTS ON HOAS ABOUT FACEBOOK., AS ONE OF HOA'S DYNAMICS AND SEE THE OTHER DYNAMICS IN MORE THAN 90 BILINGUAL PAGES.

Ide Dinamis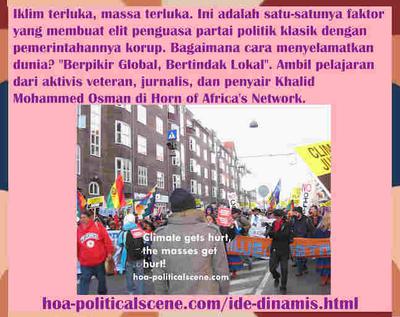 hoa-politicalscene.com/ide-dinamis.html - Ide Dinamis: Iklim terluka, massa terluka. Ini adalah satu-satunya faktor yang membuat elit penguasa partai politik klasik dengan pemerintahannya korup.
Ide Dinamis adalah kekuatan pikiran, dalam kalimat singkat. Secara rinci ... ini dia:

Ide Dinamis dicari untuk mempertahankan sudut pandang positif, ketika kita melihat semua masalah yang kita lihat di dunia kita, saat ini dan mengikuti sejarahnya (misalnya kapan itu terjadi? Apa penyebab esensial? Bagaimana pengaruhnya terhadap kehidupan kita sehari-hari dimana mana?)

Setiap ide dinamis membawa proyek yang berbeda. Ini bukan dari teori, tetapi dari praktik dan kami memiliki banyak praktik di sini untuk mengungkapkan bagaimana ide-ide dinamis bekerja untuk menghasilkan banyak proyek. Karena itu, setiap ide dinamis adalah kekuatan pikiran.

Hal pertama yang perlu diperhatikan adalah bahwa ide-ide Dinamis tidak terbatas pada penciptaan dan kepemimpinan di era massa, melainkan membangun akses ke penciptaan, kepemimpinan, dan kegiatan gerakan massa untuk memimpinnya menuju kemenangan di seluruh dunia.

Ide Dinamis ini ANDA BACA DENGAN SLOGAN datang dicari dan diteliti dengan baik untuk meningkatkan pemahaman regional dan global dan untuk mengambil pemahaman politik yang sangat maju tentang isu-isu global ke dalam tindakan massa untuk menyelesaikan semua masalah yang telah dibuat oleh elit penguasa klasik dari partai politik.

Ide Dinamis datang dalam tiga bagian. Salah satu bagian adalah pengantar untuk istilah ini dan bagian kedua adalah tentang "ERA PARTAI POLITIK KLASIK" dan "ERA MASSA" dan bagian ketiga adalah kelanjutan dari pengantar yang menghubungkannya dengan gagasan Pohon Martir "Martyr's Tree". Anda akan membaca tentang latar belakang ini di halaman kedua. Jadi, lihat itu termasuk dalam bahasa Indonesia di salah satu tautan komentar.

Pemberitahuan, sebelum Anda melanjutkan: Anda mungkin menemukan beberapa kesalahan bahasa dalam versi bahasa Indonesia ini. Mengingat masalah bahasa ini, jika Anda membaca kesalahan bahasa di sini, gunakan tautan komentar "comments" untuk memperbaiki paragraf yang mengandung kesalahan. Anda dapat melihat kesalahan ketika Anda membaca versi bahasa Inggris dan membandingkannya dengan versi bahasa Indonesia. Terima kasih banyak.

Apa yang saya maksud dengan era massa? Dan mengapa ini adalah era massa?

Massa selalu menjadi kekuatan dinamis dalam memilih pemerintah melalui proses pemilihan parlemen di berbagai belahan dunia, dengan pengecualian beberapa negara yang memiliki rezim otoriter.


Dengan demikian, ini menunjukkan perlunya mengakhiri era partai politik klasik. Ini juga menunjukkan perlunya meluncurkan "era massa" menggunakan metode pendidikan politik ide-ide dinamis dalam situs web perintis revolusioner ini. Untuk melakukan ini, berlangganan Newsletter Scene Politik HOA "HOA Political Scene Newsletter", yang merupakan suara dari Jaringan Tanduk Afrika "Horn Africa's Network".

* Read "Dynamic Ideas" in your native language below:

🇦🇱 Read it in Albanian Idetë dinamike.

🇪🇹 Read it in Amharic Invitation to Comment 158: ተለዋዋጭ ሀሳቦች and Invitation to Comment 159: ተለዋዋጭ የፖለቲካ አመለካከቶች.

🇱🇧 Read it in Arabic Afkar Dynamicyah, and Invitation to Comment 154: أفكار ديناميكية، أو أفكار دينامية.

🇧🇬 Read it in Bulgarian Invitation to Comment 155: Динамични идеи and Invitation to Comment 156: Динамични политически мнения.

🇨🇳 Read it in Chinese Invitation to Comment 157: 动态想法.

🇨🇿 Read it in Czech Dynamické nápady and České dynamické perspektivě.

🇩🇰 Read it in Danish

🇬🇧 Read it in English Dynamic Ideas and Dynamic Political Opinions.

🇵🇭 Read it in Filipino

🇫🇷 Read it in French

🇩🇪 Read it in German

🇬🇷 Read it in Greek Invitation to Comment 160: Δυναμικές ιδέες, Invitation to Comment 161: Ελληνικές Δυναμικές Ιδέες, Invitation to Comment 162: Δυναμικές πολιτικές απόψεις and Invitation to Comments 163: Ελληνικές δυναμικές προοπτικές

* Read it in Hawaiian

🇮🇱 Read it in Hebrew Invitation to Comments 164: רעיונות דינמיים.

🇮🇩 Read it in Indonesian

🇮🇪 Read it in Irish Smaointe Dinimiciúla, Peirspictíochtaí Dinimiciúla na hÉireann, Smaointeoireacht Dhinimiciúil na hÉireann, Tuairimí Dinimiciúla na hÉireann and Léargais Dhinimiciúla na hÉireann.

🇮🇹 Read it in Italian

🇯🇵 Read it in Japanese Invitation to Comments 165: ダイナミックなアイデア.

🇰🇵 Read it in Korean Invitation to Comments 166: 역동적 인 아이디어.

🇱🇻 Read it in Latvian Dinamiskās Idejas, Latvijas Dinamiskās Perspektīvas, Latvijas Dinamiskie Atzinumi and Latvijas Dinamiskā Domāšana.

🇲🇾 Read it in Malay

🇳🇴 Read it in Norwegian

🇮🇷 Read it in Persian Invitation to Comments 167: ایده های پویا.

🇵🇱 Read it in Polish Dynamiczne Pomysły and Polskie Dynamiczne Perspektywy.

🇵🇹 Read it in Portuguese Ideias dinâmicas, Perspectivas Dinâmicas Portuguesas and Pensamento Dinâmico Português.

🇷🇴 Read it in Romanian Ideile dinamice and perspective dinamice românești.

🇷🇺 Read it in Russian Invitation to Comments 168: Динамические идеи and Invitation to Comments 169: российских динамических мнениях.

🇸🇰 Read it in Slovak Dynamické myslenie and Slovenské dynamické perspektívy.

🇪🇸 Read it in Spanish Ideas dinámicas and Perspectivas dinámicas españolas.

🇸🇪 Read it in Swedish

🇹🇭 Read it in Thai Invitation to Comments 170: ไอเดียแบบไดนามิก.

🇻🇳 Read it in Vietnamese Ý tưởng năng động and Quan điểm năng động của người Việt.

* You are at Ide Dinamis.