HOW MUCH does Facebook pay you when you spend a lot of time to make it a billionaire while you're poor? Do you want to conquer FaceBook, Google, or any social you are using and make them pay you hard currencies for using them? That has a DYNAMIC SYSTEM. Contact Me! GET INSIGHTS ON HOAS ABOUT FACEBOOK.
Perspectives Dynamiques Francaises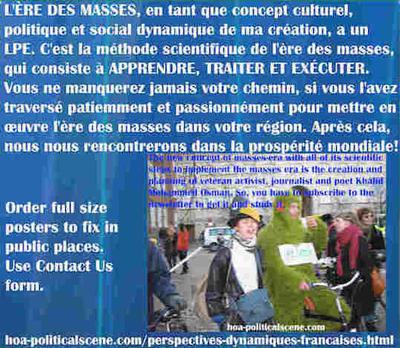 hoa-politicalscene.com/perspectives-dynamiques-francaises.html - Perspectives Dynamiques Françaises: L'ÈRE DES MASSES, en tant que concept culturel, et politique dynamique de ma création, a un LPE.
Les Perspectives Dynamiques Françaises portent sur les Idées Dynamiques, qui font partie de cet article politique en français. La deuxième partie des articles se poursuit sur la troisième partie de Opinions Dynamiques Françaises, la quatrième partie de Avis Dynamiques Français, la cinquième partie de Pensées Dynamiques Françaises, la sixième partie de Vues Dynamiques Françaises et la septième partie deThéorie Dynamique Française. Ainsi, vous devrez lire toutes les parties pour comprendre l'article culturel, économique, environnemental, politique et social.

Une note avant de continuer: des erreurs de langue peuvent survenir dans cette version française. Si vous lisez ici des fautes d'orthographe compte tenu de ce problème de langue, utilisez le lien de commentaire pour corriger les paragraphes qui contiennent les erreurs. Vous pouvez voir les erreurs si vous lisez la version anglaise et la comparez avec la version française. Merci beaucoup.


La première chose à noter est que les idées dynamiques ne se limitent pas à la création et à la direction de l'ère des masses, mais établissent plutôt l'accès à la création, à la direction et aux activités du mouvement de masse pour le mener à la victoire partout dans le monde.

Ces idées dynamiques, que vous lisez ici et voyez dans les slogans, sont bien recherchées et recherchées pour améliorer la compréhension régionale et mondiale et pour incorporer une compréhension politique très avancée des problèmes mondiaux dans les actions des masses pour résoudre tous les problèmes qui ont été créés. par les élites dirigeantes des partis politiques classiques.

Les idées dynamiques se divisent en trois sections. Une des sections est une introduction au terme et la deuxième section concerne "l'ÈRE DES PARTIS POLITIQUES CLASSIQUES" et "l'ÈRE DES MASSES" et la troisième section est une continuation de l'introduction le reliant à l'idée de l'Arbre du Martyr "Martyr's Tree". Vous en apprendrez plus sur ce contexte sur une deuxième page. Alors, regardez-le inclus en Français dans l'un des liens de commentaires.

Qu'est-ce que je veux dire par l'ère des masses? Et pourquoi est-ce l'ère des masses?

Les masses ont toujours été le pouvoir dynamique dans l'élection des gouvernements par le biais du processus de vote parlementaire dans différentes parties du monde, à l'exception de certains pays qui ont des régimes autoritaires.

Continuez sur les Opinions Dynamiques Françaises.


* Read "Dynamic Ideas" in your native language below:

🇦🇱 Read it in Albanian Idetë dinamike.

🇪🇹 Read it in Amharic Invitation to Comment 158: ተለዋዋጭ ሀሳቦች and Invitation to Comment 159: ተለዋዋጭ የፖለቲካ አመለካከቶች.

🇱🇧 Read it in Arabic Afkar Dynamicyah, and Invitation to Comment 154: أفكار ديناميكية، أو أفكار دينامية.

🇧🇬 Read it in Bulgarian Invitation to Comment 155: Динамични идеи and Invitation to Comment 156: Динамични политически мнения.

🇨🇳 Read it in Chinese Invitation to Comment 157: 动态想法.

🇨🇿 Read it in Czech Dynamické nápady and České dynamické perspektivě.

🇩🇰 Read it in Danish

🇬🇧 Read it in English Dynamic Ideas and Dynamic Political Opinions.

🇵🇭 Read it in Filipino Dinamikong Ideya, Dinamikong Perspektibo and Dinamikong Pag-iisip.

🇬🇷 Read it in Greek Invitation to Comment 160: Δυναμικές ιδέες, Invitation to Comment 161: Ελληνικές Δυναμικές Ιδέες and Invitation to Comments 163: Ελληνικές δυναμικές προοπτικές

* Read it in Hawaiian

🇮🇱 Read it in Hebrew Invitation to Comments 164: רעיונות דינמיים.

🇮🇩 Read it in Indonesian Ide Dinamis, Perspektif Dinamis Indonesia and Pandangan Dinamis Indonesia.

🇮🇪 Read it in Irish Smaointe Dinimiciúla and Léargais Dhinimiciúla na hÉireann.

🇮🇹 Read it in Italian Idee Dinamiche and Prospettive Dinamiche Italiane

🇯🇵 Read it in Japanese Invitation to Comments 165: ダイナミックなアイデア.

🇰🇵 Read it in Korean Invitation to Comments 166: 역동적 인 아이디어.

🇱🇻 Read it in Latvian Dinamiskās Idejas and Latvijas Dinamiskā Domāšana.

🇲🇾 Read it in Malay Idea Dinamik and Pendapat Dinamik Melayu.

🇳🇴 Read it in Norwegian Dynamiske ideer and Norske Dynamiske Tanker.

🇮🇷 Read it in Persian Invitation to Comments 167: ایده های پویا.

🇵🇱 Read it in Polish Dynamiczne Pomysły and Polskie Dynamiczne Perspektywy.

🇵🇹 Read it in Portuguese Ideias dinâmicas and Pensamento Dinâmico Português.

🇷🇴 Read it in Romanian Ideile dinamice and perspective dinamice românești.

🇷🇺 Read it in Russian Invitation to Comments 168: Динамические идеи and Invitation to Comments 169: российских динамических мнениях.

🇸🇰 Read it in Slovak Dynamické myslenie and Slovenské dynamické perspektívy.

🇪🇸 Read it in Spanish Ideas dinámicas and Perspectivas dinámicas españolas.

🇸🇪 Read it in Swedish Dynamiska idéer and Svenska Dynamiska Tes / Avhandling.

🇹🇭 Read it in Thai Invitation to Comments 170: ไอเดียแบบไดนามิก.

🇻🇳 Read it in Vietnamese Ý tưởng năng động and Quan điểm năng động của người Việt.
Join in and write your own page! It's easy to do. How? Simply click here to return to Invitation to Comment.