Danske Dynamiske ideer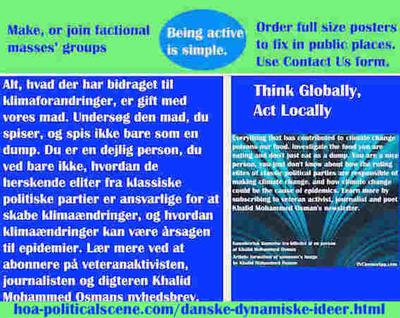 hoa-politicalscene.com/danske-dynamiske-ideer.html - Danske Dynamiske ideer: Alt, hvad der har bidraget til klimaforandringer, er gift med vores mad. Undersøg den mad, du spiser, og spis ikke bare som...
Danske Dynamiske Ideer starter med del 1 her og fortsætter med del 2 Danske Dynamiske Perspektiver, del 3 Danske Dynamiske Meninger, del 4 Danske Dynamiske Tanker, del 5 Danske Dynamiske Indsigter, del 6 Danske Dynamiske Punkter, del 7 Danske Dynamiske Synspunkter og del 8 Danske Dynamiske Planer. Du skal læse alle dele for at forstå og tage handlinger for at beskytte naturen og verden. Hvis du har fundet sprogfejl, skal du rette dem ved at skrive de komplette afsnit til højre på linket Kommentarer nederst på siden. Mange tak.


Dynamiske ideer er tankekraft i en kort sætning. I detaljer ... her går vi:

Dynamiske ideer søges for at bevare et positivt synspunkt, når vi ser på alle de problemer, vi ser i vores verden, i dag og følger deres historie (f.eks. Hvornår skete de? Hvad er de væsentligste årsager? Hvordan påvirker de vores daglige liv overalt?)

Hver dynamisk idé bringer forskellige projekter. Dette er ikke fra en teori, men fra praksis, og vi har mange praksis her for at afsløre, hvordan dynamiske ideer fungerer til at producere mange projekter. Derfor er enhver dynamisk idé en tankekraft.

Den første ting, der skal bemærkes, er, at dynamiske ideer ikke er begrænset til oprettelse og ledelse af massenes æra, men snarere skaber adgang til skabelsen, lederskabet og aktiviteterne i massebevægelsen for at føre den til sejr over hele verden.

Disse dynamiske ideer, som du læser her og ser i sloganerne, er godt efterspurgt og undersøgt for at forbedre regional og global forståelse og for at indarbejde en meget avanceret politisk forståelse af globale problemer i massernes handlinger for at løse alle problemer, der er skabt af de regerende elite fra de klassiske politiske partier.

Fortsætte med 🇩🇰 Danske Dynamiske Perspektiver.


* Read "Dynamic Ideas" in your native language below:

🇦🇱 Read it in Albanian Idetë dinamike.

🇪🇹 Read it in Amharic Invitation to Comment 158: ተለዋዋጭ ሀሳቦች and Invitation to Comment 159: ተለዋዋጭ የፖለቲካ አመለካከቶች.

🇱🇧 Read it in Arabic Afkar Dynamicyah, and Invitation to Comment 154: أفكار ديناميكية، أو أفكار دينامية.

🇧🇬 Read it in Bulgarian Invitation to Comment 155: Динамични идеи and Invitation to Comment 156: Динамични политически мнения.

🇨🇳 Read it in Chinese Invitation to Comment 157: 动态想法.

🇨🇿 Read it in Czech Dynamické nápady and České dynamické perspektivě.

🇬🇧 Read it in English Dynamic Ideas and Dynamic Political Opinions.

🇵🇭 Read it in Filipino Dinamikong Ideya, Dinamikong Perspektibo and Dinamikong Pag-iisip.

🇫🇷 Read it in French

🇬🇷 Read it in Greek Invitation to Comment 160: Δυναμικές ιδέες, Invitation to Comment 161: Ελληνικές Δυναμικές Ιδέες, Invitation to Comment 162: Δυναμικές πολιτικές απόψεις and Invitation to Comments 163: Ελληνικές δυναμικές προοπτικές

* Read it in Hawaiian

🇮🇱 Read it in Hebrew Invitation to Comments 164: רעיונות דינמיים.

🇮🇩 Read it in Indonesian Ide Dinamis, Perspektif Dinamis Indonesia, Pemikiran Dinamis Indonesia, Pendapat Dinamis Indonesia, Wawasan Dinamis Indonesia and Pandangan Dinamis Indonesia.

🇮🇪 Read it in Irish Smaointe Dinimiciúla, Peirspictíochtaí Dinimiciúla na hÉireann, Smaointeoireacht Dhinimiciúil na hÉireann, Tuairimí Dinimiciúla na hÉireann and Léargais Dhinimiciúla na hÉireann.

🇮🇹 Read it in Italian

🇯🇵 Read it in Japanese Invitation to Comments 165: ダイナミックなアイデア.

🇰🇵 Read it in Korean Invitation to Comments 166: 역동적 인 아이디어.

🇱🇻 Read it in Latvian Dinamiskās Idejas, Latvijas Dinamiskās Perspektīvas, Latvijas Dinamiskie Atzinumi and Latvijas Dinamiskā Domāšana.

🇲🇾 Read it in Malay Idea Dinamik, Perspektif Dinamik Melayu, Pemikiran Dinamik Melayu and Pendapat Dinamik Melayu.

🇳🇴 Read it in Norwegian

🇮🇷 Read it in Persian Invitation to Comments 167: ایده های پویا.

🇵🇱 Read it in Polish Dynamiczne Pomysły and Polskie Dynamiczne Perspektywy.

🇵🇹 Read it in Portuguese Ideias dinâmicas, Perspectivas Dinâmicas Portuguesas and Pensamento Dinâmico Português.

🇷🇴 Read it in Romanian Ideile dinamice and perspective dinamice românești.

🇷🇺 Read it in Russian Invitation to Comments 168: Динамические идеи and Invitation to Comments 169: российских динамических мнениях.

🇸🇰 Read it in Slovak Dynamické myslenie and Slovenské dynamické perspektívy.

🇪🇸 Read it in Spanish Ideas dinámicas and Perspectivas dinámicas españolas.

🇸🇪 Read it in Swedish

🇹🇭 Read it in Thai Invitation to Comments 170: ไอเดียแบบไดนามิก.

🇻🇳 Read it in Vietnamese Ý tưởng năng động and Quan điểm năng động của người Việt.