Polskie Dynamiczne Perspektywy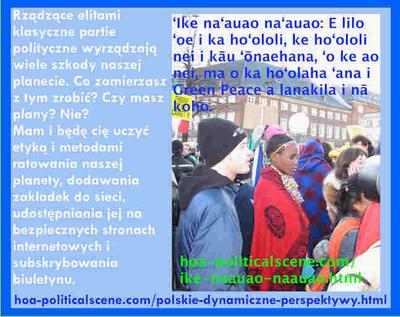 hoa-politicalscene.com/polskie-dynamiczne-perspektywy.html - Polskie Dynamiczne Perspektywy: Rządzące elitami klasyczne partie polityczne niszczą naszą planetę. Co zamierzasz z tym zrobić?
Polskie Dynamiczne Perspektywy zaczęło się od Dynamiczne Pomysły. Musisz więc przeczytać pierwszą część artykułów politycznych, a następnie kontynuować tutaj.


Tak więc z tych niewiarygodnie złych sytuacji, które badałem na świecie podczas pracy dziennikarskiej, wróciłem do pomysłu, który od dawna miałem na temat mas. Przed zajęciem się tym problemem wielokrotnie użyłem tego terminu podczas rewolucji sudańskiej "Sudanese Revolution" przeciwko reżimowi dyktatorskiemu "Jafar al-Numeri" w latach 70. i 80. XX w. Aż do upadku dyktatora.

Przed upadkiem dyktatora głowa Bractwo Muzułmańskie w Sudanie "Muslim Brothers of Sudan" uczyniła go (imamem) o wielkich zdolnościach do odcięcia ludzi, amputacji i uboju ich, zgodnie z prawem szariatu, chociaż przywódcą "NIF" wiedział, że dyktator był heretycki i punkowy.

W tym czasie uciekłem przed totalitarnym reżimem, na wiele lat przed wprowadzeniem w życie przepisów szariatu, Erytrejski Front Wyzwolenia Ludowego (EPLF) skontaktował się ze mną w latach siedemdziesiątych, podczas gdy front rozpoczął operacje mające na celu wyzwolenie Erytrei z Etiopii "Ethiopia". Skontaktowali się ze mną i rozmawialiśmy o wielu kwestiach politycznych związanych z sytuacjami w Rogu Afryki.

Stałem się fanem frontu ze względu na jego linię polityczną. Poprosili mnie o pomoc w pracy w mediach, a ja zrobiłem to na rzecz rewolucji erytrejskiej. (EPLF) użył terminu "masy" w swojej literaturze, aby wyzwolić Erytreę, i wtedy zdałem sobie sprawę, że musi to być "era mas", więc przyszedłem z tym terminem i użyłem go i stałem się wierzącym, który poparł Erytrei rewolucja aż do zwycięstwa i później.

Po wyzwoleniu Erytrei pracowałem w Asmara w latach 90., używając tego samego terminu "era mas" do opracowania publicznego projektu dla mas. Nazwa tego projektu brzmiała Drzewo męczenników "Martyr's Tree". Iluminując masy, zastosowałem metodę iluminacji mas, aby zasadzić drzewo męczennika.

W ramach tego projektu byłem zajęty poprowadzeniem mas Erytrei do sadzenia ponad pięciu milionów drzew o nazwie Drzewa Męczennika "Martyr's Tree". Najwyraźniej byłem również bardzo zajęty pracą nad zaprojektowaniem tego projektu w celu utrzymania środowiska Erytrei "Eritrea" i osobiście miałem nadzieję, że będzie on wspierać środowisko regionalne i globalne.

Będziesz we właściwej drodze do odkrycia, aby podjąć działania w celu rozwiązania problemów twojego świata. Tak, to twój świat. Kontynuuj w Polskie Myślenie Dynamiczne.

Wskazuje to zatem na potrzebę zakończenia ery klasycznych partii politycznych. Pokazuje to także potrzebę rozpoczęcia "wieku mas" przy użyciu metod edukacji politycznej dynamicznych pomysłów na tej pionierskiej i rewolucyjnej stronie internetowej. Aby to zrobić, zapisz się do Biuletynu Sceny Politycznej HOA "HOA Political Scene Newsletter" Sieć Rogu Afryki "Horn Africa's Network".

* Read "Dynamic Ideas" in your native language below:

🇦🇱 Read it in Albanian Idetë dinamike.

🇪🇹 Read it in Amharic Invitation to Comment 158: ተለዋዋጭ ሀሳቦች and Invitation to Comment 159: ተለዋዋጭ የፖለቲካ አመለካከቶች.

🇱🇧 Read it in Arabic Afkar Dynamicyah, and Invitation to Comment 154: أفكار ديناميكية، أو أفكار دينامية.

🇧🇬 Read it in Bulgarian Invitation to Comment 155: Динамични идеи and Invitation to Comment 156: Динамични политически мнения.

🇨🇳 Read it in Chinese Invitation to Comment 157: 动态想法.

🇨🇿 Read it in Czech Dynamické nápady and České dynamické perspektivě.

🇩🇰 Read it in Danish

🇬🇧 Read it in English Dynamic Ideas and Dynamic Political Opinions.

🇵🇭 Read it in Filipino

🇫🇷 Read it in French

🇩🇪 Read it in German

🇬🇷 Read it in Greek Invitation to Comment 160: Δυναμικές ιδέες, Invitation to Comment 161: Ελληνικές Δυναμικές Ιδέες, Invitation to Comment 162: Δυναμικές πολιτικές απόψεις and Invitation to Comments 163: Ελληνικές δυναμικές προοπτικές

* Read it in Hawaiian

🇮🇱 Read it in Hebrew Invitation to Comments 164: רעיונות דינמיים.

🇮🇩 Read it in Indonesian

🇮🇪 Read it in Irish

🇮🇹 Read it in Italian

🇯🇵 Read it in Japanese Invitation to Comments 165: ダイナミックなアイデア.

🇰🇵 Read it in Korean Invitation to Comments 166: 역동적 인 아이디어.

🇱🇻 Read it in Latvian

🇲🇾 Read it in Malay

🇳🇴 Read it in Norwegian

🇮🇷 Read it in Persian Invitation to Comments 167: ایده های پویا.

🇵🇱 Read it in Polish

🇵🇹 Read it in Portuguese Ideias dinâmicas, Perspectivas Dinâmicas Portuguesas and Pensamento Dinâmico Português.

🇷🇴 Read it in Romanian Ideile dinamice and perspective dinamice românești.

🇷🇺 Read it in Russian Invitation to Comments 168: Динамические идеи and Invitation to Comments 169: российских динамических мнениях.

🇸🇰 Read it in Slovak Dynamické myslenie and Slovenské dynamické perspektívy.

🇪🇸 Read it in Spanish Ideas dinámicas and Perspectivas dinámicas españolas.

🇸🇪 Read it in Swedish

🇹🇭 Read it in Thai Invitation to Comments 170: ไอเดียแบบไดนามิก.

🇻🇳 Read it in Vietnamese Ý tưởng năng động and Quan điểm năng động của người Việt.

* You are at Polskie Dynamiczne Perspektywy.