Latvijas Dinamiskie Atzinumi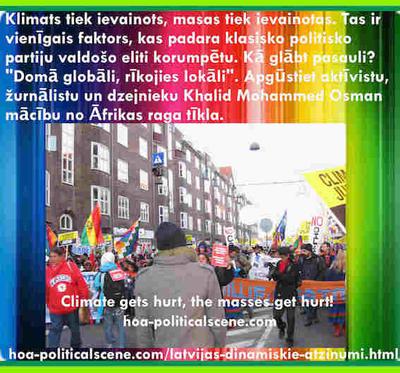 hoa-politicalscene.com/latvijas-dinamiskie-atzinumi.html - Latvijas Dinamiskie Atzinumi: Klimats tiek ievainots, masas tiek ievainotas. Tas ir vienīgais faktors, kas padara klasisko politisko partiju...
Latvijas Dinamiskie Atzinumi sekoja divām daļām. Pirmā daļa ir Dinamiskās Idejas. Otrā daļa ir Latvijas Dinamiskās Perspektīvas. Tātad, vai nedomājat, ka jums būs jāizlasa abas daļas, lai saprastu trešo daļu. Lasiet abas daļas un turpiniet šeit.

Šī projekta ietvaros es biju aizņemts, lai vadītu Eritrejas masas, lai iestādītu vairāk nekā piecus miljonus koku, ko sauc par mocekļa kokiem "Martyr's Tree". Acīmredzot es arī biju ļoti aizņemts, strādājot pie šī projekta izstrādes Eritrejas vides uzturēšanai, un es personīgi ļoti cerēju, ka tas atbalstīs reģionālo un globālo vidi.

Kopš tā laika man kā ētikai, kas kalpo visai cilvēcei, devīze "Domā globāli, rīkojies lokāli" ir bijusi ētiska vadlīnija. Acīmredzot man bija tā sajūta pirms tās izveidošanas dienas. Paskaties uz datumu, kad es sāku strādāt ar šo devīzi. Bija kāds intelektuālis, kurš par to domāja pirms apkārtējās vides pastāvēšanas, kuru sauca par Patriku Geddesu Skotu pilsētas plānošanas laikā, kurš tika atjaunots savā grāmatā "Pilsētas evolūcijā" 1915. gadā.

Bet šī termina patiesā lietošana tiek piedēvēta Deividam Rosam Braveram, kurš bija "Zemes draugu" dibinātājs 1971. gadā, Renē Duboss 1977. gadā, Žaks Eluls un Frenks Feiners konferencē, kuru viņš organizēja ar saukli "Domājot globāli, Rīkojies lokāli "1979. gadā. Gadā, kurā viņš ieguva paternitāti ar devīzi "Domā globāli, rīkojies lokāli".


Kamēr es biju aizņemts, īstenojot šo projektu, es plānoju izveidot Eritrejas nacionālo vidi, galvenokārt rīkojot sanāksmes, kuras es personīgi organizēju Eritrejas Darba konfederācijā, kur es smagi strādāju, lai savāktu 2 locekļus no citām arodbiedrībām par koordinatoriem vides organizācija. Izlasiet sadaļas Vide "environment" un Vides aizsardzība "environment protectio", lai uzzinātu vairāk par šo projektu.

Tas viss, atceroties "Masu laikmeta" jēdzienu, tajā laikā es nonācu pie secinājuma, ka šim jēdzienam ir vēsturiska un filozofiska stabilitāte man, un tāpēc es to izmantoju šajā laika posmā. Tāpēc terminam "masu laikmets", manuprāt, ir vēsturiski filozofiska fona.

Arī tai ir veiksmīga prakse. Tāpēc arī es šeit to izmantoju šajā ļoti jutīgajā periodā ar visu, kas mums tajā ir, piemēram, sniega pazušana no daudzām zemēm, kam seko pandēmijas un citas krīzes.

Visas šīs ievērojamās zīmes var arī atbildēt uz jautājumu: "Kāpēc ir masu laikmets?" Šī perioda nepieciešamībai būt "masu laikmetam" ir tas, ka valdošā elite ir atstājusi novārtā masu vēlmes, cerības, cerības un centienus. Katrā pasaules valstī valdošajai elitei ar klasiskajām politiskajām partijām nav saistības ar saviem vēlēšanu apgabaliem, masām.

Salīdziniet divus pasaules laikmetus, lai redzētu atšķirību starp mūsu katastrofām!

Lai to visu zinātu veidā, kas neatstāj nekādu šaubu, ir labāk jāsalīdzina divi pasaules politiskie laikmeti - "aukstā kara" laikmets un mūsdienu laikmets, ko viņi sauc par "jauno pasaules kārtību". Vai jūs redzat kārtību visās šajās katastrofās pasaulē tagad?

Turpinājums sekos.

Tādējādi tas norāda uz nepieciešamību izbeigt klasisko politisko partiju laikmetu. Tas arī parāda, ka šajā revolucionārajā novatoriskajā vietnē ir jāuzsāk "masu laikmets", izmantojot dinamisko ideju politiskās izglītības metodes. Lai to izdarītu, abonējiet HOA politiskās ainas biļetenu "HOA Political Scene Newsletter", kas ir Raga Āfrikas tīkls balss "Horn of Africa's Network".

* Read "Dynamic Ideas" in your native language below:

🇦🇱 Read it in Albanian Idetë dinamike.

🇪🇹 Read it in Amharic Invitation to Comment 158: ተለዋዋጭ ሀሳቦች and Invitation to Comment 159: ተለዋዋጭ የፖለቲካ አመለካከቶች.

🇱🇧 Read it in Arabic Afkar Dynamicyah, and Invitation to Comment 154: أفكار ديناميكية، أو أفكار دينامية.

🇧🇬 Read it in Bulgarian Invitation to Comment 155: Динамични идеи and Invitation to Comment 156: Динамични политически мнения.

🇨🇳 Read it in Chinese Invitation to Comment 157: 动态想法.

🇨🇿 Read it in Czech Dynamické nápady and České dynamické perspektivě.

🇩🇰 Read it in Danish

🇬🇧 Read it in English Dynamic Ideas and Dynamic Political Opinions.

🇵🇭 Read it in Filipino

🇫🇷 Read it in French

🇩🇪 Read it in German

🇬🇷 Read it in Greek Invitation to Comment 160: Δυναμικές ιδέες, Invitation to Comment 161: Ελληνικές Δυναμικές Ιδέες, Invitation to Comment 162: Δυναμικές πολιτικές απόψεις and Invitation to Comments 163: Ελληνικές δυναμικές προοπτικές

* Read it in Hawaiian

🇮🇱 Read it in Hebrew Invitation to Comments 164: רעיונות דינמיים.

🇮🇩 Read it in Indonesian

🇮🇪 Read it in Irish Smaointe Dinimiciúla and Peirspictíochtaí Dinimiciúla na hÉireann.

🇮🇹 Read it in Italian

🇯🇵 Read it in Japanese Invitation to Comments 165: ダイナミックなアイデア.

🇰🇵 Read it in Korean Invitation to Comments 166: 역동적 인 아이디어.

🇱🇻 Read it in Latvian

🇲🇾 Read it in Malay

🇳🇴 Read it in Norwegian

🇮🇷 Read it in Persian Invitation to Comments 167: ایده های پویا.

🇵🇱 Read it in Polish Dynamiczne Pomysły and Polskie Dynamiczne Perspektywy.

🇵🇹 Read it in Portuguese Ideias dinâmicas, Perspectivas Dinâmicas Portuguesas and Pensamento Dinâmico Português.

🇷🇴 Read it in Romanian Ideile dinamice and perspective dinamice românești.

🇷🇺 Read it in Russian Invitation to Comments 168: Динамические идеи and Invitation to Comments 169: российских динамических мнениях.

🇸🇰 Read it in Slovak Dynamické myslenie and Slovenské dynamické perspektívy.

🇪🇸 Read it in Spanish Ideas dinámicas and Perspectivas dinámicas españolas.

🇸🇪 Read it in Swedish

🇹🇭 Read it in Thai Invitation to Comments 170: ไอเดียแบบไดนามิก.

🇻🇳 Read it in Vietnamese Ý tưởng năng động and Quan điểm năng động của người Việt.

* You are at Latvijas Dinamiskie Atzinumi.