FACEBOOK IS SOCIAL DICTATORSHIP & SOCIAL MEDIA SPAM, but that is not all. GET THE INSIGHTS ON HOAS ABOUT FACEBOOK., AS ONE OF HOA'S DYNAMICS AND SEE THE OTHER DYNAMICS IN MORE THAN 90 BILINGUAL PAGES.

Idee Dinamiche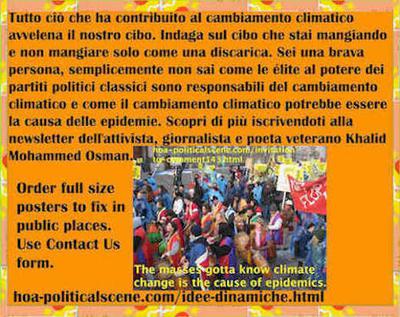 hoa-politicalscene.com/idee-dinamiche.html - Idee Dinamiche: Tutto ciò che ha contribuito al cambiamento climatico avvelena il nostro cibo. Indaga sul cibo che stai mangiando e non mangiare solo come una discarica.
Le Idee Dinamiche sono potere mentale, in una breve frase. Nel dettaglio ... eccoci:

Le idee dinamiche sono ricercate per preservare un punto di vista positivo, quando guardiamo a tutti i problemi che vediamo nel nostro mondo, oggigiorno e seguiamo la loro storia (ad esempio quando sono accaduti? Quali sono le cause essenziali? In che modo influenzano la nostra vita quotidiana ovunque?)

Ogni idea dinamica porta progetti diversi. Questo non proviene da una teoria, ma dalla pratica e abbiamo molte pratiche qui per rivelare come le idee dinamiche funzionano per produrre molti progetti. Pertanto, ogni idea dinamica è un potere mentale.

La prima cosa da notare è che le idee dinamiche non si limitano alla creazione e alla leadership dell'era delle masse, ma piuttosto stabiliscono l'accesso alla creazione, alla leadership e alle attività del movimento di massa per condurla alla vittoria in tutto il mondo.

Queste idee dinamiche, che leggi qui e vedi negli slogan, sono ben ricercate e ricercate per migliorare la comprensione regionale e globale e per incorporare una comprensione politica molto avanzata dei problemi globali nelle azioni delle masse per risolvere tutti i problemi che sono stati creati dalle élite al potere dei partiti politici classici.

Le idee dinamiche si dividono in tre sezioni. Una delle sezioni è introduzione al termine e la seconda sezione riguarda "L'ERA DELLE PARTI POLITICHE CLASSICHE" e "L'ERA DELLE MASSE" e la terza sezione è una continuazione dell'introduzione che la collega all'idea dell Albero del martire "Martyr's Tree". Leggerai di questo sfondo in una seconda pagina. Quindi, guardalo incluso in italiano in uno dei link dei commenti. Quando finisci di leggere tutte le parti dell'articolo, considera di leggere qui l'Albero dei Martiri.

Nota prima di continuare: potrebbero verificarsi errori di lingua in questa versione italiano. Se stai leggendo errori di ortografia qui considerando questo problema di lingua, usa il link di commento per correggere i paragrafi che contengono gli errori. Puoi vedere gli errori se leggi la versione inglese e la confronti con la versione italiano. Grazie molto.

Continua a leggere sulla seconda parte di Prospettive Dinamiche Italiane.


* Read "Dynamic Ideas" in your native language below:

🇦🇱 Read it in Albanian Idetë dinamike.

🇪🇹 Read it in Amharic Invitation to Comment 158: ተለዋዋጭ ሀሳቦች and Invitation to Comment 159: ተለዋዋጭ የፖለቲካ አመለካከቶች.

🇱🇧 Read it in Arabic Afkar Dynamicyah, and Invitation to Comment 154: أفكار ديناميكية، أو أفكار دينامية.

🇧🇬 Read it in Bulgarian Invitation to Comment 155: Динамични идеи and Invitation to Comment 156: Динамични политически мнения.

🇨🇳 Read it in Chinese Invitation to Comment 157: 动态想法.

🇨🇿 Read it in Czech Dynamické nápady and České dynamické perspektivě.

🇩🇰 Read it in Danish

🇬🇧 Read it in English Dynamic Ideas and Dynamic Political Opinions.

🇵🇭 Read it in Filipino Dinamikong Ideya, Dinamikong Perspektibo and Dinamikong Pag-iisip.

🇫🇷 Read it in French

🇬🇷 Read it in Greek Invitation to Comment 160: Δυναμικές ιδέες, Invitation to Comment 161: Ελληνικές Δυναμικές Ιδέες, Invitation to Comment 162: Δυναμικές πολιτικές απόψεις and Invitation to Comments 163: Ελληνικές δυναμικές προοπτικές

* Read it in Hawaiian

🇮🇱 Read it in Hebrew Invitation to Comments 164: רעיונות דינמיים.

🇮🇩 Read it in Indonesian Ide Dinamis, Perspektif Dinamis Indonesia, Pemikiran Dinamis Indonesia, Pendapat Dinamis Indonesia, Wawasan Dinamis Indonesia and Pandangan Dinamis Indonesia.

🇮🇪 Read it in Irish Smaointe Dinimiciúla, Peirspictíochtaí Dinimiciúla na hÉireann, Smaointeoireacht Dhinimiciúil na hÉireann, Tuairimí Dinimiciúla na hÉireann and Léargais Dhinimiciúla na hÉireann.

🇯🇵 Read it in Japanese Invitation to Comments 165: ダイナミックなアイデア.

🇰🇵 Read it in Korean Invitation to Comments 166: 역동적 인 아이디어.

🇱🇻 Read it in Latvian Dinamiskās Idejas, Latvijas Dinamiskās Perspektīvas, Latvijas Dinamiskie Atzinumi and Latvijas Dinamiskā Domāšana.

🇲🇾 Read it in Malay Idea Dinamik, Perspektif Dinamik Melayu, Pemikiran Dinamik Melayu and Pendapat Dinamik Melayu.

🇳🇴 Read it in Norwegian

🇮🇷 Read it in Persian Invitation to Comments 167: ایده های پویا.

🇵🇱 Read it in Polish Dynamiczne Pomysły and Polskie Dynamiczne Perspektywy.

🇵🇹 Read it in Portuguese Ideias dinâmicas, Perspectivas Dinâmicas Portuguesas and Pensamento Dinâmico Português.

🇷🇴 Read it in Romanian Ideile dinamice and perspective dinamice românești.

🇷🇺 Read it in Russian Invitation to Comments 168: Динамические идеи and Invitation to Comments 169: российских динамических мнениях.

🇸🇰 Read it in Slovak Dynamické myslenie and Slovenské dynamické perspektívy.

🇪🇸 Read it in Spanish Ideas dinámicas and Perspectivas dinámicas españolas.

🇸🇪 Read it in Swedish

🇹🇭 Read it in Thai Invitation to Comments 170: ไอเดียแบบไดนามิก.

🇻🇳 Read it in Vietnamese Ý tưởng năng động and Quan điểm năng động của người Việt.

🇩🇪 You are at Idee Dinamiche.