FACEBOOK IS SOCIAL DICTATORSHIP & SOCIAL MEDIA SPAM, but that is not all. GET THE INSIGHTS ON HOAS ABOUT FACEBOOK., AS ONE OF HOA'S DYNAMICS AND SEE THE OTHER DYNAMICS IN MORE THAN 90 BILINGUAL PAGES.

Svenska Dynamiska Tes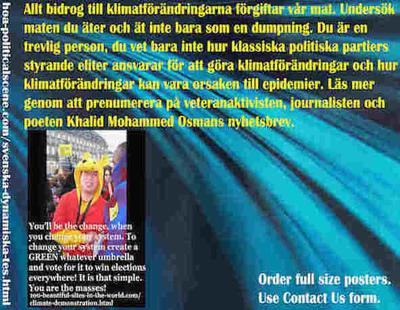 hoa-politicalscene.com/svenska-dynamiska-tes.html - Svenska Dynamiska Tes: Allt bidragit till klimatförändringarna förgiftar vår mat. Undersök maten du äter och ät inte bara som en dumpning.
Svenska Dynamiska Tes / Avhandling startade med del 1 om Dynamiska idéer. Det kommer att fortsätta ved del 2 om Svenska Dynamiska Perspektiv, del 3 om Svenska Dynamiska Åsikter, del 4 om Svenska Dynamiska Insikter, del 5 om Svenska Dynamiska Tankar, del 6 om Svenska Dynamiska Synpunkter, del 7 om Svenskt Dynamiskt Koncept. Så du måste läsa alla avsnitten från del 1 för att förstå ämnet bättre och vidta åtgärder.


Dessa metoder börjar med att samlas runt de dynamiska idéerna och målen att flytta de klassiska politiska systemen från de klassiska politiska partisystemen till massornas system. När jag säger massornas system som inte bör tas eftersom alla massor kommer att ta regeringar och styra.

Nej, men massorna kommer att börja lansera nätverk av organisationer och koppla samman dem över hela världen. OK, jag borde inte avslöja hela planen. Organisationerna är vetenskapliga med många namn och de är specifika enheter och unika enheter som representerar massorna.

Du kommer att lära dig mer om metoderna och vara beredd och grupperade regionalt och globalt för att genomföra det regionala och globala politiska projektet, som inkluderar enheter av specialprojekt som rör alla aspekter av livet.

LPE of the Masses Era är ryggraden i massorna. Metoden, som består av tre segment, innehåller vissa enheter som rör alla aspekter av livet. Det ger en karta över vägen för intellektuella att göra alla intellektuella och förbättra allt i livet.

Strategierna och taktiken involverar två funktionella områden för massorna att gå igenom. Den första är organisationsområdet och den andra är verkställande. Både organisationsområdet och de verkställande områdena har program som fokuserar på att bygga massans system för att ersätta de klassiska systemen för de härskande eliterna för klassiska politiska partier. Så farväl till dessa parter och tack för det du har gjort.



För att engagera dig med de första stegen för att starta huvudenheterna tar du parolen i den politiska kampanjen och startar dina egna kampanjer med hjälp av parterna. För att följa stegen perfekt måste du prenumerera på nyhetsbrevet och sedan, efter att du har bekräftat ditt prenumeration, använd oss Kontakta för att berätta att du har läst Dynamic Ideas och att du är redo att arbeta med projektet.

Låt oss gå i massornas globala rörelse, som jag planerar tillsammans, för att vara ... för alla en bra världsborgare.

Victory for MASSES överallt. VÄLKOMMEN NYA MASSERNA ERA!

De globala massorna är mitt folk och jag är deras lojala tjänare. Veteranaktivisten, journalisten och poeten Khalid Mohammed Osman.


* Read "Dynamic Ideas" in your native language below:

🇦🇱 Read it in Albanian Idetë dinamike.

🇪🇹 Read it in Amharic Invitation to Comment 158: ተለዋዋጭ ሀሳቦች and Invitation to Comment 159: ተለዋዋጭ የፖለቲካ አመለካከቶች.

🇱🇧 Read it in Arabic Afkar Dynamicyah, and Invitation to Comment 154: أفكار ديناميكية، أو أفكار دينامية.

🇧🇬 Read it in Bulgarian Invitation to Comment 155: Динамични идеи and Invitation to Comment 156: Динамични политически мнения.

🇨🇳 Read it in Chinese Invitation to Comment 157: 动态想法.

🇨🇿 Read it in Czech Dynamické nápady and České dynamické perspektivě.

🇩🇰 Read it in Danish

🇬🇧 Read it in English Dynamic Ideas and Dynamic Political Opinions.

🇵🇭 Read it in Filipino Dinamikong Ideya, Dinamikong Perspektibo and Dinamikong Pag-iisip.

🇫🇷 Read it in French

🇬🇷 Read it in Greek Invitation to Comment 160: Δυναμικές ιδέες, Invitation to Comment 161: Ελληνικές Δυναμικές Ιδέες, Invitation to Comment 162: Δυναμικές πολιτικές απόψεις and Invitation to Comments 163: Ελληνικές δυναμικές προοπτικές

* Read it in Hawaiian

🇮🇱 Read it in Hebrew Invitation to Comments 164: רעיונות דינמיים.

🇮🇩 Read it in Indonesian Ide Dinamis, Perspektif Dinamis Indonesia and Pandangan Dinamis Indonesia.

🇮🇪 Read it in Irish Smaointe Dinimiciúla, Peirspictíochtaí Dinimiciúla na hÉireann and Léargais Dhinimiciúla na hÉireann.

🇮🇹 Read it in Italian

🇯🇵 Read it in Japanese Invitation to Comments 165: ダイナミックなアイデア.

🇰🇵 Read it in Korean Invitation to Comments 166: 역동적 인 아이디어.

🇱🇻 Read it in Latvian Dinamiskās Idejas, Latvijas Dinamiskās Perspektīvas and Latvijas Dinamiskā Domāšana.

🇲🇾 Read it in Malay Idea Dinamik, Perspektif Dinamik Melayu, Pemikiran Dinamik Melayu and Pendapat Dinamik Melayu.

🇳🇴 Read it in Norwegian

🇮🇷 Read it in Persian Invitation to Comments 167: ایده های پویا.

🇵🇱 Read it in Polish Dynamiczne Pomysły and Polskie Dynamiczne Perspektywy.

🇵🇹 Read it in Portuguese Ideias dinâmicas, Perspectivas Dinâmicas Portuguesas and Pensamento Dinâmico Português.

🇷🇴 Read it in Romanian Ideile dinamice and perspective dinamice românești.

🇷🇺 Read it in Russian Invitation to Comments 168: Динамические идеи and Invitation to Comments 169: российских динамических мнениях.

🇸🇰 Read it in Slovak Dynamické myslenie and Slovenské dynamické perspektívy.

🇪🇸 Read it in Spanish Ideas dinámicas and Perspectivas dinámicas españolas.

🇹🇭 Read it in Thai Invitation to Comments 170: ไอเดียแบบไดนามิก.

🇻🇳 Read it in Vietnamese Ý tưởng năng động and Quan điểm năng động của người Việt.