FACEBOOK IS SOCIAL DICTATORSHIP & SOCIAL MEDIA SPAM, but that is not all. GET THE INSIGHTS ON HOAS ABOUT FACEBOOK., AS ONE OF HOA'S DYNAMICS AND SEE THE OTHER DYNAMICS IN MORE THAN 90 BILINGUAL PAGES.

Dynamiska Ideer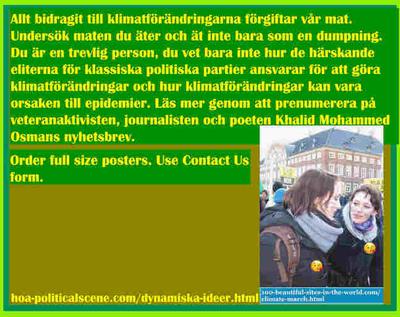 hoa-politicalscene.com/dynamiska-ideer.html - Dynamiska Idéer: Allt bidragit till klimatförändringarna förgiftar vår mat. Undersök maten du äter och ät inte bara som en dumpning.
Dynamiska idéer är tankekraft, i en kort mening. I detaljer ... här går vi:

Dynamiska idéer eftersträvas för att bevara en positiv synvinkel, när vi tittar på alla problem som vi ser i vår värld, idag och följer deras historia (t.ex. när hände de? Vad är de viktigaste orsakerna? Hur påverkar de vårt dagliga liv överallt?)

Vänligen, innan du går vidare, om du hittade några språkfel i de svenska versionerna, använd länk till kommentarer för att korrigera det genom att ange rätt ord med styckena. Tack.

Varje dynamisk idé ger olika projekt. Detta kommer inte från en teori, utan från praktiken och vi har många metoder här för att avslöja hur dynamiska idéer fungerar för att producera många projekt. Därför är varje dynamisk idé en tankekraft.

Det första man märker är att dynamiska idéer inte är begränsade till skapandet och ledarskapet av massornas era, utan snarare skapar tillgång till massrörelsens skapande, ledarskap och aktiviteter för att leda den till seger över hela världen.

Dessa dynamiska idéer, som du läser här och ser i parterna, är väl sökta och undersökta för att förbättra regional och global förståelse och för att integrera en mycket avancerad politisk förståelse av globala problem i massornas åtgärder för att lösa alla problem som har skapats av de härskande eliterna för de klassiska politiska partierna.

Dynamiska idéer finns i tre avsnitt. En av avsnitten är introduktion till termen och det andra avsnittet handlar om "KLASSISKA POLITISKA PARTER ERA" och "MASSES ERA" och det tredje avsnittet är en fortsättning på introduktionen som kopplar den till idén om martyrens träd "Martyr's Tree". Du kommer att läsa om denna bakgrund på en andra sida. Så titta på det som ingår i svenska i en av kommentarlänkarna.

Läs artikeln om martyrens träd "Martyr's Tree" på svenska när du är klar med Dynamic Ideas med alla dess avsnitt.

Det finns en annan artikel om ett svenskt träd, som jag gillar i Dalarna, som är det äldsta trädet i världen och om du visste mer om det, vänligen skriv är det på den andra webbplatsen.

Fortsätt vid Svenskt Dynamiskt Perspektivar / Svenska Dynamiska Perspektiv.

* Read "Dynamic Ideas" in your native language below:

🇦🇱 Read it in Albanian Idetë dinamike.

🇪🇹 Read it in Amharic Invitation to Comment 158: ተለዋዋጭ ሀሳቦች and Invitation to Comment 159: ተለዋዋጭ የፖለቲካ አመለካከቶች.

🇱🇧 Read it in Arabic Afkar Dynamicyah, and Invitation to Comment 154: أفكار ديناميكية، أو أفكار دينامية.

🇧🇬 Read it in Bulgarian Invitation to Comment 155: Динамични идеи and Invitation to Comment 156: Динамични политически мнения.

🇨🇳 Read it in Chinese Invitation to Comment 157: 动态想法.

🇨🇿 Read it in Czech Dynamické nápady and České dynamické perspektivě.

🇩🇰 Read it in Danish

🇬🇧 Read it in English Dynamic Ideas and Dynamic Political Opinions.

🇵🇭 Read it in Filipino Dinamikong Ideya, Dinamikong Perspektibo and Dinamikong Pag-iisip.

🇫🇷 Read it in French

🇬🇷 Read it in Greek Invitation to Comment 160: Δυναμικές ιδέες, Invitation to Comment 161: Ελληνικές Δυναμικές Ιδέες, Invitation to Comment 162: Δυναμικές πολιτικές απόψεις and Invitation to Comments 163: Ελληνικές δυναμικές προοπτικές

* Read it in Hawaiian

🇮🇱 Read it in Hebrew Invitation to Comments 164: רעיונות דינמיים.

🇮🇩 Read it in Indonesian Ide Dinamis, Perspektif Dinamis Indonesia, Pemikiran Dinamis Indonesia, Pendapat Dinamis Indonesia, Wawasan Dinamis Indonesia and Pandangan Dinamis Indonesia.

🇮🇪 Read it in Irish Smaointe Dinimiciúla, Peirspictíochtaí Dinimiciúla na hÉireann, Smaointeoireacht Dhinimiciúil na hÉireann, Tuairimí Dinimiciúla na hÉireann and Léargais Dhinimiciúla na hÉireann.

🇮🇹 Read it in Italian

🇯🇵 Read it in Japanese Invitation to Comments 165: ダイナミックなアイデア.

🇰🇵 Read it in Korean Invitation to Comments 166: 역동적 인 아이디어.

🇱🇻 Read it in Latvian Dinamiskās Idejas, Latvijas Dinamiskās Perspektīvas, Latvijas Dinamiskie Atzinumi and Latvijas Dinamiskā Domāšana.

🇲🇾 Read it in Malay Idea Dinamik, Perspektif Dinamik Melayu, Pemikiran Dinamik Melayu and Pendapat Dinamik Melayu.

🇳🇴 Read it in Norwegian

🇮🇷 Read it in Persian Invitation to Comments 167: ایده های پویا.

🇵🇱 Read it in Polish Dynamiczne Pomysły and Polskie Dynamiczne Perspektywy.

🇵🇹 Read it in Portuguese Ideias dinâmicas, Perspectivas Dinâmicas Portuguesas and Pensamento Dinâmico Português.

🇷🇴 Read it in Romanian Ideile dinamice and perspective dinamice românești.

🇷🇺 Read it in Russian Invitation to Comments 168: Динамические идеи and Invitation to Comments 169: российских динамических мнениях.

🇸🇰 Read it in Slovak Dynamické myslenie and Slovenské dynamické perspektívy.

🇪🇸 Read it in Spanish Ideas dinámicas and Perspectivas dinámicas españolas.

🇸🇪 Read it in Swedish

🇹🇭 Read it in Thai Invitation to Comments 170: ไอเดียแบบไดนามิก.

🇻🇳 Read it in Vietnamese Ý tưởng năng động and Quan điểm năng động của người Việt.