FACEBOOK IS SOCIAL DICTATORSHIP & SOCIAL MEDIA SPAM, but that is not all. GET THE INSIGHTS ON HOAS ABOUT FACEBOOK., AS ONE OF HOA'S DYNAMICS AND SEE THE OTHER DYNAMICS IN MORE THAN 90 BILINGUAL PAGES.

Pendapat Dinamik Melayu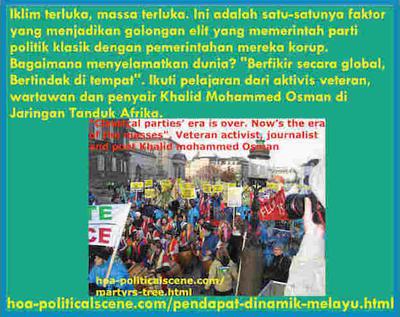 hoa-politicalscene.com/pendapat-dinamik-melayu.html - Pendapat Dinamik Melayu: Para elit parti politik klasik yang berkuasa telah banyak merosakkan planet kita. Apa yang akan anda lakukan mengenainya?
Pendapat Dinamik Melayu bermula pada Idea Dinamik dan diteruskan pada Perspektif Dinamik Melayu dan Pemikiran Dinamik Melayu. Ini adalah bahagian keempat dari artikel politik dan ia akan diteruskan di suatu tempat, sehingga saya memutuskannya lebih awal. Anda perlu membaca bahagian-bahagian ini sebelum meneruskannya di sini.

Semua ini sambil mengingat konsep "Era Massa", ketika itu saya sampai pada kesimpulan bahawa konsep ini mempunyai kestabilan sejarah dan falsafah bagi saya, dan itulah sebabnya saya menggunakannya sekarang dalam tempoh ini. Oleh itu, istilah "era massa" mempunyai latar belakang falsafah sejarah dalam fikiran saya.

Ia juga mempunyai amalan yang berjaya. Jadi, inilah sebabnya saya menggunakannya di sini pada masa yang sangat sensitif ini dengan semua yang ada di dalamnya, seperti hilangnya salji dari banyak negeri, yang diikuti oleh pandemi dan krisis lain.

Semua tanda-tanda yang luar biasa ini juga dapat menjawab pertanyaan, "Mengapa ini era massa?" Keperluan masa ini untuk menjadi "era massa" adalah bahawa golongan elit yang berkuasa telah mengabaikan keinginan, harapan, harapan dan aspirasi massa. Para elit yang berkuasa di setiap negara di dunia, dengan parti politik klasik mereka, tidak mempunyai komitmen terhadap konstituen mereka, massa.

Bandingkan antara dua era global untuk melihat perbezaan kuantiti bencana yang kita alami

Untuk mengetahui semua ini dengan cara yang tidak diragukan lagi, perlu membandingkan dengan lebih baik dua era politik dunia, era "Perang Dingin" dan era moden, yang mereka sebut "tatanan dunia baru." Adakah anda melihat sebarang pesanan dalam semua malapetaka di dunia sekarang?

Saya lebih suka mengatakan ini untuk sesiapa sahaja yang mempunyai pemikiran saintifik yang dapat berfikir dengan bijak. Kami tidak mengalami lebih banyak krisis ekonomi semasa "Perang Dingin" daripada yang kita alami sekarang pada masa "tatanan dunia baru". Selepas perbandingan yang sama, pergi untuk membandingkan perang dan krisis kemanusiaan kedua-dua era.

Perkara yang paling penting adalah memperhatikan iklim dan kesihatan manusia di kedua-dua era tersebut. Bilakah perubahan iklim berlaku? Bilakah virus pandemi menjadi lebih meluas setelah perubahan iklim?

Jawapannya jelas. Kita mempunyai lebih banyak krisis ekonomi, krisis semula jadi, krisis kesihatan, dan krisis manusia sekarang daripada yang kita alami semasa "Perang Dingin". Siapa yang menyebabkan semua ini?

Kerajaan yang korup di seluruh dunia. Mereka hanya mempunyai satu kuasa di atas kepala mereka yang menangani korupsi ini demi kepentingan golongan elit yang berkuasa. Bagi massa, massa adalah sampah bagi mereka.

Oleh itu, ini menunjukkan perlunya mengakhiri era parti politik klasik. Ini juga menunjukkan perlunya memulai "zaman massa" menggunakan kaedah pendidikan politik idea-idea dinamik di laman web perintis dan revolusi ini. Untuk melakukan ini, langganan Buletin Adegan Politik HOA "HOA Political Scene Newsletter" na Rangkaian Tanduk Afrika "Horn Africas Network".


* Read "Dynamic Ideas" in your native language below:

🇦🇱 Read it in Albanian Idetë dinamike.

🇪🇹 Read it in Amharic Invitation to Comment 158: ተለዋዋጭ ሀሳቦች and Invitation to Comment 159: ተለዋዋጭ የፖለቲካ አመለካከቶች.

🇱🇧 Read it in Arabic Afkar Dynamicyah, and Invitation to Comment 154: أفكار ديناميكية، أو أفكار دينامية.

🇧🇬 Read it in Bulgarian Invitation to Comment 155: Динамични идеи and Invitation to Comment 156: Динамични политически мнения.

🇨🇳 Read it in Chinese Invitation to Comment 157: 动态想法.

🇨🇿 Read it in Czech Dynamické nápady and České dynamické perspektivě.

🇩🇰 Read it in Danish

🇬🇧 Read it in English Dynamic Ideas and Dynamic Political Opinions.

🇵🇭 Read it in Filipino

🇫🇷 Read it in French

🇩🇪 Read it in German

🇬🇷 Read it in Greek Invitation to Comment 160: Δυναμικές ιδέες, Invitation to Comment 161: Ελληνικές Δυναμικές Ιδέες, Invitation to Comment 162: Δυναμικές πολιτικές απόψεις and Invitation to Comments 163: Ελληνικές δυναμικές προοπτικές

* Read it in Hawaiian

🇮🇱 Read it in Hebrew Invitation to Comments 164: רעיונות דינמיים.

🇮🇩 Read it in Indonesian

🇮🇪 Read it in Irish

🇮🇹 Read it in Italian

🇯🇵 Read it in Japanese Invitation to Comments 165: ダイナミックなアイデア.

🇰🇵 Read it in Korean Invitation to Comments 166: 역동적 인 아이디어.

🇱🇻 Read it in Latvian

🇲🇾 Read it in Malay

🇳🇴 Read it in Norwegian

🇮🇷 Read it in Persian Invitation to Comments 167: ایده های پویا.

🇵🇱 Read it in Polish Dynamiczne Pomysły and Polskie Dynamiczne Perspektywy.

🇵🇹 Read it in Portuguese Ideias dinâmicas, Perspectivas Dinâmicas Portuguesas and Pensamento Dinâmico Português.

🇷🇴 Read it in Romanian Ideile dinamice and perspective dinamice românești.

🇷🇺 Read it in Russian Invitation to Comments 168: Динамические идеи and Invitation to Comments 169: российских динамических мнениях.

🇸🇰 Read it in Slovak Dynamické myslenie and Slovenské dynamické perspektívy.

🇪🇸 Read it in Spanish Ideas dinámicas and Perspectivas dinámicas españolas.

🇸🇪 Read it in Swedish

🇹🇭 Read it in Thai Invitation to Comments 170: ไอเดียแบบไดนามิก.

🇻🇳 Read it in Vietnamese Ý tưởng năng động and Quan điểm năng động của người Việt.

* You are at Pendapat Dinamik Melayu.