FACEBOOK IS SOCIAL DICTATORSHIP & SOCIAL MEDIA SPAM, but that is not all. GET THE INSIGHTS ON HOAS ABOUT FACEBOOK., AS ONE OF HOA'S DYNAMICS AND SEE THE OTHER DYNAMICS IN MORE THAN 90 BILINGUAL PAGES.

Smaointe Dinimiciula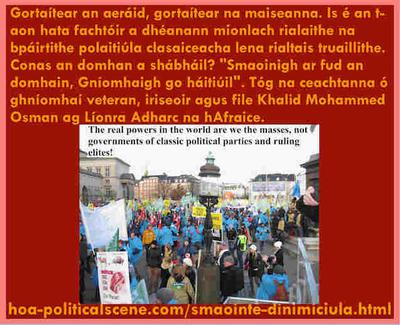 hoa-politicalscene.com/smaointe-dinimiciula.html - Smaointe Dinimiciúla: Gortaítear an aeráid, gortaítear na maiseanna. Is é an t-aon hata fachtóir a dhéanann mionlach rialaithe na bpáirtithe polaitiúla clasaiceacha...
Is cumhacht intinne iad Smaointe Dinimiciúla, in abairt ghearr. Go mion ... seo linn:

Lorgaítear Smaointe Dinimiciúla chun dearcadh dearfach a chaomhnú, nuair a fhéachaimid ar na fadhbanna go léir a fheicimid inár ndomhan, sa lá atá inniu ann agus a leanann siad a stair (m.sh. cathain a tharla siad? Cad iad na cúiseanna riachtanacha? Cén tionchar a bhíonn acu ar ár saol laethúil. i ngach áit?)

Tugann gach ceann de na smaointe dinimiciúla tionscadal difriúil. Ní ó theoiric é seo, ach ó chleachtas agus tá go leor cleachtas againn anseo chun a nochtadh conas a oibríonn smaointe dinimiciúla chun go leor tionscadal a tháirgeadh. Dá bhrí sin, is cumhacht intinne é gach smaoineamh dinimiciúil.

Is é an chéad rud atá le tabhairt faoi deara ná nach bhfuil smaointe dinimiciúla teoranta do chruthú agus do cheannaireacht ré na maiseanna, ach rochtain a bhunú ar chruthú, ceannaireacht agus gníomhaíochtaí na ollghluaiseachta chun go mbeidh an bua aici ar fud an domhain.

Lorgaítear agus déantar taighde maith ar na smaointe Dinimiciúla seo atá tú ag LÉAMH AR NA SLOGANNA chun tuiscint réigiúnach agus dhomhanda a fheabhsú agus chun tuiscint pholaitiúil an-ard ar shaincheisteanna domhanda a chur san áireamh i ngníomhartha na maiseanna chun na fadhbanna go léir a chruthaigh na mionlach rialaithe de a réiteach na páirtithe polaitiúla clasaiceacha.

Tá trí chuid i smaointe dinimiciúla. Réamhrá leis an téarma ceann amháin de na rannáin agus baineann an dara mír leis an "ERA PÁIRTITHE POLAITIÚIL ERA" agus an "MASSES ERA" agus is é an tríú cuid leanúint den réamhrá a nascann é leis an smaoineamh ar "Crann na Martyr". Léifidh tú faoin gcúlra seo ar an dara leathanach. Mar sin, féach ar é a áireamh i nGaeilge i gceann de na naisc "tráchtanna".

Tabhair faoi deara, sula leanann tú ar aghaidh: Seans go dtiocfaidh tú ar roinnt botúin teanga sa leagan Gaeilge seo. I bhfianaise na ceiste teanga seo, má léann tú aon bhotúin teanga anseo, bain úsáid as an nasc "tráchtanna" chun na botúin a cheartú. Is féidir leat na botúin a fheiceáil nuair a léann tú an leagan Béarla agus é a chur i gcomparáid leis an leagan Gaeilge. Go raibh míle maith agat.

Cad a chiallaíonn mé le ré na maiseanna? Agus cén fáth gurb é ré na maiseanna é?

Bhí an chumhacht dinimiciúil i gcónaí ag na maiseanna na rialtais a thoghadh tríd an bpróiseas vótála parlaiminte in áiteanna éagsúla ar domhan, cé is moite de roinnt tíortha a bhfuil réimis údarásacha acu.

In ainneoin na cumhachta fíor agus tionchair seo ó na maiseanna, ba léir go n-oibríonn na rialtais tofa i gcónaí do na grúpaí mionlach rialaithe atá i gceannas ar na rialtais. Ciallaíonn sé seo go ndearna na mionlach rialaithe seo neamhaird ar éilimh na maiseanna.

Mar sin, léiríonn sé seo an gá atá le deireadh a chur le ré na bpáirtithe polaitiúla clasaiceacha. Taispeánann sé freisin an gá atá le "ré na maiseanna" a sheoladh ag úsáid modhanna oideachais pholaitiúil smaointe dinimiciúla ar an suíomh Gréasáin ceannródaíoch réabhlóideach seo. Chun seo a dhéanamh, liostáil le Nuachtlitir Radharc Polaitiúil HOA, "HOA Political Scene Newsletter", arb é guth Líonra Adharc na hAfraice" é "Horn of Africa's Network".

Beidh tú ar an mbealach ceart chun fionnachtana chun beart a dhéanamh chun fadhbanna "do domhanl" a réiteach. Sea, is é "do domhan" é. Mar sin lean ort ag Peirspictíochtaí Dinimiciúla na hÉireann.


* Read "Dynamic Ideas" in your native language below:

🇦🇱 Read it in Albanian Idetë dinamike.

🇪🇹 Read it in Amharic Invitation to Comment 158: ተለዋዋጭ ሀሳቦች and Invitation to Comment 159: ተለዋዋጭ የፖለቲካ አመለካከቶች.

🇱🇧 Read it in Arabic Afkar Dynamicyah, and Invitation to Comment 154: أفكار ديناميكية، أو أفكار دينامية.

🇧🇬 Read it in Bulgarian Invitation to Comment 155: Динамични идеи and Invitation to Comment 156: Динамични политически мнения.

🇨🇳 Read it in Chinese Invitation to Comment 157: 动态想法.

🇨🇿 Read it in Czech Dynamické nápady and České dynamické perspektivě.

🇩🇰 Read it in Danish

🇬🇧 Read it in English Dynamic Ideas and Dynamic Political Opinions.

🇵🇭 Read it in Filipino

🇫🇷 Read it in French

🇩🇪 Read it in German

🇬🇷 Read it in Greek Invitation to Comment 160: Δυναμικές ιδέες, Invitation to Comment 161: Ελληνικές Δυναμικές Ιδέες, Invitation to Comment 162: Δυναμικές πολιτικές απόψεις and Invitation to Comments 163: Ελληνικές δυναμικές προοπτικές

* Read it in Hawaiian

🇮🇱 Read it in Hebrew Invitation to Comments 164: רעיונות דינמיים.

🇮🇩 Read it in Indonesian

🇮🇪 Read it in Irish

🇮🇹 Read it in Italian

🇯🇵 Read it in Japanese Invitation to Comments 165: ダイナミックなアイデア.

🇰🇵 Read it in Korean Invitation to Comments 166: 역동적 인 아이디어.

🇱🇻 Read it in Latvian

🇲🇾 Read it in Malay

🇳🇴 Read it in Norwegian

🇮🇷 Read it in Persian Invitation to Comments 167: ایده های پویا.

🇵🇱 Read it in Polish Dynamiczne Pomysły and Polskie Dynamiczne Perspektywy.

🇵🇹 Read it in Portuguese Ideias dinâmicas, Perspectivas Dinâmicas Portuguesas and Pensamento Dinâmico Português.

🇷🇴 Read it in Romanian Ideile dinamice and perspective dinamice românești.

🇷🇺 Read it in Russian Invitation to Comments 168: Динамические идеи and Invitation to Comments 169: российских динамических мнениях.

🇸🇰 Read it in Slovak Dynamické myslenie and Slovenské dynamické perspektívy.

🇪🇸 Read it in Spanish Ideas dinámicas and Perspectivas dinámicas españolas.

🇸🇪 Read it in Swedish

🇹🇭 Read it in Thai Invitation to Comments 170: ไอเดียแบบไดนามิก.

🇻🇳 Read it in Vietnamese Ý tưởng năng động and Quan điểm năng động của người Việt.

* You are at Smaointe Dinimiciúla.