FACEBOOK IS SOCIAL DICTATORSHIP & SOCIAL MEDIA SPAM, but that is not all. GET THE INSIGHTS ON HOAS ABOUT FACEBOOK., AS ONE OF HOA'S DYNAMICS AND SEE THE OTHER DYNAMICS IN MORE THAN 90 BILINGUAL PAGES.

Pemikiran Dinamik Melayu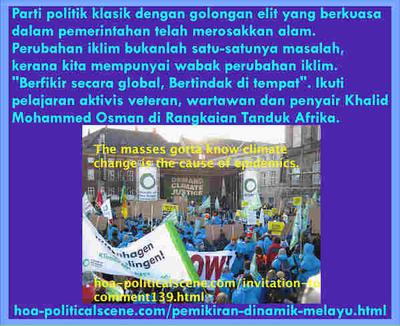 hoa-politicalscene.com/pemikiran-dinamik-melayu.html - Pemikiran Dinamik Melayu: Parti politik klasik dengan golongan elit yang berkuasa dalam pemerintahan telah merosakkan alam.
Pemikiran Dinamik Melayu adalah bahagian ketiga dari artikel sepanjang dan ia bermula pada Idea Dinamik dan Perspektif Dinamik Melayu. Ia akan berterusan di Pendapat Dinamik Melayu. Jadi, anda harus membaca bahagian-bahagian ini sebelum anda terus membaca artikel politik ini.


Saya menjadi peminat depan kerana garis politiknya. Mereka meminta saya untuk menolong mereka dalam pekerjaan media dan saya melakukannya untuk kepentingan Revolusi Eritrea. The (EPLF) menggunakan istilah "massa" dalam literaturnya untuk membebaskan Eritrea dan pada masa itu saya menyedari bahawa ia mesti menjadi "era massa", jadi saya datang dengan istilah ini dan menggunakannya dan saya menjadi orang percaya yang menyokong orang Eritrea revolusi sehingga kemenangan dan seterusnya.

Selepas pembebasan Eritrea, saya bekerja di Asmara pada tahun 1990-an, saya menggunakan istilah yang sama "era massa" untuk menjayakan projek awam untuk orang ramai. Nama projek itu adalah "Martyr's Tree". Dengan menyedarkan massa, saya menggunakan kaedah menerangi massa untuk menanam Pohon Syahid "Martyr's Tree".

Sebagai sebahagian daripada projek ini, saya sibuk memimpin massa Eritrea menanam lebih daripada lima juta pokok yang disebut Pohon Syahid "Martyr's Tree". Nampaknya, saya juga sangat sibuk ketika berusaha merancang projek ini untuk menjaga persekitaran Eritrea, dan saya secara peribadi sangat berharap dapat menyokong persekitaran serantau dan global.

Moto "Berfikir secara global, bertindak secara tempatan" motto telah menjadi panduan etika bagi saya sejak masa itu, sebagai intelektual untuk melayani seluruh umat manusia. Nampaknya, saya pernah merasakannya sebelum hari ia dibuat. Lihat tarikh saya mula bekerja dengan cogan kata ini. Ada seorang intelektual yang memikirkannya sebelum keberadaan lingkungannya yang disebut Patrick Geddes semasa perancangan bandar Scots, dipulihkan dalam bukunya "Cities in Evolution" pada tahun 1915.

Tetapi penggunaan istilah yang sebenarnya telah dikaitkan dengan David Ross Brower pengasas "Friends of the Earth" pada tahun 1971, Rene Dubos pada tahun 1977, Jacques Ellul dan Frank Feather dalam persidangan yang diadakannya di bawah slogan "Berfikir secara global, Bertindak secara tempatan "pada tahun 1979, di mana dia memenangkan ayah dari slogan itu.

Semasa saya sibuk melaksanakan projek ini, saya merancang juga penubuhan Persekitaran Nasional Eritrea, melalui pertemuan yang saya anjurkan secara peribadi di Gabungan Pekerja Eritrea, di mana saya bekerja keras untuk mengumpulkan 2 orang anggota kesatuan pekerja lain untuk menjadi penyelaras di organisasi persekitaran. Baca "Alam Sekitar" dan "Perlindungan Alam Sekitar" untuk mengetahui lebih lanjut mengenai projek ini.

Teruskan membaca artikel ini di Pendapat Dinamik Melayu.

Oleh itu, ini menunjukkan perlunya mengakhiri era parti politik klasik. Ini juga menunjukkan perlunya memulai "zaman massa" menggunakan kaedah pendidikan politik idea-idea dinamik di laman web perintis dan revolusi ini. Untuk melakukan ini, langganan Buletin Adegan Politik HOA "HOA Political Scene Newsletter" na Rangkaian Tanduk Afrika "Horn Africas Network".


* Read "Dynamic Ideas" in your native language below:

🇦🇱 Read it in Albanian Idetë dinamike.

🇪🇹 Read it in Amharic Invitation to Comment 158: ተለዋዋጭ ሀሳቦች and Invitation to Comment 159: ተለዋዋጭ የፖለቲካ አመለካከቶች.

🇱🇧 Read it in Arabic Afkar Dynamicyah, and Invitation to Comment 154: أفكار ديناميكية، أو أفكار دينامية.

🇧🇬 Read it in Bulgarian Invitation to Comment 155: Динамични идеи and Invitation to Comment 156: Динамични политически мнения.

🇨🇳 Read it in Chinese Invitation to Comment 157: 动态想法.

🇨🇿 Read it in Czech Dynamické nápady and České dynamické perspektivě.

🇩🇰 Read it in Danish

🇬🇧 Read it in English Dynamic Ideas and Dynamic Political Opinions.

🇵🇭 Read it in Filipino

🇫🇷 Read it in French

🇩🇪 Read it in German

🇬🇷 Read it in Greek Invitation to Comment 160: Δυναμικές ιδέες, Invitation to Comment 161: Ελληνικές Δυναμικές Ιδέες, Invitation to Comment 162: Δυναμικές πολιτικές απόψεις and Invitation to Comments 163: Ελληνικές δυναμικές προοπτικές

* Read it in Hawaiian

🇮🇱 Read it in Hebrew Invitation to Comments 164: רעיונות דינמיים.

🇮🇩 Read it in Indonesian

🇮🇪 Read it in Irish

🇮🇹 Read it in Italian

🇯🇵 Read it in Japanese Invitation to Comments 165: ダイナミックなアイデア.

🇰🇵 Read it in Korean Invitation to Comments 166: 역동적 인 아이디어.

🇱🇻 Read it in Latvian

🇲🇾 Read it in Malay

🇳🇴 Read it in Norwegian

🇮🇷 Read it in Persian Invitation to Comments 167: ایده های پویا.

🇵🇱 Read it in Polish Dynamiczne Pomysły and Polskie Dynamiczne Perspektywy.

🇵🇹 Read it in Portuguese Ideias dinâmicas, Perspectivas Dinâmicas Portuguesas and Pensamento Dinâmico Português.

🇷🇴 Read it in Romanian Ideile dinamice and perspective dinamice românești.

🇷🇺 Read it in Russian Invitation to Comments 168: Динамические идеи and Invitation to Comments 169: российских динамических мнениях.

🇸🇰 Read it in Slovak Dynamické myslenie and Slovenské dynamické perspektívy.

🇪🇸 Read it in Spanish Ideas dinámicas and Perspectivas dinámicas españolas.

🇸🇪 Read it in Swedish

🇹🇭 Read it in Thai Invitation to Comments 170: ไอเดียแบบไดนามิก.

🇻🇳 Read it in Vietnamese Ý tưởng năng động and Quan điểm năng động của người Việt.

* You are at Pemikiran Dinamik Melayu.