FACEBOOK IS SOCIAL DICTATORSHIP & SOCIAL MEDIA SPAM, but that is not all. GET THE INSIGHTS ON HOAS ABOUT FACEBOOK., AS ONE OF HOA'S DYNAMICS AND SEE THE OTHER DYNAMICS IN MORE THAN 90 BILINGUAL PAGES.

Pensieri Dinamici Italiani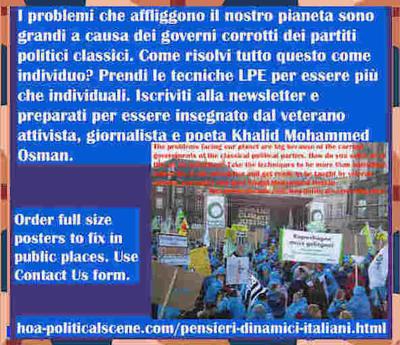 hoa-politicalscene.com/pensieri-dinamici-italiani.html - Pensieri Dinamici Italiani: I problemi che affliggono il nostro pianeta sono grandi a causa dei governi corrotti dei partiti politici classici.
Pensieri Dinamici Italiani è la parte 5 di un articolo italiano iniziato con la parte 1 su Idee Dinamiche e continuato con la parte 2 su Prospettive Dinamiche Italiane, la parte 3 con Opinioni Dinamiche Italiane e la parte 4 con Insight Dinamici Italiani. Continua alla parte 6 di Viste Dinamiche Italiane e alla parte 7 di Pensiero Dinamico Italiano. Pertanto, è necessario leggere tutte le parti per comprendere l'argomento e agire. Come al solito, se hai trovato errori di lingua, correggili inserendo i paragrafi con errori nel link dei commenti in fondo alla pagina. Grazie.


Continua con la parte 5.


Mentre ero impegnato a realizzare questo progetto, ho pianificato anche l'istituzione del Ambiente nazionale dell'Eritrea "National Environment of Eritrea", attraverso principalmente incontri che ho organizzato personalmente nella Confederazione Eritrea del Lavoro, dove ho lavorato duramente per riunire 2 membri di altri sindacati per essere coordinatori nel organizzazione ambientale. Leggi Ambiente "environment" e Protezione ambientale "environment protection" per saperne di più su questo progetto. Gli sforzi erano sbalorditivi. Alcune persone hanno iniziato a parlare del fatto che stavo pianificando di lanciare un partito politico. Le persone invidiose dicevano così tanto. Quindi, le autorità hanno preso il progetto per farlo a modo loro.

Tutto questo mentre ricordo il concetto di "Era delle masse", quando giunsi alla conclusione che questo concetto ha stabilità storica e filosofica per me, ed è per questo che lo sto usando ora in questo periodo. Pertanto, il termine "era di masse" ha un background filosofico storico nella mia mente.

Ha anche pratiche di successo. Quindi, questo è anche il motivo per cui lo sto usando qui in questo periodo molto delicato con tutto ciò che abbiamo in esso, come la scomparsa della neve da molte terre, seguita da pandemie e altre crisi.

Tutti questi segni notevoli possono anche rispondere alla domanda "Perché è l'era delle masse?" La necessità di questo periodo per essere l '"era delle masse" è che le élite al potere hanno trascurato i desideri, le aspettative, le speranze e le aspirazioni delle masse. Le élite al potere in tutti gli stati del mondo, con i loro partiti politici classici, non hanno impegni per i loro collegi elettorali, le masse.


* Read "Dynamic Ideas" in your native language below:

🇦🇱 Read it in Albanian Idetë dinamike.

🇪🇹 Read it in Amharic Invitation to Comment 158: ተለዋዋጭ ሀሳቦች and Invitation to Comment 159: ተለዋዋጭ የፖለቲካ አመለካከቶች.

🇱🇧 Read it in Arabic Afkar Dynamicyah, and Invitation to Comment 154: أفكار دينامية.

🇧🇬 Read it in Bulgarian Invitation to Comment 155: Динамични идеи and Invitation to Comment 156: Динамични политически мнения.

🇨🇳 Read it in Chinese Invitation to Comment 157: 动态想法.

🇨🇿 Read it in Czech Dynamické nápady and České dynamické perspektivě.

🇩🇰 Read it in Danish

🇬🇧 Read it in English Dynamic Ideas and Dynamic Political Opinions.

🇵🇭 Read it in Filipino Dinamikong Ideya and Dinamikong Pag-iisip.

🇫🇷 Read it in French

🇩🇪 Read it in German Dynamischen Ideen and Deutsche Dynamische Gedanken.

🇬🇷 Read it in Greek Invitation to Comment 160: Δυναμικές ιδέες and Invitation to Comments 163: Ελληνικές δυναμικές προοπτικές

* Read it in Hawaiian

🇮🇱 Read it in Hebrew Invitation to Comments 164: רעיונות דינמיים.

🇮🇩 Read it in Indonesian Ide Dinamis, Perspektif Dinamis Indonesia and Pandangan Dinamis Indonesia.

🇮🇪 Read it in Irish Smaointe Dinimiciúla and Léargais Dhinimiciúla na hÉireann.

🇯🇵 Read it in Japanese Invitation to Comments 165: ダイナミックなアイデア.

🇰🇵 Read it in Korean Invitation to Comments 166: 역동적 인 아이디어.

🇱🇻 Read it in Latvian Dinamiskās Idejas and Latvijas Dinamiskā Domāšana.

🇲🇾 Read it in Malay Idea Dinamik and Pendapat Dinamik Melayu.

🇳🇴 Read it in Norwegian Dynamiske ideer, Norske Dynamiske Perspektiver, Norske Dynamiske Meninger and Norske Dynamiske Tanker.

🇮🇷 Read it in Persian Invitation to Comments 167: ایده های پویا.

🇵🇱 Read it in Polish Dynamiczne Pomysły and Polskie Dynamiczne Perspektywy.

🇵🇹 Read it in Portuguese Ideias dinâmicas, Perspectivas Dinâmicas Portuguesas and Pensamento Dinâmico Português.

🇷🇴 Read it in Romanian Ideile dinamice and perspective dinamice românești.

🇷🇺 Read it in Russian Invitation to Comments 168: Динамические идеи and Invitation to Comments 169: российских динамических мнениях.

🇸🇰 Read it in Slovak Dynamické myslenie and Slovenské dynamické perspektívy.

🇪🇸 Read it in Spanish Ideas dinámicas and Perspectivas dinámicas españolas.

🇸🇪 Read it in Swedish Dynamiska idéer, Svenska Dynamiska Perspektiv, Svenska Dynamiska Åsikter and Svenska Dynamiska Tes / Avhandling.

🇹🇭 Read it in Thai Invitation to Comments 170: ไอเดียแบบไดนามิก.

🇻🇳 Read it in Vietnamese Ý tưởng năng động and Quan điểm năng động của người Việt.