Deutsche Dynamische Meinungen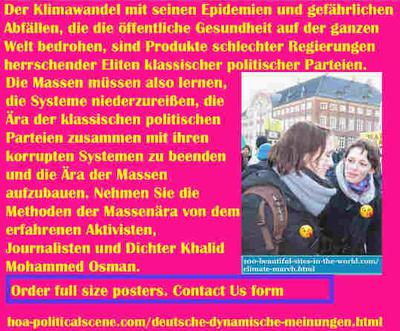 hoa-politicalscene.com/deutsche-dynamische-meinungen.html - Deutsche Dynamische Meinungen: Alles, was zum Klimawandel beigetragen hat, vergiftet unser Essen.
Deutsche Dynamische Meinungen begannen mit Dynamischen Ideen und Deutsche Dynamische Perspektiven und werden weiterhin 6 oder 7 der deutschen Episoden dieser Reihe politischer Artikel fortsetzen. Nun, du weißt was ich dir sagen will. Und ja, du hast richtig geraten. Sie müssen alle Artikel lesen, um das Thema besser zu verstehen. Beginnen Sie mit Nummer eins.

Aber es ist der Klimawandel, der die Korruption internationaler Regierungen aufgedeckt hat!

Tatsächlich hat der Klimawandel diese Regierungen mehr als andere Katastrophen wie Wirtschaftskrisen, die Konflikte, die sie weltweit ermutigen, und die Korruption der Länder, in denen sie eine Rolle spielen, die korrupt geworden sind, aufgedeckt.

Aufgrund dieser unglaublich schlechten Situationen, die ich durch meine journalistische Arbeit in der Welt untersucht habe, bin ich auf die Idee zurückgekommen, die ich lange Zeit über die Massen hatte. Bevor ich dieses Problem ansprach, verwendete ich diesen Begriff während der sudanesischen Revolution wiederholt gegen das diktatorische Regime von Jafar al-Numeri in den 1970er und 1980er Jahren bis zum Sturz des Diktators.

Vor dem Sturz des Diktators hatte der Chef der Muslimbruderschaft im Sudan ihn zu einem (Imam) mit großen Fähigkeiten gemacht, Menschen nach den Gesetzen der Scharia abzuschneiden, zu amputieren und zu schlachten, obwohl der Führer der (NIF) wusste, dass er ketzerisch und punkig war.

Zu dieser Zeit floh ich viele Jahre vor der Umsetzung der Scharia-Gesetze vor seinem totalitären Regime. Die eritreische Volksbefreiungsfront (EPLF) kontaktierte mich in den 1970er Jahren, während die Front die Operationen zur Befreiung Eritreas aus Äthiopien startete. Sie haben mich kontaktiert und wir haben viele politische Fragen bezüglich der Situation am Horn von Afrika besprochen.

Lesen Sie weiter Deutsche Dynamische Einblicke.


* Read "Dynamic Ideas" in your native language below:

🇦🇱 Read it in Albanian Idetë dinamike.

🇪🇹 Read it in Amharic Invitation to Comment 158: ተለዋዋጭ ሀሳቦች and Invitation to Comment 159: ተለዋዋጭ የፖለቲካ አመለካከቶች.

🇱🇧 Read it in Arabic Afkar Dynamicyah, and Invitation to Comment 154: أفكار ديناميكية، أو أفكار دينامية.

🇧🇬 Read it in Bulgarian Invitation to Comment 155: Динамични идеи and Invitation to Comment 156: Динамични политически мнения.

🇨🇳 Read it in Chinese Invitation to Comment 157: 动态想法.

🇨🇿 Read it in Czech Dynamické nápady and České dynamické perspektivě.

🇩🇰 Read it in Danish

🇬🇧 Read it in English Dynamic Ideas and Dynamic Political Opinions.

🇵🇭 Read it in Filipino Dinamikong Ideya, Dinamikong Perspektibo and Dinamikong Pag-iisip.

🇫🇷 Read it in French

🇬🇷 Read it in Greek Invitation to Comment 160: Δυναμικές ιδέες, Invitation to Comment 161: Ελληνικές Δυναμικές Ιδέες, Invitation to Comment 162: Δυναμικές πολιτικές απόψεις and Invitation to Comments 163: Ελληνικές δυναμικές προοπτικές

* Read it in Hawaiian

🇮🇱 Read it in Hebrew Invitation to Comments 164: רעיונות דינמיים.

🇮🇩 Read it in Indonesian Ide Dinamis, Perspektif Dinamis Indonesia, Pemikiran Dinamis Indonesia, Pendapat Dinamis Indonesia, Wawasan Dinamis Indonesia and Pandangan Dinamis Indonesia.

🇮🇪 Read it in Irish Smaointe Dinimiciúla, Peirspictíochtaí Dinimiciúla na hÉireann, Smaointeoireacht Dhinimiciúil na hÉireann, and Léargais Dhinimiciúla na hÉireann.

🇮🇹 Read it in Italian

🇯🇵 Read it in Japanese Invitation to Comments 165: ダイナミックなアイデア.

🇰🇵 Read it in Korean Invitation to Comments 166: 역동적 인 아이디어.

🇱🇻 Read it in Latvian Dinamiskās Idejas, Latvijas Dinamiskās Perspektīvas, Latvijas Dinamiskie Atzinumi and Latvijas Dinamiskā Domāšana.

🇲🇾 Read it in Malay Idea Dinamik, Perspektif Dinamik Melayu, Pemikiran Dinamik Melayu and Pendapat Dinamik Melayu.

🇮🇷 Read it in Persian Invitation to Comments 167: ایده های پویا.

🇵🇱 Read it in Polish Dynamiczne Pomysły and Polskie Dynamiczne Perspektywy.

🇵🇹 Read it in Portuguese Ideias dinâmicas, Perspectivas Dinâmicas Portuguesas and Pensamento Dinâmico Português.

🇷🇴 Read it in Romanian Ideile dinamice and perspective dinamice românești.

🇷🇺 Read it in Russian Invitation to Comments 168: Динамические идеи and Invitation to Comments 169: российских динамических мнениях.

🇸🇰 Read it in Slovak Dynamické myslenie and Slovenské dynamické perspektívy.

🇪🇸 Read it in Spanish Ideas dinámicas and Perspectivas dinámicas españolas.

🇸🇪 Read it in Swedish

🇹🇭 Read it in Thai Invitation to Comments 170: ไอเดียแบบไดนามิก.

🇻🇳 Read it in Vietnamese Ý tưởng năng động and Quan điểm năng động của người Việt.

🇳🇴 You are at Deutsche Dynamische Meinungen.