FACEBOOK IS SOCIAL DICTATORSHIP & SOCIAL MEDIA SPAM, but that is not all. GET THE INSIGHTS ON HOAS ABOUT FACEBOOK., AS ONE OF HOA'S DYNAMICS AND SEE THE OTHER DYNAMICS IN MORE THAN 90 BILINGUAL PAGES.

Deutsche Dynamische Einblicke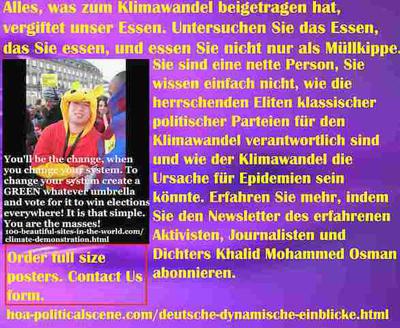 hoa-politicalscene.com/deutsche-dynamische-einblicke.html - Deutsche Dynamische Einblicke: Alles, was zum Klimawandel beigetragen hat, vergiftet unser Essen.
Deutsche Dynamische Einblicke begannen mit Dynamischen Ideen und Deutsche Dynamische Perspektiven und Deutsche Dynamische Meinungen und werden weiterhin 6 oder 7 der deutschen Episoden dieser Reihe politischer Artikel fortsetzen. Nun, du weißt was ich dir sagen will. Und ja, du hast richtig geraten. Sie müssen alle Artikel lesen, um das Thema besser zu verstehen. Beginnen Sie mit Nummer eins.

Ich wurde ein Fan der Front wegen ihrer politischen Linie. Sie baten mich, ihnen bei der Medienarbeit zu helfen, und ich tat dies zugunsten der eritreischen Revolution. Die (EPLF) verwendete den Begriff "Massen" in ihrer Literatur, um Eritrea zu befreien, und zu dieser Zeit erkannte ich, dass es die "Massenära" sein muss, also kam ich mit diesem Begriff und benutzte ihn und wurde ein Gläubiger, der die Eritreer unterstützte Revolution bis zum Sieg und darüber hinaus.

Nach der Befreiung von Eritrea arbeitete ich in den 1990er Jahren in Asmara. Ich benutzte den gleichen Begriff "Ära der Massen", um ein öffentliches Projekt für die Massen auszuarbeiten. Der Name dieses Projekts war Märtyrerbaum "Martyr's Tree". Indem ich die Massen erleuchtete, benutzte ich die Methode, die Massen zu beleuchten, um den Baum des Märtyrers zu pflanzen "Martyr's Tree".

Im Rahmen dieses Projekts war ich damit beschäftigt, die eritreischen Massen dazu zu bringen, mehr als fünf Millionen Bäume zu pflanzen, die "Märtyrerbaum" genannt werden. Anscheinend war ich auch sehr beschäftigt, als ich daran arbeitete, dieses Projekt zur Erhaltung der eritreischen Umwelt zu entwerfen, und ich persönlich hoffte wirklich, dass es die regionale und globale Umwelt unterstützen würde.

Das Motto "Global denken, lokal handeln" ist seit dieser Zeit eine ethische Anleitung für mich als Intellektueller, der der gesamten Menschheit dient. Anscheinend hatte ich ein Gefühl davon vor dem Tag, an dem es geschaffen wurde. Schauen Sie sich das Datum an, an dem ich mit diesem Motto angefangen habe. Es gab einen Intellektuellen, der vor seiner Existenz in der Umwelt daran dachte, Patrick Geddes während der schottischen Stadtplanung, der 1915 in seinem Buch "Cities in Evolution" restauriert wurde.

Die eigentliche Verwendung des Begriffs wurde jedoch David Ross Brower, dem Gründer von Freunde der Erde "Friends of the Earth" im Jahr 1971, Rene Dubos im Jahr 1977, Jacques Ellul und Frank Feather in der Konferenz zugeschrieben, die er unter dem Motto "Global denken, lokal handeln" abhielt "1979, durch die er die Vaterschaft des Slogans gewann.

Lesen Sie weiter Deutsche Dynamische Ansichten.


* Read "Dynamic Ideas" in your native language below:

🇦🇱 Read it in Albanian Idetë dinamike.

🇪🇹 Read it in Amharic Invitation to Comment 158: ተለዋዋጭ ሀሳቦች and Invitation to Comment 159: ተለዋዋጭ የፖለቲካ አመለካከቶች.

🇱🇧 Read it in Arabic Afkar Dynamicyah, and Invitation to Comment 154: أفكار ديناميكية، أو أفكار دينامية.

🇧🇬 Read it in Bulgarian Invitation to Comment 155: Динамични идеи and Invitation to Comment 156: Динамични политически мнения.

🇨🇳 Read it in Chinese Invitation to Comment 157: 动态想法.

🇨🇿 Read it in Czech Dynamické nápady and České dynamické perspektivě.

🇩🇰 Read it in Danish

🇬🇧 Read it in English Dynamic Ideas and Dynamic Political Opinions.

🇵🇭 Read it in Filipino Dinamikong Ideya, Dinamikong Perspektibo and Dinamikong Pag-iisip.

🇫🇷 Read it in French

🇬🇷 Read it in Greek Invitation to Comment 160: Δυναμικές ιδέες, Invitation to Comment 161: Ελληνικές Δυναμικές Ιδέες, Invitation to Comment 162: Δυναμικές πολιτικές απόψεις and Invitation to Comments 163: Ελληνικές δυναμικές προοπτικές

* Read it in Hawaiian

🇮🇱 Read it in Hebrew Invitation to Comments 164: רעיונות דינמיים.

🇮🇩 Read it in Indonesian Ide Dinamis, Perspektif Dinamis Indonesia, Pemikiran Dinamis Indonesia, Pendapat Dinamis Indonesia, Wawasan Dinamis Indonesia and Pandangan Dinamis Indonesia.

🇮🇪 Read it in Irish Smaointe Dinimiciúla, and Léargais Dhinimiciúla na hÉireann.

🇮🇹 Read it in Italian

🇯🇵 Read it in Japanese Invitation to Comments 165: ダイナミックなアイデア.

🇰🇵 Read it in Korean Invitation to Comments 166: 역동적 인 아이디어.

🇱🇻 Read it in Latvian Dinamiskās Idejas, and Latvijas Dinamiskā Domāšana.

🇲🇾 Read it in Malay Idea Dinamik, Perspektif Dinamik Melayu, and Pendapat Dinamik Melayu.

🇮🇷 Read it in Persian Invitation to Comments 167: ایده های پویا.

🇵🇱 Read it in Polish Dynamiczne Pomysły and Polskie Dynamiczne Perspektywy.

🇵🇹 Read it in Portuguese Ideias dinâmicas, and Pensamento Dinâmico Português.

🇷🇴 Read it in Romanian Ideile dinamice and perspective dinamice românești.

🇷🇺 Read it in Russian Invitation to Comments 168: Динамические идеи and Invitation to Comments 169: российских динамических мнениях.

🇸🇰 Read it in Slovak Dynamické myslenie and Slovenské dynamické perspektívy.

🇪🇸 Read it in Spanish Ideas dinámicas and Perspectivas dinámicas españolas.

🇸🇪 Read it in Swedish

🇹🇭 Read it in Thai Invitation to Comments 170: ไอเดียแบบไดนามิก.

🇻🇳 Read it in Vietnamese Ý tưởng năng động and Quan điểm năng động của người Việt.

🇳🇴 You are at Deutsche Dynamische Einblicke.