FACEBOOK IS SOCIAL DICTATORSHIP & SOCIAL MEDIA SPAM, but that is not all. GET THE INSIGHTS ON HOAS ABOUT FACEBOOK., AS ONE OF HOA'S DYNAMICS AND SEE THE OTHER DYNAMICS IN MORE THAN 90 BILINGUAL PAGES.

Opinions Dynamiques Francaises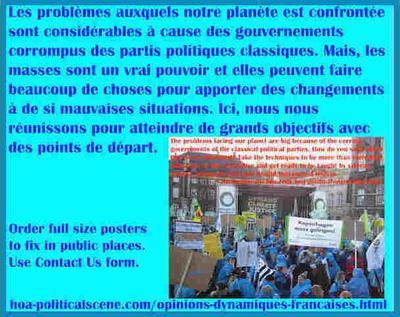 hoa-politicalscene.com/opinions-dynamiques-francaises.html - Opinions Dynamiques Françaises: Les problèmes auxquels notre planète est confrontée sont considérables à cause des gouvernements...
Les Opinions Dynamiques Françaises font partie des Idées Dynamiques. La partie 1 continue sur la partie 2, les Perspectives Dynamiques Françaises et la partie 3 ici. Il continue avec la partie 4 sur les Avis Dynamiques Français, la partie 5 sur les Pensées Dynamiques Françaises, la partie 6 sur les Vues Dynamiques Françaises et la partie 7 sur la Théorie Dynamique Française. Vous devez lire toutes les parties pour mieux comprendre le sujet et prendre des mesures. Si vous avez trouvé des erreurs de langue, corrigez-les en saisissant les bons mots avec les paragraphes. Merci beaucoup.


Malgré ce pouvoir réel et influent des masses, il est devenu clair que les gouvernements élus travaillent toujours pour les groupes d'élite au pouvoir qui dirigent les gouvernements. Cela signifie que ces élites dirigeantes ont ignoré les demandes des masses.

En fait, ce que font ces élites dirigeantes montre qu'elles ne remplissent pas les revendications des masses et ne servent pas les masses qui ont choisi les candidats pour le bénéfice des masses, mais servent leurs propres intérêts.

Ce qui s'est toujours produit, c'est que les masses choisissent des gouvernements pour agir en faveur des masses et se retrouvent dans des gouvernements qui ne fonctionnent comme des élites dirigeantes que pour leurs propres intérêts. Les intérêts des élites dirigeantes sont devenus le centre d'intérêt de la plupart des gouvernements.

Cela conduit à négliger la durabilité dans divers domaines, notamment le climat, l'environnement, la santé et même le bien-être des masses.

Mais c'est le changement climatique qui a dénoncé la corruption des gouvernements internationaux!

En fait, le changement climatique a exposé ces gouvernements, plus que d'autres catastrophes, comme les crises économiques, les conflits qui les encouragent dans le monde et la corruption des pays dans lesquels ils jouent un rôle, devenus corrompus.

Cela indique donc la nécessité de mettre fin à l'ère des partis politiques classiques. Cela démontre également la nécessité de lancer «l'ère des masses» en utilisant les méthodes d'éducation politique des idées dynamiques dans ce site révolutionnaire pionnier. Pour ce faire, abonnez-vous au "Bulletin de la scène politique HOA "HOA Political Scene Newsletter", qui est la voix du Réseau de la Corne de l'Afrique "Horn Africa's Network".

Vous serez dans la bonne voie à la découverte pour agir pour résoudre les problèmes de votre monde. Oui, c'est votre monde.

Continuez sur les Avis Dynamiques Français.


* Read "Dynamic Ideas" in your native language below:

🇦🇱 Read it in Albanian Idetë dinamike.

🇪🇹 Read it in Amharic Invitation to Comment 158: ተለዋዋጭ ሀሳቦች and Invitation to Comment 159: ተለዋዋጭ የፖለቲካ አመለካከቶች.

🇱🇧 Read it in Arabic Afkar Dynamicyah, and Invitation to Comment 154: أفكار ديناميكية، أو أفكار دينامية.

🇧🇬 Read it in Bulgarian Invitation to Comment 155: Динамични идеи and Invitation to Comment 156: Динамични политически мнения.

🇨🇳 Read it in Chinese Invitation to Comment 157: 动态想法.

🇨🇿 Read it in Czech Dynamické nápady and České dynamické perspektivě.

🇩🇰 Read it in Danish

🇬🇧 Read it in English Dynamic Ideas and Dynamic Political Opinions.

🇵🇭 Read it in Filipino Dinamikong Ideya, Dinamikong Perspektibo and Dinamikong Pag-iisip.

🇬🇷 Read it in Greek Invitation to Comment 160: Δυναμικές ιδέες, Invitation to Comment 161: Ελληνικές Δυναμικές Ιδέες and Invitation to Comments 163: Ελληνικές δυναμικές προοπτικές

* Read it in Hawaiian

🇮🇱 Read it in Hebrew Invitation to Comments 164: רעיונות דינמיים.

🇮🇩 Read it in Indonesian Ide Dinamis, Perspektif Dinamis Indonesia and Pandangan Dinamis Indonesia.

🇮🇪 Read it in Irish Smaointe Dinimiciúla and Léargais Dhinimiciúla na hÉireann.

🇮🇹 Read it in Italian Idee Dinamiche and Prospettive Dinamiche Italiane

🇯🇵 Read it in Japanese Invitation to Comments 165: ダイナミックなアイデア.

🇰🇵 Read it in Korean Invitation to Comments 166: 역동적 인 아이디어.

🇱🇻 Read it in Latvian Dinamiskās Idejas and Latvijas Dinamiskā Domāšana.

🇲🇾 Read it in Malay Idea Dinamik and Pendapat Dinamik Melayu.

🇳🇴 Read it in Norwegian Dynamiske ideer and Norske Dynamiske Tanker.

🇮🇷 Read it in Persian Invitation to Comments 167: ایده های پویا.

🇵🇱 Read it in Polish Dynamiczne Pomysły and Polskie Dynamiczne Perspektywy.

🇵🇹 Read it in Portuguese Ideias dinâmicas and Pensamento Dinâmico Português.

🇷🇴 Read it in Romanian Ideile dinamice and perspective dinamice românești.

🇷🇺 Read it in Russian Invitation to Comments 168: Динамические идеи and Invitation to Comments 169: российских динамических мнениях.

🇸🇰 Read it in Slovak Dynamické myslenie and Slovenské dynamické perspektívy.

🇪🇸 Read it in Spanish Ideas dinámicas and Perspectivas dinámicas españolas.

🇸🇪 Read it in Swedish Dynamiska idéer and Svenska Dynamiska Tes / Avhandling.

🇹🇭 Read it in Thai Invitation to Comments 170: ไอเดียแบบไดนามิก.

🇻🇳 Read it in Vietnamese Ý tưởng năng động and Quan điểm năng động của người Việt.