FACEBOOK IS SOCIAL DICTATORSHIP & SOCIAL MEDIA SPAM, but that is not all. GET THE INSIGHTS ON HOAS ABOUT FACEBOOK., AS ONE OF HOA'S DYNAMICS AND SEE THE OTHER DYNAMICS IN MORE THAN 90 BILINGUAL PAGES.

Norsk Dynamisk Innsikt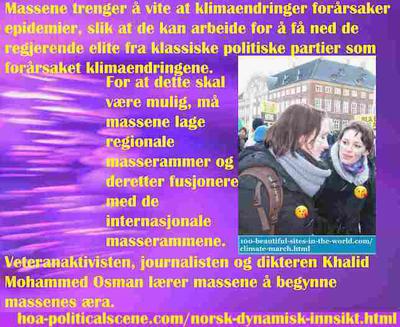 hoa-politicalscene.com/norske-dynamisk-innsikt.html - Massene trenger å vite at klimaendringer forårsaker epidemier, slik at de kan arbeide for å få ned de regjerende elite fra klassiske politiske partier...
Norsk Dynamisk Innsikt startet på første del, Dynamiske ideer og fortsatte på del to, Norske Dynamiske Perspektiver og del tre, Norske Dynamiske Meninger. Så må du lese de tre delene, før du fortsetter med den fjerde delen her og den femte delen ved Norske Dynamiske Synspunkter og den sjette delen, ved Norske Dynamiske Tanker.


Etter frigjøringen av Eritrea jobbet jeg i Asmara på 1990-tallet, jeg brukte samme begrep "massenes tid" for å utarbeide et offentlig prosjekt for massene. Navnet på dette prosjektet var "Martyr's Tree". Ved å opplyse massene, brukte jeg metoden for å belyse massene for å plante martyrens tre "Martyr's Tree".

Som en del av dette prosjektet var jeg opptatt med å lede Eritrea-massene til å plante mer enn fem millioner trær kalt "Martyr's Trees". Tilsynelatende var jeg også veldig opptatt mens jeg jobbet med å utforme dette prosjektet for å opprettholde miljøet i Eritrean, og jeg personlig håpet virkelig at det ville støtte det regionale og globale miljøet.

Motto "Tenk globalt, handle lokalt" har vært etisk veiledning for meg siden den tiden, som en intellektuell for å tjene hele menneskeheten. Tilsynelatende hadde jeg en følelse av den før dagen den ble opprettet. Se på datoen jeg begynte å jobbe med dette mottoet. Det var en intellektuell som tenkte på det før den miljømessige eksistensen som het Patrick Geddes under skotske byplanlegging, restaurert i sin bok "Cities in Evolution" i 1915.

Men den virkelige bruken av begrepet har blitt tilskrevet David Ross Brower, grunnleggeren av "Friends of the Earth" i 1971, Rene Dubos i 1977, Jacques Ellul og Frank Feather på konferansen han holdt under slagordet "Thinking Globally, Acting Local "i 1979, der han vant slagordet til parolen.

Du vil lære mer om metodene og være forberedt og gruppert regionalt og globalt for å implementere det regionale og globale politiske prosjektet, som inkluderer enheter med spesielle prosjekter som angår alle aspekter av livet. Så fortsett på delene.

* Read "Dynamic Ideas" in your native language below:

🇦🇱 Read it in Albanian Idetë dinamike.

🇪🇹 Read it in Amharic Invitation to Comment 158: ተለዋዋጭ ሀሳቦች and Invitation to Comment 159: ተለዋዋጭ የፖለቲካ አመለካከቶች.

🇱🇧 Read it in Arabic Afkar Dynamicyah, and Invitation to Comment 154: أفكار ديناميكية، أو أفكار دينامية.

🇧🇬 Read it in Bulgarian Invitation to Comment 155: Динамични идеи and Invitation to Comment 156: Динамични политически мнения.

🇨🇳 Read it in Chinese Invitation to Comment 157: 动态想法.

🇨🇿 Read it in Czech Dynamické nápady and České dynamické perspektivě.

🇩🇰 Read it in Danish

🇬🇧 Read it in English Dynamic Ideas and Dynamic Political Opinions.

🇵🇭 Read it in Filipino Dinamikong Ideya, Dinamikong Perspektibo and Dinamikong Pag-iisip.

🇫🇷 Read it in French

🇬🇷 Read it in Greek Invitation to Comment 160: Δυναμικές ιδέες, Invitation to Comment 161: Ελληνικές Δυναμικές Ιδέες, Invitation to Comment 162: Δυναμικές πολιτικές απόψεις and Invitation to Comments 163: Ελληνικές δυναμικές προοπτικές

* Read it in Hawaiian

🇮🇱 Read it in Hebrew Invitation to Comments 164: רעיונות דינמיים.

🇮🇩 Read it in Indonesian Ide Dinamis, Perspektif Dinamis Indonesia, Pemikiran Dinamis Indonesia, Pendapat Dinamis Indonesia, Wawasan Dinamis Indonesia and Pandangan Dinamis Indonesia.

🇮🇪 Read it in Irish Smaointe Dinimiciúla, Peirspictíochtaí Dinimiciúla na hÉireann, Smaointeoireacht Dhinimiciúil na hÉireann, Tuairimí Dinimiciúla na hÉireann and Léargais Dhinimiciúla na hÉireann.

🇮🇹 Read it in Italian

🇯🇵 Read it in Japanese Invitation to Comments 165: ダイナミックなアイデア.

🇰🇵 Read it in Korean Invitation to Comments 166: 역동적 인 아이디어.

🇱🇻 Read it in Latvian Dinamiskās Idejas, Latvijas Dinamiskās Perspektīvas, Latvijas Dinamiskie Atzinumi and Latvijas Dinamiskā Domāšana.

🇲🇾 Read it in Malay Idea Dinamik, Perspektif Dinamik Melayu, Pemikiran Dinamik Melayu and Pendapat Dinamik Melayu.

🇮🇷 Read it in Persian Invitation to Comments 167: ایده های پویا.

🇵🇱 Read it in Polish Dynamiczne Pomysły and Polskie Dynamiczne Perspektywy.

🇵🇹 Read it in Portuguese Ideias dinâmicas, Perspectivas Dinâmicas Portuguesas and Pensamento Dinâmico Português.

🇷🇴 Read it in Romanian Ideile dinamice and perspective dinamice românești.

🇷🇺 Read it in Russian Invitation to Comments 168: Динамические идеи and Invitation to Comments 169: российских динамических мнениях.

🇸🇰 Read it in Slovak Dynamické myslenie and Slovenské dynamické perspektívy.

🇪🇸 Read it in Spanish Ideas dinámicas and Perspectivas dinámicas españolas.

🇸🇪 Read it in Swedish

🇹🇭 Read it in Thai Invitation to Comments 170: ไอเดียแบบไดนามิก.

🇻🇳 Read it in Vietnamese Ý tưởng năng động and Quan điểm năng động của người Việt.