HOW MUCH does Facebook pay you when you spend a lot of time to make it a billionaire while you're poor? Do you want to conquer FaceBook, Google, or any social you are using and make them pay you hard currencies for using them? That has a DYNAMIC SYSTEM. Contact Me! GET INSIGHTS ON HOAS ABOUT FACEBOOK.
Pushkin in Eritrea: Pushkin's Grandfather Was Eritrean!
Pushkin in Eritrea: In the 210 anniversary of the Russian pot Alexander Pushkin's birthday, Eritrea inaugurated a memorial monument to the Russian poet at a square in Asmara, the capital city of Eritrea, which was named after the poet on 28 November 2009.

The government and the People's Front for Democracy and Justice (PFDJ) officials and some invited members of the Russian Parliament attended the ceremony and the celebration organized in the honour of the Russian poet Alexander Pushkin.
Tewolde Kelati, the Administrator of the Central Region in Eritrea said the erection of the full size monument in Eritrea is the first activity of its kind in Africa and the activity would serve to link between the Eritrean and Russian cultures aiming at that Eritrea believes in closer cultural exchange based on equality between the two sides.
The Eritrean-Russian Cooperation Association has made the necessary contribution to the activities concerning the Pushkin Monument and Pushkin Cultural Centre.
Elena Drapeko, member of the Russian Parliament spoke on the occasion and said that Pushkin's great artistic works are treasured worldwide. She pointed that the poet was proud of his African origin and she expressed her hope that the Monument and Cultural Centre would play due role in enhancing the Eritrean Russian relationship.
A handful of soil from Pushkin's grave in Mikhailovsky, Russia has placed on the base of the statue and artistic presentations and performances were staged during the inauguration ceremony.
Pushkin Cultural Center celebrates the role and contribution of the poet in the development of culture, arts and education.
Pushkin in Eritrea: Backgrounds on Alexander Pushkin!
Alexander Pushkin was born on 6 June 1799 in Moscow and he was shot on 29 January 1837. He is known as Russia's greatest poet, considered the founder of the modern Russian literature and he originated the nuanced level of language using the Russian language in the way it is spoken.


His mother Abram Hannibal was the granddaughter of Abraham Hannibal who served in the Russian Army and navy. Some stories told by Pushkin himself in his tales, stories and novels or by the others say that the grandfather was abducted from Africa while he was a child at the age of seven.

Ottoman Empire trade slaves and their descendants still live on coasts of the Black Sea. The slave traders took Pushkin's grandfather in 1703 to Constantinople in chains, with other frightened captives.

Czar Peter the Great heard advices by his fiends to bring African to Russia for hard labour. Among those was Abram Petrovich Gannibal. It is possible the letter H in his last name (Hannibal) has changed to G.

The tsar adopted the child and he became Peter's porter. However, Peter educated him in Saint Petersburg to acquire good jobs as a soldier, diplomat and mathematician. He became general in chief and military engineer responsible of building canals and forts in Russia.

In France, he knew Voltaire and Montesquieu who called him the "dark star of Russia's enlightenment."

Pushkin published his first poem at the age of fifteen. He wrote also plays, stories and novels you can read through this page.

The Stolen Prince: Gannibal, Adopted Son of Peter the Great, Great-Grandfather of Alexander Pushkin, and Europe's First Black Intellectual - By Hugh Barnes


To get the complete works of the Russian poet, please use the search tool below and you can easily find all of his brain child in many of his works.
Enter the following search terms and phrases:
Poemy i povesti, Volume 1
Novel, Tales, Journeys: The Complete Prose of Alexander Pushkin
Alexander Pushkin: The Collected Stories.Pushkin Poems: A Russian Dual Language Book.
Tales of the Late Ivan Petrovich Belkin.
Pushkin's Fairy Tales.
Collected Works of Alexander Pushkin.
Eugene Onegin: A Novel in Verse
The captain's Daughter: And the Other Stories.
Pushkin: A Biography.
Wondrous Moment: Selected Poetry of Alexander Pushkin.
The Stolen Prince: Gannibal, Adopted Son of Peter the Great, Great-Grandfather of Alexander Pushkin, and Europe's First Black Intellectual - By Hugh Barnes.
In the spring of 1703, a young African boy stepped off a slave ship in Constantinople, the gateway between East and West. Huddling in chains, with other frightened captives, the seven-year-old claimed to be a prince of Abyssinia, a "noble Moor" kidnapped and stolen out of Africa.
Alexander Pushkin: Complete Prose Fiction
Poemy i povesti, Volume 1 (Russian Edition)
This is the first installment in a new edition of Alexander Pushkin's works in the original Russian. Edited by David Bethea and Nikita Okhotin, and richly annotated by Oleg Proskurin, this volume is based on the 1835 edition published by A.F. Smirdin; a second volume will be available soon and will include The Gypsies, Count Nulin, Poltava, Little House in Kolomna, and Angelo.
Pushkin's Fairy Tales (In Russian language)
Under the Sky of My Africa: Alexander Pushkin and Blackness - Catharine Theimer Nepomnyashchy (Editor), Nicole Svobodny (Editor), Ludmilla A. Trigos (Editor), Henry Louis Gates Jr. (Foreword)
Roughly in the year 1705, a young African boy, acquired from the seraglio of the Turkish sultan, was transported to Russia as a gift to Peter the Great. This child, later known as Abram Petrovich Gannibal, was to become Peter's godson and to live to a ripe old age, having attained the rank of general and the status of Russian nobility.
More important, he was to become the great-grandfather of Russia's greatest national poet, Alexander Pushkin. It is the contention of the editors of this book, borne out by the essays in the collection, that Pushkin's African ancestry has played the role of a "wild card" of sorts as a formative element in Russian cultural mythology; and that the ways in which Gannibal's legacy has been included in or excluded from Pushkin's biography over the last two hundred years can serve as a shifting marker of Russia's self-definition.
Selected Lyric Poetry - Alexander Pushkin
It is most fitting that Northwestern University Press, long a leading publisher of Russian literature in translation, launches the "Northwestern World Classics" series with a new translation of Russia's greatest poet.
Included are many famous poems well known to, and often memorized by, every educated Russian, as well as lighter, more occasional pieces. Born in Moscow in 1799, Alexander Pushkin was already a literary star by the time he graduated from the Imperial Lyceum in Tsarskoe Selo.
Pushkin gradually turned to social reform and advocated literary radicalism, and he was eventually exiled to southern Russia. During this time, he wrote "Boris Godunov", but it was not published until years later. His novel in verse, "Eugene Onegin", was published serially from 1825 to 1832. He died in 1837 from wounds sustained in a duel.
What do you think of this article about Pushkin in Eritrea? Was Pushkin's granfather Eritrean?
You are welcome to comment on this page about Pushkin in Eritrea through the following form or write about Pushkin. Thanks.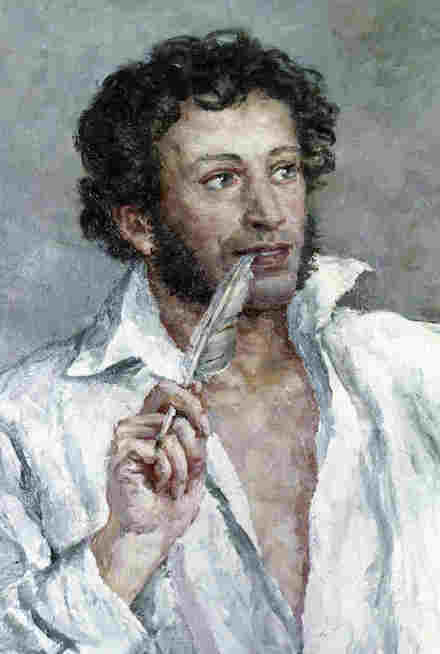 hoa-politicalscene.com/pushkin-in-eritrea.html - Pushkin in Eritrea: Alexander Pushkin's portrait. Know anything about this? Write about it on the form at the bottom of the page blow.
Have a Great Story about or from the Horn of Africa?
Do you have a great story about or from the Horn of Africa? Share it! Note that you can use the forms in this platform to comment and write about political topics in the Horn of Africa. Some pages about other countries may fall out of this map. However, they may have some impacts on some countries in this map. You can use the same forms anyway to comment or write about them too.
What Other Visitors Have Said
Click below to see contributions from other visitors to this page...

You can share Pushkin in Eritrea with your Facebook or any other social network through the following buttons.
You can watch documentaries on Alexander Pushkin and additional documentaries on the entire Soviet Union on the TVCinemaApp.com's documentaries at the TVCinemaApp.com/documentary-film.html.

"Site Build It" tools on the bar below empower this page about Pushkin in Eritrea. Thanks to those great website building and optimizing tools.
---
HOA's Political Scene Home| HOA's Political-Scene Blog| HOA's Political Scene| HOA's Political Section| HOA's Political Inspiration| Horn of Africa (HOA)| Djibouti| Djibouti Country Profile| Djibouti's Political Scene| Djibouti's Political Problems| Eritrea| Eritrea Country Profile| Eritrean Political Scene| Eritrea's Political Problems| EPLF| Eritrea and NGOs| Eritrean Refugees| Red Sea Paradise| Pushkin in Eritrea| Ethiopia| Ethiopia Country Profile| Ethiopia's Political Scene| Ethiopia's Political Problems| Awassa| Awassa Children's Village| Ethio-Eritrean Wars| Ethiopian Refugees| Kenya| Kenya Country Profile| Kenya's Political Scene| Kenya's Political Problems| Somalia| Somalia Country Profile| Somali Political Scene| Somalia's Political Problems| Somali News| Somali Archives| Sudan| Sudan Country Profile| Sudan's Political Scene| Political Problems in Sudan| Democracy in Sudan| Human Rights in Sudan| Darfur| International Criminal Court ICC| ICC Indictment| Omar al Bashir| Luis Moreno Ocampo| Sudanese Dictatorial Regimes| Mao tse-Tung| Uganda| Uganda Country Profile| Uganda's Political Scene| Uganda's Political Problems| Humanitarian Network| Environment Protection| Environment| Horn of Africa's Friends| Comments| Forward HOA's Political Scene| Alexa| Search| Freelancing Fees| Horn of Africa's Bookshop| Contact Us|