HOW MUCH does Facebook pay you when you spend a lot of time to make it a billionaire while you're poor? Do you want to conquer FaceBook, Google, or any social you are using and make them pay you hard currencies for using them? That has a DYNAMIC SYSTEM. Contact Me! GET INSIGHTS ON HOAS ABOUT FACEBOOK.
Djibouti Country Profile!
Djibouti Country Profile
Official country's name: République de Djibouti (in French); Jumhuriyat Jibuti (in Arabic)
hoa-politicalscene.com/djibouti-country-profile.html - Djibouti Country Profile: Djibouti Map.
Political form of state: Unitary republic; parliamentary

Capital city of state: Djibouti

Location: 11 30 N; 43 00 E; Eastern Africa vis-à-vis Gulf of Aden, on the Red Sea between Eritrea and Somalia

Area: 23,000 sq km; Land 22,980 sq km; Water ,020 sq km

Population: 496,374 (July 2007 estimation)

Growth rate: 1.984%

Ethnic groups: Somali 60%, Afar 35%, other including French, Arab, Ethiopian, Italian 5%

Languages: French and Arabic are official, Somali, Afar

Literacy: male 78%, female 58,4%

Independence: 27 June 1977 from France

Natural resources: geothermal areas; clay; diatomite; limestone; gold; granite; pumice; marble; salt; gypsum; petroleum

Border countries: Eritrea 109 km; Ethiopia 349 km; Somalia 58

Coastline: 314 km

Climate: desert, torrid, dry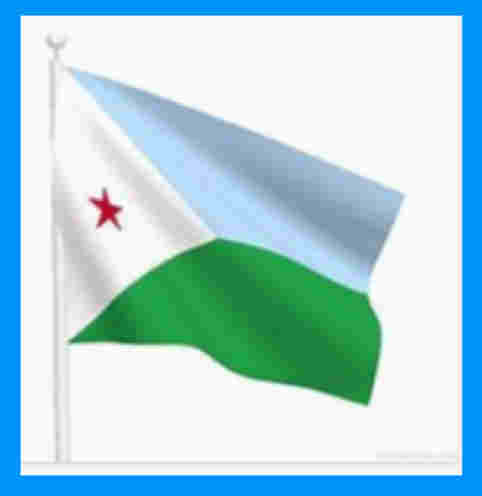 hoa-politicalscene.com/djibouti-country-profile.html - Djibouti Country Profile: Djibouti Flag.
Home environment: limited arable land; inadequate supplies of potable water; desertification; endangered species

International environment: party to those bodies – Ozone Layer Protection; Law of the Sea; Bio Diversity; Desertification; Climate Change; Climate Change - Kyoto; Endangered Species; Hazardous Wastes; Ship Pollution

Legal system: Based on the Code Napoléon, French based Civil Law system; traditional practices and Islamic Law. A referendum in 04 September 1992 endorsed a new constitution, which provides for a maximum of four political parties

National legislature: Assemblée nationale; 65 deputies, elected by universal suffrage; serve a five-year term. The People's Progress Assembly (RPP) called Rassemblement populaire pour le progress in French holds all sets. Union for a Presidential Majority (UMP) called Union pour la majorité présidentielle in French is in power since the elections of 2003. Ismael Omar Guelleh, president of RPP is the president in power in this coalition

Main political parties: (RPP – UMP), (RPP) spilt in May 1996, with dissident members forming the Groupe pour la démocratie et la république (GDR); National Democratic Party called Parti national démocratique (PND); Democratic Renewal Party called Parti pour le renouveau démocratique (PRD); Djibouti Development Party (PDD); People's Social Democratic Party (PPSD); Republican Alliance for Democracy (ARD); Union of Democracy and Justice (UDJ). Union for a Democratic Alternative (UAD). In November 1991, the Front pour la restauration de l'unité et de la démocratie FRUD launched an armed Afar rebellion against the government. In December 1994, the government signed a peace accord with a faction of (FRUD). This faction was legalised as a political party in March 1996

Economy overview: The economy is based on service activities according to demographics and natural resources such as the country's strategic location and status as a free trade zone in the Horn of Africa. In addition, two-third of Djibouti's population live in the capital city, the rest are nomadic herders; and rainfall limits crop production to some fruits and vegetables. Therefore, most food must be imported. Djibouti has few natural resources and little industry and agriculture. Therefore, it is heavily dependent on foreign assistance to help support its balance of payments and to finance development projects. Ethiopia represents 85% of port activities

Trafficking in Person: Djibouti is a source, transit and destination country for women and children trafficked to be exposed to sexual exploitation and forced labour

Djibouti Country Profile!

Are you living in the area? Can you provide some news or write about Djibouti? Add something to Djibouti Country Profile through the form below.

Djibouti – The political scene after Hassan Gouled!

National consensus in Djibouti is facing a discontinuity and discontent in this tiny country.

This could possibly be the cause of the political, business and love problems there.

Djibouti is one of those states in the region administered by one party since its independence from the French on June 27, 1977. President Ismael Omer Guelleh has inherited the presidency and he was first elected to take over from his uncle Hassan Gouled Aptidon in 1999. President Gouled ruled the tiny Djibouti since its independence.

The previous president Hassan Gouled was considered spiritual father to some presidents in the Horn of Africa. Coming from the same tribal origins the recent president and the ministers are now enjoying a living in style aristocratic life while the people are very poor and the country is suffering from draughts and other political problems!

Politics, business and love problems could possibly exist on a wide country with different ethics, ethnical groups, religious and cultural backgrounds. But luckily that's not the case in Djibouti.

The country has been created by the French to be the principal base for the French Navy in the Indian Ocean and it's running, up to date under the French influence.

The people are nice. However, they are living in a comitragedy!

Starting from Djibouti Country Profile, you can move to read more about Djibouti, Eritrea, Ethiopia, Kenya, Somalia, Sudan and Uganda through those links here.

What You Think of Djibouti Country Profile?
Is there anything missing, at all?
Well, you can add more to Djibouti Country Profile! Location, population, human and natural resources, and development and economical overview, through the following form.
Have a Great Story about or from the Horn of Africa?
Do you have a great story about or from the Horn of Africa? Share it! Note that you can use the forms in this platform to comment and write about political topics in the Horn of Africa. Some pages about other countries may fall out of this map. However, they may have some impacts on some countries in this map. You can use the same forms anyway to comment or write about them too.
** Read the comment entry at hoa-politicalscene.com/djibouti-is-stable-and-frud-has-no-gains.html.
** Read the comment on this entry at Djibouti is Stable and FRUD Has No Gains - Comments.
** رئيس جيبوتي يشيد بالديكتاتور السوداني بمناسبة اِفتتاح مستشفى "عمر حسن البشير" بجيبوتي. وهكذا تقع الطيور علي اشكالها
** Are you from Djibouti? Living inside Djibouti? Djiboutian living abroad? It doesn't matter! You can still write about your city of birth or your city of residence at Any Beautiful City in the world.
** See beautiful places in the Horn of Africa such as Gondar in Ethiopia and Kordofan in Sudan.
Djibouti Country Profile page is powered by Site Build It at the bottom. You can use those website building and optimizing tools to build any website just about any topic.

Like Djibouti Country Profile?
Tweet it to Twitter, or share it with your friends on your favorite social media. And if you think there's something wrong, please correct it. You can also use the form to write more about Djibouti. Thanks.
You can watch documentaries on Djibouti including Djibouti Country Profile on documentary film at TVCinemaApp.com.

---
Arabic HOA Political Scene| Contact Us| Djibouti| Djibouti Country Profile| Djiboutian Political Problems| Djiboutian Political Scene| EPLF| Eritrea| Eritrea and NGOs| Eritrea Country Profile| Eritrean Political Differences| Eritrean Political Problems|Eritrean Political Scene| Eritrean Refugees| Eritrean Revolutionary Principles| Ethiopia| Ethiopia Country Profile| Ethiopian Political Problems| Ethiopian Political Scene| Forward HOA's Political Scene| HOA| HOA Calls| HOA Political Scene| HOA Political Scene Blog| HOA Political Scene Newsletter| HOAs Arabic Prose| HOAs Comprehensive Projects| HOAs Cultural Project| HOAs Data Analyzing| HOAs Journalists| HOAs Journalists Project| HOAs Poets| HOAs Poets Bookshop| HOAs Poets Project| HOAs Political Business| HOAs Refugees| HOAs Refugees Project| HOAs Self-Publishing| HOAs Videos| Horn of Africa| Horn of Africa's Bookshop| Horn of Africa's Bulletins| Horn of Africa's Ezines| Horn of Africa's Friends| Horn of Africa's Journal| Horn of Africa's Journalists| Horn of Africa's Network| Horn of Africa's Newsletters| Horn of Africa's Political Newsletters| Humanitarian Network| IGAD| Political Inspiration| Political Magic| Political News| Political Scene| Political Section| Political Sense Journal| Political Site Map| Political Stories| Political Views| Politics of Myth| Red Sea Paradise| Squadron of Poets| The Intergovernmental Authority on Development| UN Eritrean Political Refugees| United States of the Horn of Africa| USHA|