FACEBOOK IS SOCIAL DICTATORSHIP & SOCIAL MEDIA SPAM, but that is not all. GET THE INSIGHTS ON HOAS ABOUT FACEBOOK., AS ONE OF HOA'S DYNAMICS AND SEE THE OTHER DYNAMICS IN MORE THAN 90 BILINGUAL PAGES.

Compare the Dictators!
by Enkidu Debaba
(ALFA / SUDAN)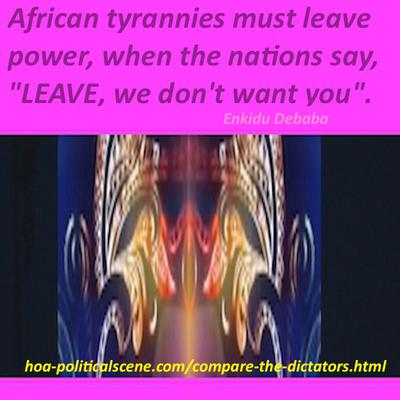 hoa-politicalscene.com/compare-the-dictators.html - Compare the Dictators by Ethiopian writer Enkidu Debaba, a HOA Political Scene's pen name.
Any government that stays more than 10 years on power is a dictatorship. The recent revolutions in some places in the world have exposed those dictators, the inhumanity and the unacceptable harassment against their people during demonstrations.

Egypt revolution was strong enough that Mubarak couldn't resist it. But he didn't take action to destruct Egypt like Muammar Gaddafi of Libya (Muammar Kaddáfí - معمر القذافي).

I appreciate the Tunisian dictator who left the country in a smart way. The nationals will peacefully construct their countries.

Look at the rest of dictators! They are anxiously tarried and won't leave, but continue smashing their people, destructing and emptying the economies of the state in their pockets, but at the end they are going to die with punishment.

Well, it is advisable that any African tyranny must leave power, when the nations say, "LEAVE, we do not want you".

* You are at Compare the Dictators.

* Read the entry page at HOA.

* Read about the most beautiful places in the Horn of Africa at Gondar & Kordofan.

* If you love your city, think of why you neglect it since you have a chance to write about it & upload pictures from it at Any Beautiful City at the 100 beautiful sites linked above.

* Watch movies shot in the Horn of Africa at TV Cinema App.

* Good pages in Arabic & English at:

Abdurrahman Ali Ahmed Tuur| African Political Refugees| Bring them to Justice| Drought and War Devastate Somalia| Drought and War Devastate Somalia - Comments| Enkidu Debaba| Focus on Sudan| HOA WhatsApp Political Dialogue| Khartoum| Khartoum University is About to Disappear| University of Khartoum| WhatsApp Educational Chat| WhatsApp Political Chat| حق ومقدرات الشعب تْقتلع من الغاصب ولا تُنتظر| جامعة الخرطوم للطلاب| اخبار الحركة الجماهيرية في السودان في سطور| حوار سياسة في واتساب جات| قوانين مجحفة ضد الحريات الاساسية في السودان | بيان صوت شرق السودان الحر| الحملة الوطنية العالمية لمواجهة المرحلة الجديدة للإبادة الجماعية في جبل مرة ودارفور| استمرار النظام المهووس دينيا في السودان في جرائمه ضد حقوق الانسان|

* Read Horn Africa's political pages at:

Arabic HOA Political Scene| Arabic Short Story| Comments| Contact Us| Environment| Environment Protection| Forward HOA's Political Scene| Freelancing Fees| HOA| HOA Calls| HOA Political Scene| HOA Political Scene Blog| HOA Political Scene Newsletter| HOAs Arabic Prose| HOAs Comprehensive Projects| HOAs Cultural Project| HOAs Data Analyzing| HOAs Journalists| HOAs Journalists Project| HOAs Poets| HOAs Poets Bookshop| HOAs Poets Project| HOAs Political Business| HOAs Refugees| HOAs Refugees Project| HOAs Self-Publishing| HOAs Videos| Horn of Africa| Horn of Africa's Bookshop| Horn of Africa's Bulletins| Horn of Africa's Ezines| Horn of Africa's Friends| Horn of Africa's Journal| Horn of Africa's Journalists| Horn of Africa's Network| Horn of Africa's Newsletters| Horn of Africa's Political Newsletters| Humanitarian Network| IGAD| International Political Media| Political Articles Tips| Political Inspiration| Political Magic| Political News| Political Scene| Political Section| Political Sense Journal| Political Site Map| Political Stories| Political Views| Politics of Myth| Readers Comment| Readers Read Good| Readers Write Comments| Readers Write Good|Search| Squadron of Poets| Superstitions| The Intergovernmental Authority on Development| The Need to Lead| The Tragedy of Simulation and Similarity between Chad and the Sudan|

* Use the comment link below 👇 to comment & share the page.
Join in and write your own page! It's easy to do. How? Simply click here to return to Invitation to Comment.