HOW MUCH does Facebook pay you when you spend a lot of time to make it a billionaire while you're poor? Do you want to conquer FaceBook, Google, or any social you are using and make them pay you hard currencies for using them? That has a DYNAMIC SYSTEM. Contact Me! GET INSIGHTS ON HOAS ABOUT FACEBOOK.
Denmark is Tough for Political Refugees!
The situations of refugees in Denmark impose the questions why Denmark is tough with the UN Convention political refugees? Why they accept refugees, at all? These are the toughest questions I have been asked!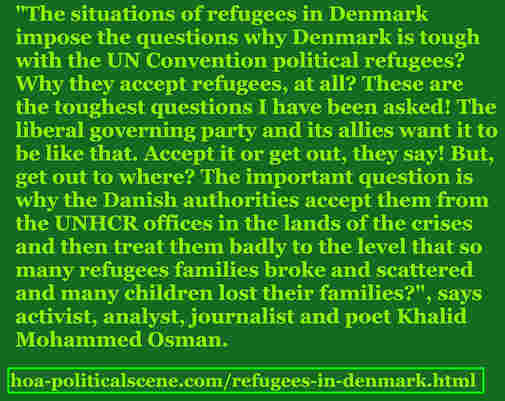 hoa-politicalscene.com/refugees-in-denmark.html - Refugees in Denmark: Why accept them, treat them bad, break many families with abandoned kids and say it's integration? Ask many refugees, says activist, analyst, journalist and poet Khalid Mohammed Osman.
The liberal governing party and its allies want it to be like that. Accept it or get out, they say! But, get out to where? The important question is why the Danish authorities accept them from the UNHCR offices in the lands of the crises and then treat them badly to the level that so many refugees families broke and scattered and many children lost their families?
This is a fact. Denmark is tough for political refugees. It is toughest with the UN Convention political refugees and the de facto refugees alike. So, the international refugees resettlement agency shouldn't send them to Denmark.
The strange thing is that no one knows that many lands benefit from this business of refugees. We still see superficiality rules in the 21st century.

International human rights channels have the required information to show them proofs that the country is changing since 2001 and the liberal government with its liberal allies succeeded from that date to claim the political power for two terms.
Sine that date, they worked hard to change most of the laws just for the sake of denying some privileges Denmark had offered to political refugees in the past when it was led by the Social Democrats.
Since then, almost all of the international human rights organizations have received documented reports about this issue, including Amnesty International, Human Rights Watch and even the main quarters of the UNHCR in Geneva. See political news and political refugees.
Denmark Denies Political Refugees Privileges!
The reports show that Denmark started to treat the UN Convention political refugees badly, simply because they connect them with the welfare the states offers for Danish and treat them as Danish.
This may be a joke, as there are many differences between them in the way they understand the Danish language and in the way they apply to jobs and in the way they approach legal authorities to complain about something. What's about equality? Is it a joke too?
The most important thing is the tragicomedy of treating them the sane way as they treat Danish, although they deny them rights to citizenship despite long years those refugees spent in Denmark.
Before the escalation of Liberalism in Denmark to enable the liberal party and its allies to claim the political power, Denmark had offered citizenship to foreigners in 3-5 years.
They classify the UN Convention political refugees as foreigners, although there are big differences between normal foreigners and those political refugees, as they have not come to Denmark driven by their wishes.
Other foreigners have not suffered for long years from being refugees in some other lands, or form being chased for long years and escaped from land to land.
Foreigners also have not the psychological problems the UN Convention political refugees have according to long years of disturbance.
When the liberal party came to power, it changed the laws to condition offering citizenship according to some regulations and measures refugees found very difficult to coup with.
Healthy refugees cannot coupe with such regulations planned only to deny them some privileges. Sick refugees can't, either.
Those refugees are suffering psychologically, or suffering from long destabilizing situations, or had been refugees for a long time since 1978 in so many countries, before they have applied to the international refugees organization to resettle them in Denmark.
Interview with Some Refugees in Denmark!
The liberal governing party and its allies wanted it to be like that. Accept it or get out! They say!
Get out to where? What about the international refugees conventions and protocol Denmark has signed before the recent government came to power in 2001?
"I have not overcome any hardship to build new life here, because the Danish government came with new regulations that make the integration program a bomb."
It is obvious, that, "there's no integration but inflation, as the integration cannot be implemented from one side".
One political refugee said. Some political refugees live in humiliation under hard conditions enforced by those new regulations, which go the opposite direction or do not have much concerns about the 1951 Convention and the 1967 Protocol relating to the status of refugees.
Many of those political refugees divorced because of these new regulations treating them as Danish and denying them at the same time simple access to have the Danish citizenships during 9 years of their living in Denmark.
No one either wants to speak about why there are no good programs for well and high-educated political refugees to continue their careers.
The government and its allies like the Danish Folk Party (DF) want all political refugees in the cleaning sector, professionals they are or not. According to this oriented policy, and to other related issues of beliefs many refugees have, the liberal party proves that it hasn't got any art of prime ministering.
"And, they are speaking about democracy in Denmark. I am in great doubts", one of my friends said.
While carrying with the interview, I told this friend that, the interview presents the democracy we have. Right? You can't doubt my willingness and abilities to publish it!
My friend asked me in Danish, "er der en opposition i Danmark?" Han svarede sig selv, "Det synes jeg ikke på grund af at der også er ikke rigtig demokrati i Danmark! Det slag af demokrati findes her er en kliché af demokrati."
Perhaps, not the right one, since the opposition sits in the parliament, drinks café, chats and lets bad regulations go through legitimate channel in favour of the liberal party, the "Venstre".
I might be wrong in my assessment, despite the phenomena. I think here should boil a lot of views.
Some people amongst those political refugees told me frankly that they are afraid of missing the chance to get the citizenship if they spoke or complain.
However, they believe that they are misused one way or another. They do not understand how the DF party influences the governing party by such calls to make tough regulations. They even wonder about the role of the opposition, especial those socialist parties.
Some of them assume that dogmatism rules and the unexpected political news tell them every time and then they are chased.
You are welcome to bring any humanitarian argument into this topic. Bring it forward and do not be afraid. Do you have any claims about hardiness in Denmark. Let the International Community hear your voice. Cry it here through the form, or Contact Us.
Refugees in Denmark and Other Humanitarian Issues!
In addition to Refugees in Denmark, you may also be interested in the following humanitarian articles in the HOA's Humanitarian Network:
A Goodbye Kiss| Child Abuse| Art of Prime Ministering| Awassa| Awassa Children's Village| Child Abuse| Child Care| Child Labor| Child Love| Children Refugees| Child Safety| Child Soldiers| Child Trafficking| Children Trafficking| Displaced| Dogmatism| Environment| Environment Protection| Green Peace| Humanitarian Network| Jyllands Postens Cartoons| Liberalism| Street Children|
Sharing Refugees in Denmark is Caring! It's Love Too!
Share this page about REFUGEES in Denmark with any service you like when you click on the following buttons at the bottom of the page. You can also watch documentaries on asylum seekers everywhere and refugees in Denmark at TVCinemaApp.com.
Sharing Refugees in Denmark goes through your socials and the other services you see on the small buttons on the page. You can pin / save one of the HOA's Pictures at HOA Calls, HOA Galleries and HOA Index. Thanks.
The Site Build It site building, optimizing, monetizing and automating tools on the image below are all combined in one place, to help you learn and build a humanitarian network, or a home based business network, starting only from simple things that interest you, such as your hobby, knowledge, passion, or personal experiences.
The inspirations and motivations also include details on how to use all of that to build a humanitarian network, or a traveling to Denmark website, or whatever theme you think of. The mentioned tools empower this page about Refugees in Denmark and the entire of Khalid Mohammed Osman's Network and update it at the HOA Political Scene Blog.
Have A Great Story About This Topic?
Do you have a great story about this? Share it!

---
Numbers of Eritrean - Ethiopian Refugees in Sudan
|
Numbers of Eritrean - Ethiopian Refugees in Sudan - Comments
|
Petition Letter to Stop Eritrean Deportation from Libya
|
Petition Letter to Stop Eritrean Deportation from Libya - Comments
|
Political Refugees Killed on Borders to Israel
|
Refugees without Borders in the Horn of Africa
|
Somali Displaced People
|
Sudanese Refugees in Egypt are Not Allowed to Vote
|
Sudanese Refugees in Egypt are Not Allowed to Vote - Comments
|
Sufferance of Ethiopian Welkayit Tegedei People Refugees
|
The Untold Threats and Sufferance of Eritreans in Libya
|
The Untold Threats and Sufferance of Eritreans in Libya - Comments
|
They are Selling and Buying Human beings in Libya
|
They are Selling and Buying Human beings in Libya - Comments
|
UN Eritrean Political Refugees
|
UNHCR Mandate Termination in Libya Endangers Refugees
|
UNHCR Mandate Termination in Libya Endangers Refugees - Comments
|
UNHCR Resumes Operations in Libya
|
UNHCR Resumes Operations in Libya - Comments
|
What to Educate Somali Refugees
?|
What to Educate Somali Refugees - Comments
|
Why Political Refugees Tell Lies
?|
Why Somaliland Denies Refugees Rights
?|
Why Somaliland Denies Refugees Rights - Comments
|
World Refugee Day, June 20
|
لاجئون و معارضون سياسيون إرتريون في اثيوبيا يفتقدون المصداقية
|
خارجية اثيوبيا تؤكد مساعدة لاجئين ارتريين ضد حكومتهم
|
Invitation 1 HOAs Friend 154: اللاجئون السودانيون بدولة غانا في غرب افريقيا يتعرضون للخطر
|