Polskie Myslenie Dynamiczne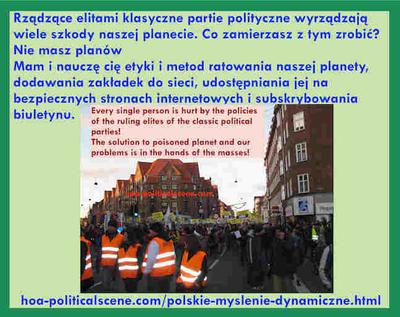 hoa-politicalscene.com/polskie-myslenie-dynamiczne.html - Polskie Myślenie Dynamiczne: Rządzące elitami klasyczne partie polityczne wyrządzają wiele szkody naszej planecie. Co zamierzasz z tym zrobić?
Polskie Myślenie Dynamiczne zaczęło się od Dynamiczne Pomysły i Polskie Dynamiczne Perspektywy. Musisz więc przeczytać dwie części tego artykułu politycznego, a następnie kontynuować tutaj w trzeciej części.

Podczas gdy byłem zajęty wdrażaniem tego projektu, planowałem również utworzenie Narodowego środowiska Erytrei, przede wszystkim poprzez spotkania, które osobiście zorganizowałem w Erytrejskiej Konfederacji Pracy, gdzie ciężko pracowałem, aby zebrać 2 członków z innych związków zawodowych, którzy byliby koordynatorami w organizacja środowiska. Przeczytaj Środowisko "environment" i Ochrona środowiska "environment protection", aby dowiedzieć się więcej o tym projekcie.

Wszystko to przywołując koncepcję "Wieku Mszy", kiedy doszedłem do wniosku, że ta koncepcja ma dla mnie historyczną i filozoficzną stabilność i dlatego używam jej teraz w tym okresie. Dlatego też termin "wiek mas" ma dla mnie historyczne podłoże filozoficzne.

Ten termin "era mas" również odnosi sukcesy. Dlatego też używam go tutaj w tym bardzo wrażliwym okresie ze wszystkim, co w nim mamy, takim jak znikanie śniegu z wielu krajów, po którym następują pandemie i inne kryzysy.

Wszystkie te znaczące znaki mogą również odpowiedzieć na pytanie: "Dlaczego jest wiek mas?" Potrzeba, aby ten okres był "wiekiem mas", polega na tym, że dominujące elity zaniedbywały pragnienia, oczekiwania, nadzieje i aspiracje mas. Dominujące elity we wszystkich stanach świata, ze swoimi klasycznymi partiami politycznymi, nie mają żadnych zobowiązań wobec swoich wyborców, mas.

Aby poznać to wszystko w sposób, który nie pozostawia wątpliwości, konieczne jest lepsze porównanie dwóch epok politycznych świata, epoki "zimnej wojny" i epoki współczesnej, którą nazywają "nowym porządkiem świata". Czy widzisz teraz porządek we wszystkich tych katastrofach na świecie?

Wolę to powiedzieć tym, którzy mają naukowe myślenie i potrafią myśleć mądrze. W czasie "zimnej wojny" nie mieliśmy więcej kryzysów gospodarczych niż teraz w "nowym porządku świata". Po tym samym porównaniu porównaj wojny i kryzysy humanitarne obu czasów.

Najważniejszą rzeczą jest zwrócenie uwagi na klimat i zdrowie ludzkie w dwóch epokach. Kiedy nastąpiły zmiany klimatu? Kiedy pandemie stały się bardziej rozpowszechnione po zmianie klimatu?

Odpowiedzi są jasne. Mamy teraz więcej kryzysów gospodarczych, kryzysów naturalnych, kryzysów zdrowotnych i kryzysów ludzkich niż podczas "zimnej wojny". Kto to wszystko spowodował?

Skorumpowane rządy na całym świecie. Mają tylko jedną moc nad swoimi głowami, która dokonuje tej korupcji w interesie luksusowych elit rządzących. Jeśli chodzi o masy, masy są dla nich śmieciami.


Wskazuje to zatem na potrzebę zakończenia ery klasycznych partii politycznych. Pokazuje to także potrzebę rozpoczęcia "wieku mas" przy użyciu metod edukacji politycznej dynamicznych pomysłów na tej pionierskiej i rewolucyjnej stronie internetowej. Aby to zrobić, zapisz się do Biuletynu Sceny Politycznej HOA "HOA Political Scene Newsletter" Sieć Rogu Afryki "Horn Africa's Network".

* Read "Dynamic Ideas" in your native language below:

🇦🇱 Read it in Albanian Idetë dinamike.

🇪🇹 Read it in Amharic Invitation to Comment 158: ተለዋዋጭ ሀሳቦች and Invitation to Comment 159: ተለዋዋጭ የፖለቲካ አመለካከቶች.

🇱🇧 Read it in Arabic Afkar Dynamicyah, and Invitation to Comment 154: أفكار ديناميكية، أو أفكار دينامية.

🇧🇬 Read it in Bulgarian Invitation to Comment 155: Динамични идеи and Invitation to Comment 156: Динамични политически мнения.

🇨🇳 Read it in Chinese Invitation to Comment 157: 动态想法.

🇨🇿 Read it in Czech Dynamické nápady and České dynamické perspektivě.

🇩🇰 Read it in Danish

🇬🇧 Read it in English Dynamic Ideas and Dynamic Political Opinions.

🇵🇭 Read it in Filipino

🇫🇷 Read it in French

🇩🇪 Read it in German

🇬🇷 Read it in Greek Invitation to Comment 160: Δυναμικές ιδέες, Invitation to Comment 161: Ελληνικές Δυναμικές Ιδέες, Invitation to Comment 162: Δυναμικές πολιτικές απόψεις and Invitation to Comments 163: Ελληνικές δυναμικές προοπτικές

* Read it in Hawaiian

🇮🇱 Read it in Hebrew Invitation to Comments 164: רעיונות דינמיים.

🇮🇩 Read it in Indonesian

🇮🇪 Read it in Irish

🇮🇹 Read it in Italian

🇯🇵 Read it in Japanese Invitation to Comments 165: ダイナミックなアイデア.

🇰🇵 Read it in Korean Invitation to Comments 166: 역동적 인 아이디어.

🇱🇻 Read it in Latvian

🇲🇾 Read it in Malay Idea Dinamik and Perspektif Dinamik Melayu.

🇳🇴 Read it in Norwegian

🇮🇷 Read it in Persian Invitation to Comments 167: ایده های پویا.

🇵🇱 Read it in Polish

🇵🇹 Read it in Portuguese Ideias dinâmicas, Perspectivas Dinâmicas Portuguesas and Pensamento Dinâmico Português.

🇷🇴 Read it in Romanian Ideile dinamice and perspective dinamice românești.

🇷🇺 Read it in Russian Invitation to Comments 168: Динамические идеи and Invitation to Comments 169: российских динамических мнениях.

🇸🇰 Read it in Slovak Dynamické myslenie and Slovenské dynamické perspektívy.

🇪🇸 Read it in Spanish Ideas dinámicas and Perspectivas dinámicas españolas.

🇸🇪 Read it in Swedish

🇹🇭 Read it in Thai Invitation to Comments 170: ไอเดียแบบไดนามิก.

🇻🇳 Read it in Vietnamese Ý tưởng năng động and Quan điểm năng động của người Việt.

* You are at Polskie myślenie dynamiczne Dynamic Thinking.