FACEBOOK IS SOCIAL DICTATORSHIP & SOCIAL MEDIA SPAM, but that is not all. GET THE INSIGHTS ON HOAS ABOUT FACEBOOK., AS ONE OF HOA'S DYNAMICS AND SEE THE OTHER DYNAMICS IN MORE THAN 90 BILINGUAL PAGES.

English Poetry to Pinpoint Your Literary Skills!
The English Poetry here are distinguished with new innovative ideas to set the hidden poet inside you free, so you can write poetry and improve your literary life... and yes, it pinpoints you literary skills.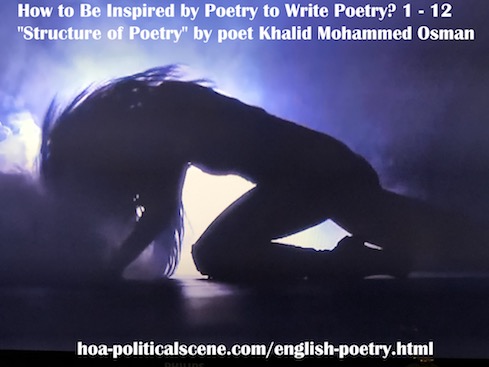 hoa-politicalscene.com/english-poetry.html - English Poetry: How to Be Motivated by Poetry to Write Poetry? by veteran activist, journalist and poet Khalid Mohammed Osman.
In addition, in the sections of the page, you'll get the lessons of how to be inspired by poetry to write poetry and at the same time some of the lessons on how to setup global revolution. I started these lessons on video at the same time, because I am thinking that there must be a revolution in poetry and in politics.
Both of the revolutions I was part, or established long time ago. The establishment was in this new genre of poetry I call surrealistic poetry.
So, the poetry in English also gets you to know and write surrealistic poetry.
You have not you heard of surrealistic poetry!
You have probably heard about surrealism in fine arts, but not in literature like poetry, or stories, or novels, or any other genre of prose.
Do you know what surrealistic poetry is?
Do you know who started this genre of poetry?
Well, I started it during the early seventies in Arabic poetry. But, after that I realized that it could a new genre of poetry in English too, so I wrote some verses with this conceptual idea, as experiment. The experiment has developed into some poems I wrote. You'll read that on this page.
But, first let's start with some ideas about poetry and how to get motivated by poetry to write poetry.
Long time ago a poet said, you will need to read 1000 foot of poetry to become a poet. That means it is important to familiarize the ears with the musical tunes of the scales of poetry.
The 1000 foot of poetry are simply lines of poetry and this term comes in Arabic literature to define the lines of poetry as foot of poetry.
The first answer to the question of how to be passionate to write poems is on this advice. You will need to read a lot of poetry to get the inspiration. Before that, you must have a feeling and sense of poetry. That should be in your blood.
When you read poetry continuously, you treat your ears by the music and you feel it. By treating your ears, you will notice any break in the tunes of any poetry. That means you will sense the flow of words and how the ending of these words makes sense of the entire harmony of the line of poetry.
*** Check Characteristic Writing to get more conceptual ideas about specifications of writing. Continue the musical learning of poetry and its structure and forms at How to Be and on the linked pages through the sections of this page.
Inspiration from Examples of English Poetry!
Surrealistic poetry:
You are My Rib
The light was suspended from under your bridge,
Your illuminated jewelry hangs on the edge,
Since the day Eve created on the paradise hedge,
From Adam's rib to me to be my pledge,
To arouse the stimulation of the beautiful smooth hard stick,
To get you fertilized by beautiful children, bringing the lights to stick,
And whenever your breast milk yields, it makes love startling to tick
Sometimes, poetry imposes different images. The images impose different thoughts, like the following. But, it is when that poetry fosters a connection between the different images, you catch the aesthetics it has.

Flesh of the Night
I tore the curtain,
between your bedroom,
                            and the library,
to catch a book,
Instead my eyes,
caught your stripped thighs,
flaming like my knowledge desire,
                  free like this night's air.
I jumped softly to the library,
just like a cat,
to catch a book,
                  I caught a warm flesh!
1999 Asmara
Poetry, whether you read it in Arabic, English, or any other languages loudly has musical tunes. The tunes have musical echos to repeat the beats of the musical tunes in your ears.

The musical beats in your ears are assimilated with imaginary pictures that build an imaginery world with the themes the poetry has imposed in your imagination.

That world could be somehow, real sometimes, when your feelings get you to realize the aesthetics in the poetry you have read.
When you realize the beauty as aesthetics, you'll become sophisticated and well-attached with these aesthetic feelings of poetry.

Interested in English Poetry?
Write comments on English Poetry in the form blow. Watch the educational videos, like and share them with friends and on family websites and subscribe to the channel.
You can watch more videos on English Poetry and some movies at TVCinemaApp.com.
Have A Great Story About This Topic?
Do you have a great story about this? Share it!
Comment C2 Entries on ENGLISH POETRY appear on this section of the pages. So, please comment on English Poetry and get from the videos to Youtube to like, share and subscribe to the channel. Thank you.