Somalia Country Profile!
Somalia Country Profile, overview, facts book, geographical location, population, economy, legal systems, people's activities, political structure and legislations.


Official name:
the official name of Somalia now is Somali Federal Republic. It has been Somali Democratic Republic. The name in local language is Jamhuuriyada Demuqraadiga Soomaaliyeed.
Capital city:
the capital city of Somalia is Mogadishu.
Location:
Somalia is located in a strategic corner at the edge of the Horn of Africa and in the East of Africa, occupying both the southeastern passage of the Red Sea and the costal line at the Indian Ocean.
Independence:
1 July 1960. British Somaliland became independent from Britain on 26 June 1960, and Italian Somaliland became independent from the Italian-administered UN trusteeship on 1 July 1960 to form the Somali Republic.
Form of state:
Somalia is a unitary republic only in theory. The Somali National Movement (SNM) declared the Somaliland Republic in the north as a unilaterally independent state in 1991, while the rest of Somalia still divided between rival armed groups.
Constitution:
the first constitution was completed on 25 August 1979, and has presidential approval on 23 September 1979.
Legal system:
the legal system of Somalia was based on the 1960 constitution until 1991.
National legislature:
The national assembly was the People's Assembly. However, there are many forms of tribal elder people's committees.
National elections:
The last presidential elections in Somalia as one country were in 1967 and the last legislative was in 1969. Many elections held in the devastated Somalia and the presidential election in January 2009, resulted in the winning of the ICU Sheikh Sharif Sheikh Ahmed who became president without serious competition.
Head of state:
the head of state is President Sheikh Sharif Sheikh Ahmed.
National government:
The Transitional Federal Government (TFG) was the national government and it was weak, because of the significance some warlords have in the government. After new presidency election in 2009, the president appointed a new prime minister and the new prime minister formed the national government.
Main political factions:
there are many political parties based originally on tribal factions and clans' warlords. However, in some days in the past, political fractions were formed including United Somali Council (USC); Democratic Front for the Salvation of Somalia (DFSS); Somali National Alliance (SNA); Somali Patriotic Movement (SPM); Southern Somali National Movement (SSNM); and National Salvation Council (NSC).
Natural resources:
Somalia has the following resources, although some of them are not exploited yet: Uranium, unexploited reserves of iron ore, tin, gypsum, bauxite, copper, salt, natural gas, likely oil reserves.
Population:
population in Somalia reached 9,832,017 in the last official census in 1975. However, wars' factors pressed millions of Somalis to flee their country. In addition, great numbers of Somalis died in the mad wars.
Ethnic groups:
the ethnic groups in Somalia are based on 85% Somali, Bantu and other non Somali at the rate of 15%.
Religion:
Sunni Muslim
Literacy:
37.8%, 49.7% male, 25.8% female
Administrative divisions:
18 regions. Awdal, Bakool, Banaadir, Bari, Bay, Galguduud, Gedo, Hiiraan, Jubbada Dhexe, Jubbada Hoose, Mudug, Nugaal, Sanaag, Shabeellaha Dhexe, Shabeellaha Hoose, Sool, Togdheer, Woqooyi Galbeed.
Area:
Somalia is 637,657 sq km, 10,320 sq km water and coastline 3,025 km
Climate:
there is a desert climate in Somalia with moderate temperatures in north and hot in south.
Somaliland Republic:
The Somali National Movement (SNM) took arms against Siad Barre earlier and declared Somaliland Republic in 1991 to gain self-sovereignty. The first president of Somaliland was Abdurrahman Ahmed Ali Tuur. Then the Grand Conference of National Reconciliation in Borama appointed Muhammad Haj Ibrhim Egal in 1993.
Egal was re-elected in 1997, and remained in power until his death on May 3, 2002. The vice president, Dahir Riyale Kahin, became president shortly afterwards. Kahin was the first Somaliland president in a free and fair election in 2003. Read more about
Somaliland
here.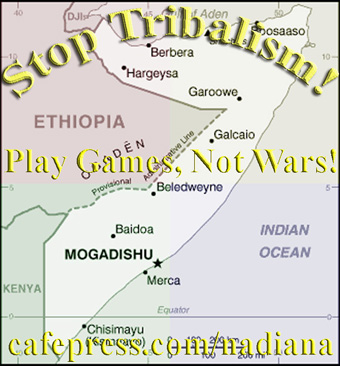 Tell me if you found any wrong information in Somalia Country Profile and I will reward you by giving you some invaluable e-books to enjoy reading about how to improve your living. You can use the same form here on Somalia Country Profile to write about Somalia, correct some information on this website or just to comment on Somalia Country Profile.
Have a Great Story about or from the Horn of Africa?
Do you have a great story about or from the Horn of Africa? Share it! Note that you can use the forms in this platform to comment and write about political topics in the Horn of Africa. Some pages about other countries may fall out of this map. However, they may have some impacts on some countries in this map. You can use the same forms anyway to comment or write about them too.
In addition to Somalia Country Profile you may also be interested on: Somalia| Somalia Country Profile| Somalia's Political Scene| Somalia's Political Problems| Somali Archives| Politik| Human Rights Arabic Translation| Human Rights in Danish| Brigadier-Mohammed Ahmed Alrayah| Tortur| Ghost Houses|







Support our sponsor: Send and receive money




Well, the Site Build Tools! at the bottom of Somalia Country Profile empower the Horn of Africa's network. You can use them to empower anything you know about and build a strong business online.
---
HOA's Political Scene Home| HOA's Political-Scene Blog| HOA's Political Scene| HOA's Political Section| HOA's Political Inspiration| Horn of Africa (HOA)| Djibouti| Djibouti Country Profile| Djibouti's Political Scene| Djibouti's Political Problems| Eritrea| Eritrea Country Profile| Eritrea's Political Scene| Eritrea's Political Problems| EPLF| Eritrea and NGOs| Eritrean Refugees| Red Sea Paradise| Ethiopia| Ethiopia Country Profile| Ethiopia's Political Scene| Ethiopia's Political Problems| Awassa| Awassa Children's Village| Ethio-Eritrean Wars| Ethiopian Refugees| Kenya| Kenya Country Profile| Kenya's Political Scene| Kenya's Political Problems| Somalia| Somalia Country Profile| Somalia's Political Scene| Somalia's Political Problems| Somali Archives| Sudan| Sudan Country Profile| Sudan's Political Scene| Political Problems in Sudan| Democracy in Sudan| Human Rights in Sudan| Darfur| International Criminal Court ICC| ICC Indictment| Omar al Bashir| Luis Moreno Ocampo| Sudanese Dictatorial Regimes| Mao tse-Tung| Uganda| Uganda Country Profile| Uganda's Political Scene| Uganda's Political Problems| Humanitarian Network| Environment Protection| Environment| Horn of Africa's Friends| Comments| Forward HOA's Political Scene| Alexa| Search| Freelancing Fees| Horn of Africa's Bookshop| Contact Us|